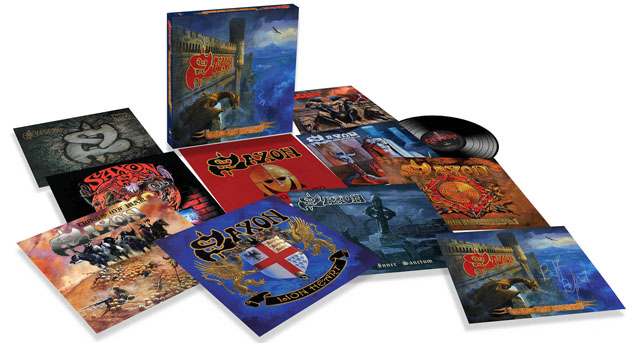 WIN SAXON 9-ALBUM VINYL BOX SET!

The Saxon box set 'Eagles And Dragons' was released on 18 March and features 9 albums covering the period 1991-2009.
Re-packaged with new outer cover artwork, the albums also feature their original artwork and inner sleeves.
Competition (Closes 06.04.16)
---
RECORD STORE DAY OFFERS "VINYL COUNTDOWN"
The annual 'Record Store Day' takes place on 16 April with many more artists and labels taking part.
Amongst the rarities is a 12" limited coloured vinyl version of the newly re-recorded 'The Final Countdown' by Europe and an Iron Maiden picture disc - 'Empire Of The Clouds' -recounting the fate of the R101 airship.
The event is supported by independent record store, labels and artists.
---
---
Albums of the Month
GRANDHOUR Bombs & Bullets (Rock Hawk Records)
... an album of anthemic, easy on the ear, tunes with many highlights... (David Randall)

---

THE NEW BLACK A Monster's Life (SPV)
...quality is something that this has in mounds...melodic modern alternative metal rules supreme… (Phil Berisford)

---

KIAMA Sign Of IV (Tigermoth)
... an outstanding progressive rock album that captures the excitement of that 70's vibe whilst sounding every bit as contemporary as (Rob)Reed intended. (Alan Jones)

---

THE DOWLING POOLE One Hyde Park (369 Music)
...steeped in the classic British art of songwriting and quirky pop ... it will be one of the best pop albums you'll hear all year ... An album of the year or any year for that matter. (Jason Ritchie)

---

BRUCE FOXTON Smash The Clock (Pledge Music)
...this is probably the best album Paul Weller never made. It may even make a few re-evaluate the perceived division of talent in The Jam. Faultless. (Pete Whalley)

---