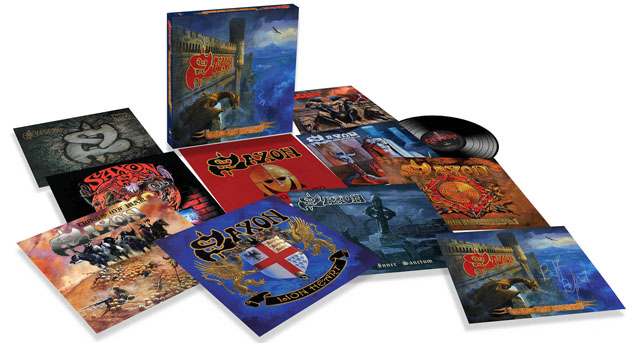 WIN SAXON

9 VINYL ALBUM BOX SET!
We have one box set to giveaway to one lucky winner
Demon Records have announced the release of an extraordinary Saxon Box Set containing vinyl LPs of the band's nine studio albums recorded between 1991 and 2009. "Eagles and Dragons" will be released on 18th March.

"Eagles and Dragons" features nine seminal NWOBHM albums which before today, were only released on vinyl in some regions including Germany, Italy and the UK, and in very limited amounts.
These new luxury 180 gram vinyl versions, including inner sleeves with all the lyrics, are a must-have for fans and collectors. The hand-numbered outer slipcase box features a specially commissioned, beautiful brand new cover painting by Saxon's artist-in-residence, the legendary Paul Gregory.
The box includes the following albums


SOLID BALL OF ROCK (1991)
Featuring: Solid Ball Of Rock, Requiem (We Will Remember)

FOREVER FREE (1992)
Featuring: Forever Free, Iron Wheels

DOGS OF WAR (1995)
Featuring: Dogs Of War, Altar Of The Gods, Hold On

UNLEASH THE BEAST (1997)
Featuring: Terminal Velocity, All Hell Breaking Loose

METALHEAD (1999)
Featuring: Song Of Evil, All Guns Blazing

KILLING GROUND (2001)
Featuring: Court Of The Crimson King, Rock Is Our Life

LIONHEART (2004)
Featuring: Witchfinder General, Beyond The Grave

THE INNER SANCTUM (2007)
Featuring: If I Was You, Iíve Got To Rock (To Stay Alive)

INTO THE LABYRINTH (2009)
Featuring: Live To Rock, Valley Of The Kings
How to Enter
1. Just answer the following question and select the tick box below.
Closing date Sunday 3 April 2016. Winners will be notified by Friday 8 April 2016.
Of the 9 albums in the box set, how many were produced, or co-produced, by Biff Byford and/or Saxon?
a) 5
b) 6
c) 7
Now complete the form below: