GRTR's Ian Pollard first visit to Sweden Rock was back in 2002 and he's been a regular visitor ever since. He has witnessed first hand the growth of one of the main festival events in the rock calendar. He braved the vagaries of the Swedish summer to report on four days of beer and bands...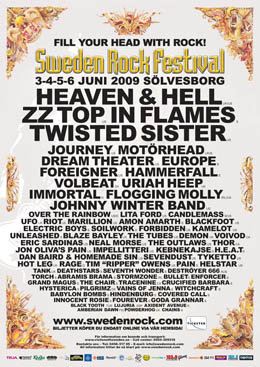 Day 2 of the festival dawns with slightly less cloud in the sky, and the promise of only 'light' rain showers according to the forecast.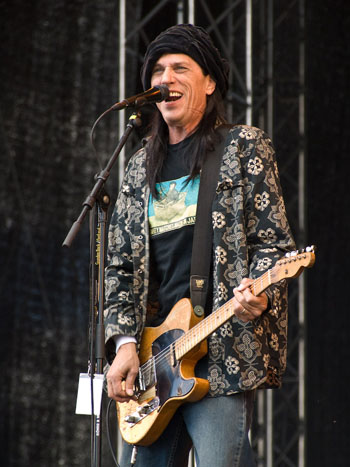 Photo by Ian Pollard. Photo Gallery
Off we go, following a breakfast of cheese, ham, bread, fruit, and, of course, beer. First stop today is the main Festival stage for some southern-fried rock served up by Dan Baird and his latest band, Homemade Sin. This is actually three-quarters of the original Georgia Satellites with the added talent of the ebullient Warner Hodges on guitar (celebrating his birthday today too).
The result is stunning, riff-laden rock of the highest calibre - though it has to be said that "Keep Your Hands To Yourself" is still the highlight of the set. Warner's trademark 360 degree guitar swings and spins provide yet more entertainment for those present.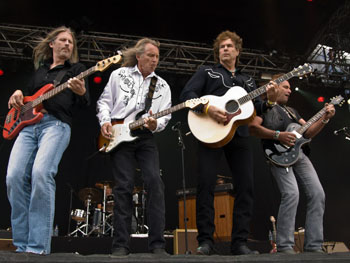 Photo by Ian Pollard. Photo Gallery
Still no rain…and more southern rock. This time it is The Outlaws turn, with their triple-guitar attack. A more relaxed set than the previous one, this sits comfortably somewhere between The Eagles and Lynyrd Skynyrd. The 3 guitars are used to good effect to produce some lovely harmonies, but they can also punch out the riffs when needed. The phenomenal "Green Grass and High Tides" closes the set - and the inclusion of that song in a certain video game's set list has no doubt helped their cause in recent times - especially outside of the US.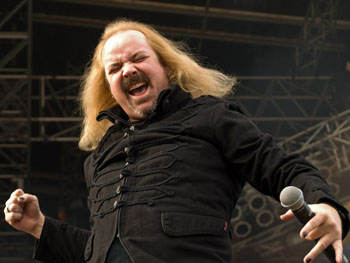 Photo by Ian Pollard. Photo Gallery
The sight of 48 Marshall amps greets our return to the Festival stage, and that can only mean one thing Candlemass are in town and ready to blow everyone away with their doom metal! This is their first performance at SRF featuring new vocalist Robert Lowe, but he is well established with the band now and leads them well through the set. With over 20 years, and a dozen albums to their credit, they have plenty to choose from. Latest offering 'Death Magic Doom obviously features heavily in the set, but the mix of old and new seems to go down well with the sizeable crowd.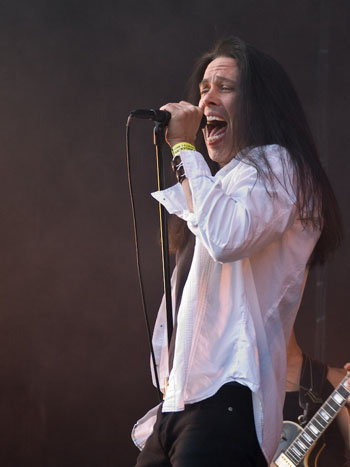 Photo by Ian Pollard. Photo Gallery
Having seen next band, Tyketto, in their "last ever" gig almost 2 years ago, I was somewhat surprised to see them on the bill. Surprised, but very happy as you are guaranteed a fantastic show from Danny Vaughn and co. Their brief hiatus has not dampened the live spirit and this evening's performance is up there with the best. So much so, I decided not to leave early to get some photos of Flogging Molly as I couldn't possibly bear to miss "Forever Young". This, and "Wings" (both from their 1991 debut album) are highlights of the day!

The aforementioned Celtic-folk-punk fusion band is well under way when I arrive, pounding out a heavily Pogues-esque set on a multitude of different instruments, both electric and acoustic. Highly entertaining, foot-stomping stuff from this talented array of musicians - just a touch overly anti-English at times, although mostly this appears to be in jest and is Dave King's way of creating a rapport with the audience.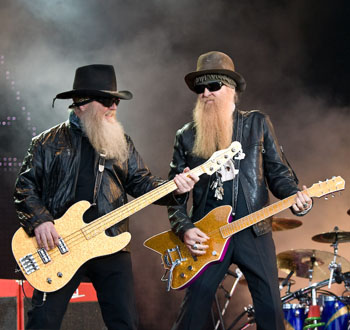 Photo by Ian Pollard. Photo Gallery
The Texas beard convention now arrives (1 by name, 2 by nature). Billy Gibbons, Dusty Hill & Frank Beard bring almost 40 years of experience playing together to the stage, and it shows. A perfectly choreographed 90 minute set follows, with a telepathic communication channel apparently open between them. Hit after hit is flawlessly performed to the delight of the very large audience. The biggest cheers are, of course, reserved for the triumvirate of big chart successes from the "Eliminator" album - which are delivered in succession and really get the place bouncing. The challenge has been laid down… follow that!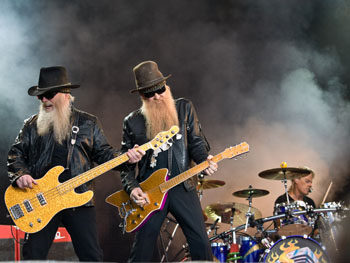 Photo by Ian Pollard. Photo Gallery
Download as desktop wallpaper (In Windows, save and then open image, right-click and select 'save as desktop background')
The job of 'following that' falls to the most anticipated band on this year's line-up - at least in my opinion, that of almost everyone I talked to, and quite obviously to the thousands who flock to the 3rd stage to see them. Over The Rainbow launch into a set of non-stop classic songs, taken from all eras of Ritchie's personal vehicle. With 4 genuine ex-Rainbow members present, plus a Blackmore on guitar (Jurgen, son of Ritchie), the pedigree is evident.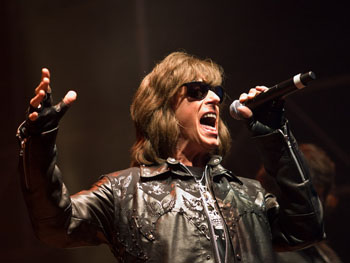 Photo by Ian Pollard. Photo Gallery
Joe Lynn Turner challenges himself (and succeeds) by taking on Dio era staples such as "Stargazer" and "Man On The Silver Mountain", alongside the Graham Bonnet era hit singles, and Doogie White material… whilst not forgetting his own significant impact on the band's history.
Special mention must be made of Rainbow Mk. IV keyboard player Paul Morris, who filled in at short notice following Tony Carey being taken ill, and learned the set in 4 days. From the opening bars of "Tarot Woman" to the "Since You've Been Gone" / "All Night Long" encore he is note perfect.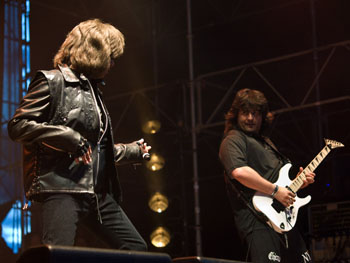 Photo by Ian Pollard. Photo Gallery
The hill in front of the 12,000 capacity Sweden stage is full throughout, suggesting that there may have been a slight miscalculation on the choice of stage somewhere along the line. Talking to people after the set, the anticipation had been duly rewarded with a stunning show that was the absolute highlight of the festival for me - the fact that they cannot get a gig in the UK is criminal.

Overall, probably one of the best days I have had in 8 years at SRF, and I wasn't going to let Twisted Sister spoil it - so it was back to the tent for a beer and sleep. In fact the last 8 hours had passed so quickly I'd hardly noticed that there had been no significant rainfall all day; a situation that would not repeat on Friday unfortunately.
Review and photos by Ian Pollard
© 2009 Ian Pollard/GRTR! All rights reserved.