Natascha Sohl - a GRTR! favourite and one to watch...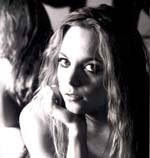 What are you doing musically at the moment? How is New York treating you?
At the moment I'm pretty much writing, writing, writing!! It's going really well though and I'm having a lot of fun! I'm writing with my lovely guitar man over here, which is going fantastically. We've only really recently started to write together but we have a pretty good connection - we keep coming up with lots of good stuff!
As for New York, I'm LOVING it!! I've been over there a couple of times this year and done a lot of writing with a couple of different writers who have all turned out to be amazing! They are such a good and talented bunch of people and we've all hit it off so well that it's making the whole process far too much fun!! I'm trying to stretch myself with my writing and it seems to be turning out good!! I'm having a great time!
What were your main personal achievement(s) of 2005?
Ooh, I don't know!! I think my main achievement is writing a whole bunch of new songs. Having not really written since the last album (which was a while ago now!!) I was worried that I'd have forgotten how to do it or that I'd be rubbish!!
I think I've really had my confidence boosted by the fact that the guys in New York actually want to work with me too! I have so much respect for them and I've had to raise my game, which is fantastic. I love to work with people who make you want to be better and it's so inspiring to work with people who really believe in you - you don't want to let anyone down!
Any disappointments?
Not musically I don't think, other than I would've liked to get some more gigs done! I'd like to get up North a bit more!!
What were your own favourite albums, films and/or books of 2005 and why?
My favourite book of the year was The Alchemist by Paulo Coelho. It's just lovely and makes you look at life with lots of positivity! It's all about reading signs and things happening for a reason.
My favourite film was probably Million Dollar Baby with Hillary Swank. She's amazing. I really didn't think I wanted to see it but I'm so glad I did - I absolutely loved it! It made me cry!! I think Narnia could be in the running though... I haven't seen it yet but I can't wait! I think it's gonna be amazing! We did it at school when I was a wee nipper so it's very nostalgic!!
Favourite albums? I got a lot!! Where to begin...! I loved Ben Folds Songs For Silverman, coz I think the man's a genius! It shows a slightly mellower side to him I think! The Moonie Suzuki Alive & Amplified is awesome!! It's just an amazing old school rockstar album and I love it! It never fails to put me in a good mood, I'm educating everyone I know about them!!
Gavin DeGraw's Chariot is another album that just makes me happy! Randy & The Bloody Lovelies - Lift - is another one I'm liking a lot. I met 'em in New York and they were, erm, bloody lovely (sorry!!)! Randy gave me a copy, thanks!!
The most excitable I was about a release was for the Foo Fighters, In Your Honour, because, well, they are my favourite band in the world, they ROCK! Dave Grohl is a genius too - if he wasn't already married I'd be heading up the queue!!
What are you planning musically in 2006? (projects, gigs, etc, etc)
Well the main plan for the start of 2006 is to finish off the album, so I'll be spending some more time in New York. It's all written now, so final track choices need to be made and then it all needs recording!! Then artwork and promotion and all that jazz!
Lots of fun - I like doing all that stuff. I'm hoping to get a tour sorted out over here too, so I can get as many people as possible to hear all my hard work!! I should be doing an American summer camp tour this year too, so that should be much fun!
More information:
Natascha Sohl website
Related>> Album review
Related>> Interview
Related>> Interview 2
© 2005 Natascha Sohl/Granite Music. All rights reserved.
Interview © 2005 David Randall. All rights reserved. (05.12.05)