Natascha Sohl - a GRTR! favourite and one to watch...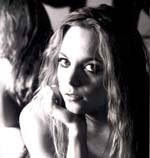 Hi Natascha, how ya doin' (what are you currently up to in the way of gigs and recording etc) ? Any gigs planned for the summer?
Hey, I'm pretty good thanks! I've had a busy period of gigs recently, but now it's lulled down again and I have time to breathe!! I've got a few gigs coming up over the summer, a couple in London and a festival in Milton Keynes, but I'm trying to keep some time free - I'm just starting to get some writing done for the next album, so I need to allow some time for that.
How did the recent gig go at The Borderline, what sort of reaction did you get?
Yeah, the Borderline was really cool, it was a really nice venue to play and good to see how many awesome people have played there before!! The entrance is covered in pictures of everyone who's played there! It was a pretty chilled-out night really, everyone was in a Bank Holiday mood, so it was a nice gig. It was quite intimate coz I think a lot of people were probably still laying in parks where they'd been all day in the sunshine!!
This was the last of a string of gigs, so my band were really tight and we went down really well, which was great!! 'Fine With Me' always goes down really well and did again, so I was pretty pleased really.
Tell us about the gig you did in a Lancaster Library?!
Ha-ha! - that was a weird gig, really fun though!!! It's not really what you expect - to be doing a gig in a library where you're supposed to be quiet - it's never easy for me to be quiet anyway!! It was really cool though. I was asked to play at the 'Get it Loud in Libraries' event where they're trying to make music available to more people and kids in the area.
I did an acoustic set with my guitarist Si and we had a great day! We got really good feedback, so that was really nice. The event was a big success and I ended up signing trainers, so that was very amusing!!
What sort of material are you currently writing? Is it in a similar vein to the excellent 'Strange Fascination'?
It's probably a bit early to tell yet!! I've only really just started writing for it, but I'm sure it won't be a million miles away. It's still going to have a big rocky feel, but probably I'll put a bit more edge on some of the new stuff - who knows?!!!! I'll have to wait and see where it all takes me!
I listen to quite a lot of different stuff really and try to keep very open-minded about music, but I do tend to leave a CD in my player for days on end and listen to it on repeat if I love it!!!
What are your thoughts on the music scene at the moment - are things going the way you want them to?
The music scene is a strange one, it's always changing, but I think it's in a much better state than it was a couple of years ago.
There's so much new music coming out these days, which is fantastic, but I've got a feeling that a lot of what's happening now won't be around forever, because there seems to be a bit of an almost 'cliquey' thing going on with people these days.
There's so much 'trendy' music that is considered great until it gets too 'mainstream' and then the trendies go off it, which I think is a real shame. I think it should be more about if music's good or not, not how cool you are if you like it!! I do think that people are wanting to listen to music thatís got more of a band sound to it now though - everyone's loving drums and guitars, so that's good news for me!
Tell us about your New York trip.
When I went over to New York last summer I got into talks with a songwriter over there and have been out to meet up with him about doing some work together. I'm off over there again in a few weeks to start getting some writing done, so that'll be great. I'm sure we'll come up with some great stuff so I can't wait... and it's New York so it can't be bad can it??
What sounds are you currently listening to (artists, CDs) and any special recommendations, and why?
I'm listening to a lot of American stuff at the moment - maybe I'm trying to get into a New York State of mind!! I listen to quite a lot of different stuff really and try to keep very open-minded about music, but I do tend to leave a CD in my player for days on end and listen to it on repeat if I love it!!!
I've been listening to Ben Folds, coz I think he's unbelievably talented and amazing and I'm going to see him soon, so I'm so excited about that!! My guitarist got me into a band called Switchfoot, they're albumís called The Beautiful Letdown and their first songís got an awesome riff - I love it!!
The band I am absolutely LOVING at the moment are a band called The Mooney Suzuki - they are awesome old school rock stars!!! They make me instantly happy, no matter what mood I'm in! Their new albumís called Alive & Amplified - check Ďem out!!!
What do you think of Melanie C's new album, 'Beautiful Intentions' as there are some similarities in her current style and yours? Poor Melanie's got a throat infection so had to cancel the early dates of her recent tour - do you ever get a problem with your voice?
I haven't actually heard Melanie's album, so I don't know. I'll have to give it a listen won't I? Your throat is a bit of a worry for singers. You can never really rest it coz you're always using it! I just try to be aware of it and look after it.
Thankfully I've not had any major probs, so have never had to cancel anything, but I have sung on a sore throat a few times!! I just try to rest it and drink lots of honey and lemon and hot water. Steaming it is the best thing to do though, and warming up properly!!
What are your longer term plans this year?
Really, just to concentrate on getting some new stuff written. I'll be flitting back and forwards to New York, so that'll take up a lot of time and I'm also writing with my guitarist, so thatís great.
I'll also be gigging as much as I can and am gonna try to bag a good support slotí so keep your ears open! I've also got 'Forgive Me' being released as a single at the start of Julyí so I'm sure I'll be pretty busy around that time. It'll be a busy rest of the year, but thatís great!!
Anything else you want to tell us?
Well if anyone happens to find themselves in Leicester Square on Wed 25th May they should come and say hello to me! I'm playing at SOUND and it'd be great to see some friendly faces!!
More information:
Natascha Sohl website
Related>> Album review
Related>> Interview
© 2005 Natascha Sohl/Granite Music. All rights reserved.
Interview © 2005 David Randall. All rights reserved. (19.05.05)