December 2008 Reviews & Interviews
Use ALT and S on your keyboard to continue searching on a particular keyword
CANDLEMASS - 'TALES OF CREATION'
PEACEVILLE (1989/2008)


Talent is the one thing that every artist strives for and only the chosen few manage to truly possess. There are many Heavy Metal bands out there who would give absolutely anything humanly possible in the hope of one day releasing an album worthy of being classified as a classic - a task that, for most of them, can only be deemed as impossible.
In stark contrast, though, by the year 1989, the Swedish Doom merchants Candlemass had already produced such massive quality efforts as 'Epicus Doomicus Metallicus', 'Nightfall' and 'Ancient Dreams', and were about to begin working on their fourth classic that most fans of the genre know and love as 'Tales Of Creation'.

Prior to getting my hands on Peaceville's 2008 reissue of the album and listening to the very interesting interview with the members of the band included on the bonus CD, I was not at all aware of the circumstances which brought this album to life.
It was quite obvious to me, however, that any album that was to stand a chance against the above-mentioned classic would have to be at least on a par with what Candlemass has created in their (by that stage) short but very impressive career.
Well, 'Tales Of Creation' is indeed an album worthy of bearing the name Candlemass on its sleeve, as not only has it managed to push the boundaries of the band's creative process many steps further but because it also features a whole lot of new compositions that have taken their place in their band's numerous set lists throughout the years.

My first experience of this eleven track release came in a shape of a tape/cassette that was given to me back in 1989, in exchange for a tape copy of King Diamond's 'The Eye' - an exchange that took place shortly after I became mesmerized by the dramatic and vibrant slow-paced/mournful riffs of 'The Edge of Heaven' - a song that I still consider to be amongst my absolute favorite Candlemass compositions.
I mean, I was so obsessed by this Doom Metal opus that it took something like four weeks before I finally managed to shake myself free and spend some time on the remaining songs of the album.
In comparison with the band's previous releases, 'Tales Of Creation' comes across as slightly more varied as it consists not only of typical slow-paced atmospheric Doom classics such as 'Through The Infinitive Halls Of Death' and 'Somewhere In Nowhere', but also of much faster compositions, such as 'Dark Reflections' and 'Into The Unfathomed Tower' - the former being an up tempo multilayered track for which the band made a video and the latter an instrumental composition of demonic speed and proportions that I have personally used as an opening theme to my radio show back in the day.

Much as I hate the idea of having to choose my personal favorites from such an amazing album, I feel obliged to name the three compositions that still manage to shake my world every time I hear them.
These are: 'Under The Oak', a re-recording of the band's classic that comes across as more epic and powerful than the one featured in 'Epicus Doomicus Metallicus', courtesy of Mr. Messiah Marcolin (vocals); 'Tears', a slow paced opus based on a monstrous guitar riff and on a highly melodic refrain that enables Messiah to use his full and highly impressive operatic vocal range and, finally, the atmospheric opus 'A Tale Of Creation' whose main theme and melodic refrain still resonates in my ears.

Candlemass is one of the few bands that I will always support, regardless of changes to their musical direction or membership. Yet, it is at times when I listen to albums, such as 'Tales Of Creation', that I realise how much it pains me that Messiah Marcolin is no longer part of the picture.
Those of you who have been supporting the band since the glorious days of the album's release will find this re-issue a worthy reminder of the band's unique musical legacy; those of you who were only recently introduced to the works of Candlemass through albums, such as 'King Of The Grey Islands', will finally discover the strong foundations upon which the music of this great band is standing. Doom or be Doomed!

John Stefanis

Rating: ***** (5.0/5.0)
---
SILENTIVM Amortean
Dynamic Arts 2008




If the rest of 2009 is as good as this, then I'll be one very happy metalhead. For this is an absolutely cracking slab of symphonic goth metal.

You won't be in the least bit surprised to learn that Silentium hail from Finland. However, although I knew the name, I was surprised to learn that they can trace their roots all the way back to 1995, with their debut "Infinita Plango Vulnera" coming out in 1995.

Having worked with Tuomas Holopainen of Nightwish on their earlier "Sufferion - Hamartia of Prudence" release, this album sees them drawing on the expertise of Kartsy Hatakka from Waltari in the producers chair. And it's a winning combination.

Their sound is an oppressive one, weighing down on the listener as the keyboards and strings swell and swoop in amongst the powerful riffing. The highlights are a=plenty with 'The Messenger', 'A Knife In The Back' and 'My Broken Angel' particular highlights. On this showing, Silentium have what it takes to make the long overdue international breakthrough.

© Stuart A Hamilton
Rating **** (4.0/5.0)

Silentivm dot com


Last edited Wed Dec 31 09:45:54 2008
---
MANZANA Babies of Revolution
Dynamic Arts 2008




Manzana is a pop-metal band from Tampere, Finland. The band is tightly connected to the Tampere rock scene; their drummer former Heikki also plays in one of the big Finnish metal bands, Diablo. So then the band are Piritta Lumous - Vocals, lyrics, Henkka Virsell - Guitars, programming, Tomi Ylönen - Drums & Klasu Wirzenius - Bass

The four of them have known each other since young age, and feed musically from the 90´s grunge-alt-metal heritage. They make music that is dramatic, elastic, melodic and strong. " We dream of being tough and elastic at the same time" , says Henkka.

Well then down to the album - this is their second and listening to it you can tell it won't be the last. Now normally my tastes are somewhat heavier than this but I was very surprised with the tuneful, tight sound they produce. They sound at times like Placebo but with a female singer!!

The first track 'Wash My Sins Away' is quite a mellow track for me but with a good back beat and to be honest is an excellent start to the album. 'Panda Girl' brings home Piritta's distinctive voice with a cool chorus line that will have everyone jumping up and down when played live!

The third track 'Sweet Revenge' is a bit of a let down to start but comes in with a fast drum beat and melodic backing vocals - yes this is pop metal but not as we know it!

'Near Death Experience' smacks of my youth as it sounds like early Sparks!, brought up to date with a rocky feel about half way through - it works too. Of the rest of the tracks I do like 'Nothing As Whole As A Broken Heart' which brings a bit of a blues feel to the album, with very emotional haunting vocals.

'World Is A Vampire' is the sort of track that will hopefully become the staple diet for this band as it shows they are very good musicians and with Piritta's lead vocals complimented by the rest of the bands backing is an awesome track.

The album finishes off with a good feel in the form of 'Cherry Pit' - yes the band are poppy, funky but have an essence of rock blended in. They have surprised me and yes have been put onto my ipod.

The Unforgiven he say - 3/5

© Dave Morris
Rating *** (3.0/5.0)


Buy the album @ Amazon

Last edited Tue Dec 30 19:29:16 2008
---
APOCALYPTICA INTERVIEW

The first time I saw Apocalyptica live was in December 2007, when they graced London Astoria with their presence as part of their promotional tour for the release of their latest album Worlds Collide.
A year later, not only am I given the opportunity to attend another Apocalyptica show at the very same venue, but also to interview Cellist Pavo and Drummer Supreme Mikko, both of which had many interesting things to say about their recent tour in the States, Apocalyptica's future plans andto share with me the secret behind David Lombardo's exquisite drumming abilities!

By John Stefanis.


Guys, thank you both very much for doing this interview. It's been a year and a day since you last performed at the London Astoria, so, is today's show part of the same tour whose goal was the promotion of Worlds Collide?

Mikko: This is pretty much the continuation of the 'World's Collide' tour and today it's our very last show of that tour. Next year we are going to do a tour in Eastern Europe where we will do a few days in Russia and then perform in a few summer festivals and these shows will conclude the promotion for this album.

Pavo: We have been touring for fourteen months now and we have pretty much done something like a hundred and sixty shows

Mikko: A hundred and seventy, or a hundred and sixty?

Pavo: Around a hundred and seventy shows, and it's


It must be taking its toll on you guys!

Pavo: It's been really hard, but we are OK, I would say..

Mikko: I had really good fun most of the time. Really, I have been enjoying myself.

Pavo: This has been a long tour, but it has been a really successful one especially for those areas which have been new for us like the United States where we performed something like seventy shows.

Mikko: Well, you could also say that the UK was a new market for us, as 'Worlds Collide' was the first album for which we properly tour over here.

Pavo: I guess you could say that the US tour was a bigger success for us. We were told today that we reached first position on the US Billboard in the category Rock Charts.


Blimey, that is quite an achievement especially in the US which is one of the most difficult places to make your name known.

Pavo: Yes, that really made my day.


Why is it that you had to wait for the release of this album in order to achieve such commercial success? I mean, some of your previous albums are equally inspiring and impressive as far as I am concerned. What is it that makes 'Worlds Collide' so special?

Mikko: I believe that this is the first time that all the pieces of our musical puzzle managed to fit so perfectly together. The record company was willing to put enough effort to produce the album and release it over there (note: Mikko refers to the States) and we also recorded this album with the knowledge that it would also be released there, so some of our songs were recorded in such a way that they would guarantee certain levels of acceptance from the local music scene.
Of course there was also much luck and hard work involved behind the release of this album it has been a combination of all those factors, as you cannot really say to your self something like 'OK, we are going to have a breakthrough in the States with our next album', you know what I mean? Luck and good timing is of the essence.

Pavo: And also the ability to get good people working with you. We have played many shows over there, and for every one show that we performed we did a couple of radio shows on the same day as means of promoting it.


Most of the artists that I have interviewed over the years has mentioned that America is a difficult 'nut to crack'. I don't know if it is because of its sheer size or because of people's overall mentality, but, as a band that has performed so many shows there recently, did you find the mentality and overall response of a US audience to be much different from that of a European one?

Pavo: Hmm I would say that American audiences are normally more open towards new things in comparison with European ones. You can feel that the very moment that you enter the stage, as they decide pretty fast whether they like you or not. As far as we are personally concerned, there were not too may people walking out of our shows, so you could say that they have been a very good audience for us.

Mikko: I totally agree! Americans may not always be very deep with regards their feelings, but their overall attitude has been really positive from the very beginning and that is how they have treated us every time we went on stage.
You need to also consider the fact that most of the people there had never seen us live prior to this tour, so you could say that to them we really have been a huge surprise. For me, part of the fun of performing there live has been because of our ability to pleasantly surprise people.

Pavo: You know, although we already are quite an old band, as we have been in existence for ten years, it's still great to realize that there are a few places out there like the US and the UK where we are treated the same way as a newly formed band. Personally speaking, I think that England has been one of the best places to perform on this tour.


Well, I personally feel that Mikko is partly responsible for this reaction, as I feel that the addition of drums into your music has provided an extra depth and dimension that you were previously lacking. There must be so many opportunities now for the band to progress; both as far as dynamics and compositional skills are concerned.

Pavo: That is definitely the case. Now things are easier for us, especially as far as the 'mental' part of the whole process is concerned. Now we sound more as a traditional Rock band.

Mikko: I believe that the guys spent so much time simply being a four cello band, that they needed something to 'put the flame back in the kettle' and renew their enthusiasm for this band. I believe that this would have been the result regardless to which drummer was to join the ranks of Apocalyptica.

Pavo: No, no, no (laughs) we are so happy to have found such a good drummer.

Does his inclusion make your life much easier?

Pavo: Well, actually it makes our lives harderit is inspiring to play together with such a good musician, because Mikko's way of playing is quite energetic and powerful, but it includes quite too many notes (laughs) and as we also try to play with as many notes as possible, you understand what the overall result is (laughs).

Mikko, when you first joined the band, you had to be the man to substitute a certain gentleman called David Lombardo. How intimidating did that feel?

Pavo: Dave plays too many notes as well (laughs).

Mikko: Luckily for me, I was so unsophisticated and too stupid as I was not aware of what his contribution to music was when I first joined Apocalyptica (laughs). I was not too familiar with Heavy Metal music back then I had some knowledge of the scene but it was not really that deep.
Had I known how big this guy is and how important his role has been to the whole genre, I would probably be much too scared. As it were, I was a really young guy that didn't realize much, and that made things much easier for me. It was too fast after I first met him that we went into the studio and I even ended up producing his music.

Pavo: telling him stuff like 'hey, don't play that thing so badly' (laughs).

Mikko: I didn't say anything as bad as that, of course, but everybody can screw things up in the studio from time to time, so there were times when I felt that I had to push the 'stop' button and ask him to play a certain part again, but I couldn't. I was only a small kid from a little town from Finland I cannot tell Dave Lombardo 'let's do it again'I should, but I can't.

Pavo: you can and you did (laughs).
Mikko: I had to! (laughs)

Well Mikko, sometimes one needs to make some 'sacrifices' in order to serve the general good!

Mikko: Yes, but he is such a great musician one of the most inspiring musicians that I ever had the pleasure of working with. He's so full of positive energy and so enthusiastic about music it's really great to be able to meet such a great person.

Pavo: There is a great story that needs to be told here. When David came to meet us at Finnuvox studios, not during the recordings of 'Worlds Collide' but for those of our previous album, he came to the studio to record one song with us and at some point he realized that the track we were to record was so fast that he started sweating in the studio.
He then called his wife saying 'what am I to do I cannot play that song' to which his wife replied 'stay cool, order a pizza, have a beer and then you will be able to do it'. Well, after such an advice, he played the song like an angel! (laughs).

So, are you saying that a slice of pizza and a cold beer are the secrets behind Dave Lombardo's impressive drumming? (I laugh)

Mikko: Well, I would say that maybe the secret behind his great drumming is the mental support that his wife provides to him.

There you go a justification to the old saying that 'behind a great man, there is an even greater woman'!

Mikko: Well, quite often that seems to be the case.

Guys, a great number of the songs that were included in 'Worlds Collide' feature vocal contributions from many guest singers.
Last time round, you performed these songs as instrumental, which is not particularly a bad thing, but I was just wondering whether you felt at any point during your last few shows whether the exclusion of a singer made these songs lack something in a live environment.
Have you ever considered hiring the services of a singer for your live shows?

Pavo: Well, this time round, while touring the States, we did have a singer with us

Are you referring to the crowd that simply loves providing such services during your shows?

Pavo: No, no. We had with us a singer from a band called Fuel, which is quite famous American Rock band. He is on tour with us but he only sang four songs throughout the whole show.
I have to admit that we put a lot of thought behind that prior to asking him to join us for the tour, but we felt it was the right choice as the US was a new area for us, nobody really knew our music and we could really give it a try. Well, we did give it a try and the result was quite interesting, solet's see what the future holds with regards that aspect of our live performances.

Mikko: It actually felt really good. After we had done those almost forty shows in a row over there with him behind the microphone, it felt weird when we had to perform without him. I believe that, at that point, he had become such an important aspect of the show, that his absence was really felt.
Now that we have done quite a few shows in Europe without a singer, we feel that this is again the natural state of things for this band. Having said that, the idea of having a singer in this band does not sound as monstrous as it would have been two years ago.

Pavo: Still, any vocal contribution would be minimal, as it would only really include three or four songs.

I understand what you mean. Plus, last time you performed 'I'm Not Jesus' on the very stage of this venue here, the crowd was quite keen to sing the lyrics of the song for you.

Mikko: Yes, that always seems to be the case with the people that come to our shows. It's really good for us and the guys in the band always need something like that to cheer them up.

Do you see Apocalyptica exploring many more new musical horizons in the future?

Pavo: That is our plan. We want to reach different 'universes' with our music

Mikko: I start to feel quite scared now (laughs).

Pavo: Dungeons and Dragons and...

Wait a minute Pavo: I thought that you told me that bands like Dragonforce were not particularly appealing to you (I laugh).

Pavo: You're right about me not liking Dragonforce, but I do like Dragons! (laughs).

Mikko: Dragons, castles yeah! (laughs).

Well, Christmas is just around the corner and you certainly deserve a break after such a long touring schedule. Can you please tell us what are the band's immediate future plans after the end of the festive season?

Mikko: We will have a break till, I think, April, and then we will do the Eastern European tour that I told you about earlier, followed by quite a few festivals in Europe, after which we will begin working on our next album. We will begin working on it in the Fall of 2009 and it will probably be released sometime in the spring of 2010.


It probably is quite early to ask, but do you have any ideas as to what this new album going to sound like?

Pavo: It's really too early to say. We will need to first clear our minds of all things music. The time that we will begin thinking of such things will be the spring of 2009 and then we will see what we will have come up with.

Guys, I believe that I have covered all the questions that I had prepared for this interview. Thank you for being such great interviewees and I wish you every success for the future!

Pavo: Thank you!

Mikko: Thank you very much are you staying for the show?


Of course I am!


Last edited Sun Dec 28 23:10:33 2008
---
ANATHEMA - "THE SILENT ENIGMA"
PEACEVILLE (1995/2008)



Christmas is that time of the year that has unfortunately been commercialised to such an extent that most people have only associated it with exchanging presents. Now, is that particularly a bad thing, one might ask? Well, the most cheeky amongst us might say that it is not, providing that the gift is of a certain value.
Now, there are a few good reasons why I have decided not to question Peaceville's decision to release another re-issue of "The Silent Enigma', Anathema's second full length album, at this moment in time and if I were to choose one, I would say that it is because I cannot think of a better gift for either myself or all those people who love good quality music other than this fine example of Atmospheric Doom/Death Metal.

I am absolutely certain that if you were to ask either one of the Cavanagh brothers to describe in simple terms the essence of Anathema, you would not be surprised to hear such words as "musical experimentation" and "constant evolution".
If there is one album, though, that has allowed the band to escape the strict boundaries of the Death/Doom genre, then that album is most certainly "The Silent Enigma". Yes, ladies and gentlemen: it was only five years after their inception that the Cavanagh brothers brought to life, with the assistance of drummer John Douglas and bassist extraordinaire Duncan Patterson, one of the most impressive albums of their career - an album that is still considered as an absolute masterpiece by fans of the Doom/Death Metal genre, myself, of course, included.

I really don't know if there is anything that I can say about this amazing album that I have not already mentioned in my review for Peaceville's 2003 digipack re-issue, as both releases share the exact same tracks - all nine originally recorded compositions and the two bonus tracks: an Orchestral version of "The Silent Enigma" and a 1996 re-recording of the band's classic opus "Sleepless" which I didn't particularly warm to. The reason why I believe that this release will be of a particular interest, even to those of you who already own the album's past versions, is due to Peaceville's decision to include an additional DVD, entitled "A Vision Of A Dying Embrace".
This DVD does not only contain promo videos for the songs "Sweet Tears", "Mine Is Yours", "The Silent Enigma" and "Hope", but also a professionally recorded show that the band recorded in Krakow/Poland while on tour for the promotion of this album. Songs, such as "Restless Oblivion", "Sunset Of Age" and "A Dying Wish" are performed with surgical precision by a band that might look far younger compared to today, but they come across as both a tight and well-rehearsed outfit.

I literally spent two weeks listening to "The Silent Enigma" on my car stereo, on my way to and from work, and there was not a single moment during that time that I felt inclined to hear anything other than this great album. There is no way on earth that you can be a fan of the Doom/Death genre and not worship this brilliant effort, songs of which are still featured in Anathema's set lists. Now, I don't know about you, but I consider this to be the ultimate Christmas present!

John Stefanis

Rating: ***** (5.0/5.0)
---
CANDLEMASS - "ANCIENT DREAMS" (2CD)
PEACEVILLE (1988/2008)



I will never forget the excitement I felt on the early evening of the 15th of December 1989, when heading to the now demolished Athenian venue Rodon Club to watch what I can easily classify as one of the best gigs of my life!
On stage there was a five piece Doom Metal act from Stockholm/Sweden that featured a heavily overweight frontmant dressed in a medieval monk's outfit and another four sweaty long-haired musicians - all being members of the masters of Epic/Doom Metal Candlemass.
My decision to attend that show was mainly on the strength of their third studio effort "Ancient Dreams" - an album that I have, to this day, listened to more times than I care to remember and whose review you are just about to read.

Before I start explaining why I feel that "Ancient Dreams" should be regarded as one of the best Epic/Doom Metal albums of all items, I feel the need to express my dissatisfaction over the treatment that this eight track masterpiece has received not only by the fans of Candlemass but also of the Doom genre throughout the years.
"Ancient Dreams" never tried to compete in terms of either emotion or strength with its predecessors, namely "Epicus Doomicus Metallicus" and "Nighfall" - yet, not only did it come to life as a result of the same artistic process, but it has also proven to be a more varied and artistically mature release in comparison.

But why should you put your trust into my words and not buy the album itself for better proof of the above - let the music do the talking, so to speak. Is there any metalhead around the world who can claim not to feel totally shaken by the unique force of the massive opening riff of the now classic "Mirror, Mirror" or be moved by the numerous thematic additions of Lars Johansson's lead guitars that adorn this jewel of Doom Metal?
Or even better, which serious metalhead amongst you with strong ties to the realm of fantasy will not embark on a trip into uncharted waters using as your oar the oriental guitar melodies and choral arrangements of this great composition?

"Ancient Dreams" is not only about up tempo beats and catchy riffs though; what we have here is the contribution of a true Doom Metal band and that is clearly audible in compositions such as "Incarnation of Evil", "Ancient Dreams" and "Epistle No.81" - all vocally driven slow-paced compositions which enable Messiah Marcolin to display his amazingly rich vocal range.
As an addition to the originally recorded eight tracks, this CD reissue features a very impressive "Black Sabbath Medley", four live tracks that may not enjoy the best sound quality but provide proof of the band's live capabilities, the original video of "Mirror Mirror" and also an interview with Messiah Marcollin and Leaf Edling where the now foes explain what it took to bring this amazing release to life.

God, it has been twenty years since I first listened to this album and one thing that I find really amazing is how fresh and interesting these eight compositions still sound to my ears. Much as I adore both "Epicus Doomicus Metallicus" and "Nighfall", the one album that will always come first to mind when the name Candlemass is mentioned in conversation will always be "Ancient Dreams" and I really wouldn't be surprised if I were to find out that there are many more people out there who happen to share my sentiments!

John Stefanis

Rating: ***** (5.0/5.0)

---
PARADISE LOST - "GOTHIC" (CD/DVD)
PEACEVILLE (1991/2008)



Paradise Lost is a band of such great importance to the extreme metal world that any introduction by me can only be deemed as simply unnecessary. I am sure that most of you have spent hours listening with religious fervour to some of the band's highly-acclaimed compositions from titanic albums, such as "Icon" and "Shades of God", but, much as I also adore these two efforts, it is the band's second full-length album "Gothic" that I consider to be the band's 'magnum opus'.
Yes I know: the sound of this album may not be as powerful as that of their following efforts, the band may indeed not come across as tight and artistically skilled as they do at later stages in their career, but somehow no other Paradise Lost album managed to bring me to such emotional highs as this one.

It was only a few days ago, when I received Peaceville's latest CD/DVD remastered version of this album, that I realised that I have literally spent half my lifetime listening to the ten compositions that comprise "Gothic", as it was seventeen years ago that
I first held in my hands a magnificent gatefold vinyl pressing that featured a beautiful abstract picture on its cover and a full length band photo on the inside. Now that I find myself in the position of having to write a review for an album that's responsible for my musical upbringing, I feel both ecstatic and apprehensive: is it possible that, after so many years of listening to all sorts of different types of music, I might find "Gothic" to be somehow dated or, even worse, not as important to me as it was seventeen years ago?

You know what? This album is like good quality wine - the older it gets, the better it tastes. It's not only the classic compositions such as "Gothic" and "Eternal", songs that are revered by the band's loyal fanbase and which are always included in a Paradise Lost set list, that are still capable of bringing goose bumps to my body every time I hear them, but also the less 'gaudy' but equally impressive musical gems, such as "Shattered" and "Rapture".
The former displays one of the simplest but also catchiest guitar melodies ever recorded by the band's left handed axeman Greg Mackintosh and the latter is a skull-crushing uptempo guitar riff that only a band of the power and might of Paradise Lost is capable of creating.
Now, some of you may remember that Peaceville records has already issued a nice digipack/remastered version of this album back in 2003, so one very good question is why would anyone who has already purchased that version be interested in the label's latest offering?
Well, it all boils down to whether you wish to be the proud owner of a bonus DVD entitled "The Lost Tapes" - one which features the band's 1991 performance, which includes, apart from some of the above mentioned compositions, songs such as "Breeding Fear" and "Frozen Illusion" - both originally recorded in the band's debut album "Lost Paradise".
Even though the show has been filmed form the balcony of the venue through the use of an amateur camera, the sound quality is very good, making the overall experience of watching this eleven track DVD to be both an interesting and enjoyable one - especially if you have forgotten how young Nick Holmes used to be back in 1991 or how thinner and hairier Aaron Aedy used to look back in the day.

I am pretty sure that if I were to write a new review for "Gothic" in ten or even twenty years time, the result would almost certainly be the same, as I feel that this effort is indeed timeless.
Believe me - this has nothing to do with me going through a typical case of nostalgia...well, maybe that is not entirely true, as I do feel like a young and impressionable teenager growing up in Athens every time I listen to it, but I believe that there is a very good reason why this album has been praised by fans and media throughout the world as a ground breaking effort - don't you agree?

John Stefanis

Rating: ***** (5.0/5.0)

---
Helstar - The King Of Hell
AFM 2008




I'm so old I remember Helstar the first time out. At the time, many thought they would be one of the breakout bands of mid-eighties metal but, despite albums like "Burning Star" and "Remnants Of War", it just wan't to be.

They faded away ingloriously along with the eighties and despite a half-hearted nineties attempted comeback, it seemed they were destined to be mere footnotes in metal history. But the 21st century saw the band reconvene for live shows and a re-recorded best of, "Sins Of The Past". So far, so nostalgia.
But here they are with a brand new studio album, and what do you know. It rocks like a complete and utter bandit! Arch screamer James Rivera can still hit notes to send small animals scurrying for cover, and the riffs doled out by Larry Barragan and Rob Trevino are furious and fast as a platoon of sharks. Their thrash / power metal crossover sounds better than ever, thanks to a fulsome production.

Songs like 'Pain' are crushing in their intensity, and even the power ballad 'In My Darkness' surges along in devastating fashion. An unlikely comeback, but a winning one.

© Stuart A Hamilton
Rating **** (4.0/5.0)


Buy the album @ Amazon
---
ANATHEMA INTERVIEW


Attending an Anathema gig has always been an amazing experience for me, but the opportunity of doing an interview with a member of the band was proven to be equally satisfying.
After a few technical problems I managed to get the band's frontman Vincent Cavanagh to answer a few of my questions, first in the foyer of the Carling Academy (Islington) and then at the far more inviting backstage area of the venue. It was then that this interview turned into a friendly and enjoyable chat with topics involving the recently-released acoustic effort 'Hindsight', the band's upcoming studio release and our common admiration of Lee Douglas' ethereal voice.

Interview By John Stefanis.

Vinnie, let me start by thanking you for taking the time to do this interview. I apologize in advance for not having available a concise questionnaire, but I was expecting Danny to do the interview and I have adapted my questions accordingly.

Vinnie: No problem - don't worry.

I have been expecting a new Anathema album to come out for quite some time now, so I was under the impression that 'Hindsight' was exactly that- yet, what we have here is a collection of some classic Anathema songs in an acoustic format, which is of course quite a welcome release but not what people were expecting at this point in time.

Vinnie: No...I don't know if anybody told you that 'Hindsight' was to be the band's studio album as we have always been very clear that this specific release would come out first, so if you were getting mixed signals from somebody else...then, I can only apologize on their behalf (laughs), but that has nothing to do with us. The fact is that the new album is being recorded and it was necessary to do 'Hindsight' to put...to enable us to continue with the work on the new album.
Really, it's all about money, because without having a record company's bank account and support, we had to buy a studio ourselves and that's what we have been doing for the last couple of years. We are now at the stage where we are just about ready to finally complete the album and this tour that we are now doing will also help a lot towards that goal, thus making it a necessary thing.
After this tour is over we get back in the studio. We have already recorded the drums, so we will get back into our own place and finish everything else. Hopefully the album will be finished beginning of the New Year.

That is indeed really good news.

Vinnie: It's gone really good actually as we have managed to get John (Douglas:drums) in a really good form. The drum takes that we've got are really good and that being what it is makes this record to have the potential to really go places. I think that it is by far the best thing that we have ever done!

Would you say that the three new songs that are available for our fans through the band's official website are representative of what the new album will sound like or are there many more twists and turns that we as fans should be ready for?

Vinnie: There will definitely be many more twists on the album, because all the songs that we have prepared are quite different from each other, so those two songs that you can now access online are only an indication of what these two songs are going to be, not what the album will be like (laughs). So, there is going to be quite a lot of diverse material as far as both the sounds and styles of songs are concerned, you know?

One of the things that I've always loved about Anathema is your ability to make every new album sound so different from its predecessor, yet always managing to retain those elements in your music that make you who you are, so you cannot even begin to imagine how intrigued I am to find out what the new album will sound like.

Vinnie: You probably heard a couple of riffs when we were having our soundtrack - I played a couple of riffs then (laughs).


Ok, you're not really helping me here!!! I believe that there are bands such as AC/DC that you are happy to hear them play the same type of music over and over again, but Anathema belong to the category of those bands who you wish would offer something different with every new release. Now, that must be both frustrating and stressful for you as a musician, right?

Vinnie: Well, the fact is, though, that you do not write music simply to meet people's expectations, so we do not have that problem - we never have written music for anybody else but ourselves...absolutely, really, truly!

(Note: At this point Danny walks past by us, which is strange as I had spent almost half an hour looking for him prior to asking Vinnie to take over his duties).

Now, 'A Natural Disaster' was an album that was written exclusively by this fellow here (note: I point at Danny), so one valid question is whether this will again be the case with the new album or whether it will feature the contribution from all Anathema members.

Vinnie: This time we all contributed in the creation of the new songs.

Does that make the new album a more interesting release than its predecessor in your eyes then?

Vinnie: It makes it more interesting to us, to the rest of the band.

Did you not miss not having contributed anything in terms of songwriting for 'A Natural Disaster'? I mean Danny gets the chance to express himself through a number of different musical projects where you don't.

Vinnie: (He smiles deeply before answering the question). Well, he's prolific! I mean, fair enough - he had all the stuff ready so we said 'OK'...

Ok, let me ask a few more things with regards 'Hindsight' as this is the album that you are currently promoting through this tour. Am I right in assuming that the idea behind this release came to the surface two years ago, or was it like a more recent thing?

Vinnie: Yeah...it is a relatively recent thing but some of the ideas had been around for longer than that and some of the ideas were even fresher than the time when the project was first conceived.
It's been... (note: the interview is interrupted at this stage, as we look for a slightly quieter place in order to continue)...we write music constantly, you see so there is some brand new stuff that was recorded only a couple of months ago...I don't really think that all of the three songs that we made available online will make it to the new album - this is an indication of the standards that we've set for our new album.

Again, you are not doing me any favors here!

Vinnie: I am not - I am not here to do that (laughs). The thing is that this is one of the things about being in a band, you are supposed to promote your work and that...I am not quite sure if I am indeed the right person to ask, as I can talk to you all day long about stuff, but...I am actually not doing this whole thing in order to sell records, believe it or not!
Yes, I do want to make a living out of playing music as this is my life and there is nothing really else for me, but I don't really want to play that 'game'! God knows what would ever happen if I were to go to America because I would not really know what to do. It's more like...it's the only way to ensure that we actually stay true in what we are doing, you know, by completely ignoring all that, but we also have to promote our work.
To tell you the truth, the way I see it is...all this talk, explaining what you do with your albums really 'gets in the way' of the person who is listening and experiencing our music, or even the person who is writing and experiencing this music. That instance...is what this thing is all about - it's actually not about all this bollo*ks, you know? I really like it when people are asking me what my lyrics are all about, as I never tell them.


I guess that one song may mean to me something totally different from what it means to you - that is the magical thing about music, right?

Vinnie: Absolutely, and I am more interested to hear what it means to you than what I think of it, you know?

We agree here - still, you cannot really express something deeply emotional and in a moody way when your initial feelings are those of joy, right?

Vinnie: Well, I am a really happy person these days, you know? I am not how I used to be, as I really used to have some bad days. I am much happier now and my life is infinitely better than what it used to be...I had to do this myself, you know? It was basically a case of me freeing my mind up from past conditioning and all that.

Well, you are lucky being an artist in that respect as you can 'cleanse' yourself through your music - other people need a few pints to reach such a state and the results are not always positive.

Vinnie: Well, I also like my beer, but I am not drinking in order to escape anymore!

Vinnie, all then songs that you chose to work on in 'Hindsight' are what one would describe as classics, each and every one of them, though there could me many more Anathema songs fitting for such a release. Was the song selection as difficult as I imagined it to be?

Vinnie: Well, you'd think so, wouldn't you, but actually it was not. It was very easy - the songs almost chose themselves! We just picked those songs that stood out from our live set and we also included a new song on it (note: namely 'Unchained (Tales Of The Unexpected'), which we did, and the next thing was to decide whether we were to rework something like 'They Die' and 'Crestfallen' from our first EP...

You know what - I was really hoping that you guys would include such songs in 'Hindsight'!

Vinnie: Well, you know, I am still keen on doing this at some moment because I believe that there are moments in these two songs where...you know these songs, you know these classical parts that they have...they would really sound great with a cello and that, so I am really going to work on them at some point in the future - at the moment, I have as an absolute priority the recording and release of the new album.
Anyhow, I am very pleased with 'Hindsight' and that is something really difficult for me to say as I cannot even listen to our records after they are done.
Still, I am really pleased with this one as I feel that the musicianship is really good, the sound is good and the packaging is great. I really like the artwork and the fact that it was all done by us without anybody interfering...it is quite special to us and I am really proud of it!

I cannot remember whether is was you or Jamie (Cavanagh: bass) that I was talking to a couple of years ago just before one of your shows as La Scala and when it was mentioned that Anathema would not release a new album through Peaceville Records, yet 'Hindsight' is now released with their help.

Vinnie: Well, 'Hindsight' is released through Kscope and not Peaceville...

Yes, but those two labels are closely related, isn't that so?

Vinnie: Yes, but they cover totally different stuff. Kscope has a totally different approach to music as they do not touch on the Metal section of things but the Rock/Pop section.
Also look at all the other bands that are on Kscope - Nosound, Steve Wilson's solo effort, Porcupine Tree DVD...its stuff like that that they release and not Metal stuff like Peaceville.

In terms of reworking the songs that are featured in 'Hindsight', you obviously had to look at them through a totally different perspective, so which one did you find easiest to work with and which one caused you the most problems while rerecording them?

Vinnie: Hmm... (Note: Vinnie hums a tune while thinking of the most appropriate answer to my question)...

I would assume that a song like 'Fragile Dreams' would be difficult to turn acoustic...

Vinnie: That was dead easy!

Was there not a single moment that you thought 'how the hell am I going to do this part' or something in that terms?

Vinnie: There was one thing in 'Flying' where John (Douglas: drums) played this beat for the ending and he did it as when we perform the song live and it wasn't quite working, because it was too loose and it didn't quite sit well with...it was too over the top and we felt that it needed to be slightly more relaxed.
That was easy as it only took half an hour of work just to get him to make his drums sound a little bit more beat-orientated without really feeling orientated (laughs).
That was basically what it was and other than that there is nothing else that I can think of because in, let's say for example, in 'One Last Goodbye' Danny started recording the guitars for the song while I was not there, so when I came back in I listened to it and said 'OK, let's re-think this.
Don't do it on the guitar, do it on the Piano and do it slower and do that version that we do'. Danny saw my point and that totally changed the process of recording it. I remember in the middle of the night I woke up and said 'lads, let's do that new song - the one that we forgot about that is probably not going to go on the next album anyway...let's put that one on it' and the lads went 'OK then'...it's all quite natural.




How did it feel having to work again with Duncan Patterson (former Bass/Keyboard player during period 1991-1998) on an Anathema release? I know that Danny works with him through the Antimatter project.

Vinnie: I did a couple of gigs with him in France...I love the guy, you know what I mean? It is mutual as he is one of my best mates and we've known each other since we were kids and he knows that I will always be there for him...what else is there to say? (laughs).


You know what - I wish I could show people what your facial expressions were every time you had to answer one of my questions as I believe they say much more than words do.

Vinnie: (laughs uncontrollably).

Ok, a few more questions with regards the new album. Are we going to have much more of Lee's (Douglas: female vocals. She is the sister of the band's drummer John Douglas) voice on the new album? Her voice is simply superb!

Vinnie: She is amazing, isn't she? To find a voice like that in your family, in your immediate family? This band has always been a family anyway, but then extended it with John and Lee...how is this possible, you know what I mean?
It's like having two families - it's brilliant! Lee is going to do quite a few backing vocals on the new album but she is also going to have various parts here and there in songs...if I had my way, she would sing in more than half the album, which also means that she will have to come along to every gig that we will do.

Is she happy with doing that?

Vinnie: Yes, she is happy with it. She's got a job in England and at the moment we cannot afford to make her quit her job - we cannot afford to pay her what she earns already, but we believe that on the next album we will be able to, so...that's the plan.

So having a new album released early next year means that you will probably go on tour again soon, right?

Vinnie: Yes, of course yes! There will be another tour taking place, probably in the autumn of 2009.

I am a happy man (I laugh).

Vinnie: I am a happy man (laughs)...you know what - I really cannot wait to listen to these new songs! This is the only reason why we put these three new songs free on the net, so that we will not have to find them on You Tube before they come out.

Even though the Internet has been quite helpful in some respects towards Anathema, the idea of people downloading your songs online prior to them being officially released must be quite a scary concept for every musician.

Vinnie: Support is great - I love how things have gone for the band. You understand, though, why we feel the need to keep a few things secret for the time being.

Vinnie, I believe that I have covered most of the questions that I had prepared for this interview as I do understand that you need to warm up your voice for the show. Thank you once again for being such a friendly interviewee.

Vinnie: No problem mate - you are more than welcome.


Last edited Wed Dec 24 00:01:38 2008
---
METAL CHURCH INTERVIEW

Metal Church is one of the bands whose music is directly responsible for my musical upbringing, so you can understand how excited I became the moment I was told that I would interview the band's frontman Ronny Munroe.
The interview took place on the designated time by the band's label, but somehow my equipment managed to betray me, as the file containing the interview managed to somehow become corrupted!
The only solution was for me to e-mail Ronny with my original questionnaire, in the hope that this great frontman would not mind going through the same process all over again. What you read below is a product of Ronny's kindness - one that I cannot thank him enough for.
Please treat this interview with great care, as I believe it gives clues as to what makes Metal Church the great band that they really are!

Interview By John Stefanis.


Hi there Ronny. Let's start this interview by congratulating you on the release of 'This Present Wasteland'- an album that has been a really good companion to me over the last couple of weeks. You guys should be really proud of yourselves for having brought such a beautiful musical 'child' to this world.

Ronny: Thank you very much, we are very proud of this record too and I'm glad you like it.

Having gone through the process of recording the album, can you now identify any things that you believe that you guys could have done differently with regards to these ten new compositions?

Ronny: I believe that after you get done recording your album you should try to walk away from it as fast as possible because, I know that when I listen to what I recorded I always want to go back in and change it. But on this album, I truly believe that we have put out the best composition since I have been in the band.

What is the feedback that you have received from the music press so far? Most of the reviews that I have read on the internet have been very complementary, especially with regards to your vocal contribution.

Ronny: Most everything I have read has been positive. Of course, there are going to be the "nay sayers" but overall you're right, the reviews have been very good.

Ronny, 'This Present Wasteland' is the third album that you have recorded with Metal Church. Have you ever felt the burden of having to carry the same 'torch' as former Metal Church vocalists of great musical caliber, David Wayne and Mike Howe?

Ronny: David Wayne and Mike Howe were great singers and I know for a fact that Kurdt Vanderhoof would not have hired me if he didn't think I could carry the torch and helped contribute to the legacy of Metal Church, and I thank him for that.

One of the few things that some of my colleagues have identified as missing from 'This Present Wasteland' are those classic fast riffs which have been Metal Church's trademark over the last twenty six years.
What made you guys choose to follow a more classic metal approach in songwriting for this new album?

Ronny: In my opinion riffs like 'Crawling to Extinction', 'Breath Again' and others are closer to classic Metal Church than on the previous two recordings I've done with Metal Church. But, it all depends on what comes out of Kurdt Vanderhoof. He is the man behind the music. So, whatever seeps out of Kurdt's soul and my lyrics that's what the fans are going to get.

If you were asked to compare 'This Present Wasteland' with its predecessor 'A Light in the Dark', which would you say are those elements that make your latest effort stand out?

Ronny: 'A Light in the Dark' was much more progressive and that happen to be what Kurdt's mind was at the time. 'This Present Wasteland', in my opinion, has brought us back to the roots of Metal Church; catchy riffs and good melody lines.

There has recently been a change in the line up of the band, as Rick Van Zandt is your new guitar player. As far as I know you and Rick have worked before in a music project called Rottweiller, so am I to assume that you were responsible for introducing him to the band?

Ronny: Yes I was.

To what extend have you personally contributed to the creation of these ten new songs? Do you believe that your past musical endeavours as a drummer have enabled you to have a more active role in the process of songwriting?

Ronny: Kurdt has always written all of the music so I really don't have much say on that part. But with the lyrics, I do most of the writing so that is really my biggest contribution.

What would you describe as the source of inspiration for the creation of 'This Present Wasteland'?

Ronny: The state of the world today.

Much as I enjoyed listening to the whole album, I do believe that 'Deeds of A Dead Soul' and 'A War Never Lost' are the two compositions that stand out as being closer to the classic Metal Church spirit. Can you please explain the process through which these two metal 'diamonds' were cut, so to speak?

Ronny: I guess we just got lucky and by the way, those are a couple of my favourites as well.

One of the strongest assets of the album is it strong and clear production. How long did you guys have to spend in the studio in order to achieve such an impressive result? Were you at all involved in that process?

Ronny: It took us about a year and a half total to complete this recording, which by the way went a lot smoother than 'A Light in the Dark'. But with every record Kurdt is the engineer and producer so we have him to thank for the result.

The moment I realized that a new Metal Church album was to be released, I visited the tour section of your website to check any upcoming dates, only to find that your scheduled tour as support to the almighty Judas Priest is no longer on. You must be really gutted! What was the reason behind the cancellation of that tour?

Ronny: Crappy booking agents.

The only one time that I managed to see Metal Church live was in Wacken in 2006 and those were some of the most enjoyable music-related forty five minutes of my life. Is there any chance that you could help me repeat that experience by coming to London for a show?

Ronny: We would love to come to London, it's been a while since we've been there.

What are your plans with regards to the promotion of the new album? Is 'This Present Wasteland' going to be released in a single/simple format or are there also plans for a limited edition of the album - a strategy that many bands follow nowadays?

Ronny: The album is already out so, it is what it is.

Ronny, you seem to be one of those people whose calendar is always full. Apart from working with Metal Church and your solo project, you, correct me if I am wrong, are giving vocal lessons to children and are also an active member of the CliveAid charity. How does a father of two kids manage to keep up with such a tight and busy schedule?

Ronny: It's just part of my life and is what I do. And as far as giving vocal lessons, that is another way for me to give back and to help children that are interested in music further themselves. Music is what makes the world go around and I will always help someone that is interested.

Which are the things that you have achieved in your career that you feel that you are mostly proud of - the highlights and lows of your career thus far?

Ronny: Being the lead singer of Metal Church is definitely a high point and the last five years have been great. The low point is not getting the recognition and respect this band deserves. Kurdt has always joked about how other bands get the cover of Rolling Stone and Metal Church only gets the cover of "Field and Stream".

What is your opinion regarding the state of the metal music scene nowadays? Do you believe that the current musical 'environment' is ideal for a band like Metal Church to continue to flourish?

Ronny: I'm just glad that we are still able to put out albums that people will listen to, and as long as that keeps going we'll keep putting them out.

What advice would you give to any young musician that is now starting a career in the music business?

Ronny: Have a back up plan and get a good education.

Name five albums that helped shape your musical taste and are still a big influence for you.

Ronny: Black Sabbath - 'Black Sabbath'; Iron Maiden - 'The Number of The Beast'; Judas Priest - 'Sin After Sin'; Deep Purple - 'Machine Head', and anything by Rainbow. All these bands continue to be an influence on me and I still listen to all of them to this day.

Ronnie, thank you very much for taking the time to do this interview - I wish you every success in all of your future endeavors and I also hope to see you soon in London. The last words are yours.

Ronny: Thank you for having me, I'm really glad you liked the new release and to all of our fans in London and World Wide, thank you for your years of support and we'll see you soon. Peace!


Last edited Tue Dec 23 23:56:09 2008
---
TANKARD - "THIRST"
AFM RECORDS (2008)



Even though Christmas is only a few days away, I bet that there are a plenty of you who are still struggling to find an appropriate present for your loved ones. I mean, you could really decide to pay a visit to your local Woolworth's and get them something like a pair of woollen socks and a miniature toy car for a price less than that of a McDonalds's burger, but you are not really that kind of a person, am I right?
What you really want to do is to find the right way of expressing both your consideration and devotion, so, if it just so happens that a) these friends of yours are Thrashers and b) you still manage to have a fair amount of money in your pockets by the 22nd of December, you can do them a great favour by getting them a copy of the latest Tankard album, "Thirst", which will be released on that very day.

It is a well known fact that, back in the 80s, Tankard were considered to be a secondary outfit in comparison with bands such as Sodom, Kreator and Destruction.
Well, even though Kreator are still capable of releasing highly impressive albums, the two remaining parts of the Holy German Thrash Metal Trinity are far from reaching their full potential, thus allowing bands such as Tankard to fill in the gap with albums such as "Thirst" - albums that come across as quite modern and fresh while obeying the same rules that made their earliest albums attractive to fans of 80s Teutonic Thrash Metal.
In conclusion, what we have here are ten quite varied Thrash Metal compositions whose sound is powerful enough to bring down the walls of your house, if you are not careful with how you handle the volume control of your stereo.

Much as I love all kinds of Thrash Metal, to me this genre is associated with fast rhythmical riffs and that is the exact reason why I was almost immediately hooked on the album's opening composition "Octane Warriors".
The song kicks off with a power mid tempo guitar theme and it soon picks up pace, leading to an array of hyper fast and simply crafted riffs that are complemented by a catchy refrain and a short but highly melodic twin guitar solo - both of which are of the utmost quality.
Even though the following track "Deposit Pirates" moves at a slightly slower pace I was not at all disappointed as its ever changing rhythmical structure and simple guitar melodies were terribly reminiscent of those of late-Sodom.
These provided me with a short break, filling me with enough energy to help me withstand the unstoppable force of the Thrash Metal whirlwind that is "Stay Thirsty" - a four and a half minute composition whose melodic chorus and addictive refrain are amongst the best that the Frankfurt-based outfit has created thus far in their career.

As far as musical influences are concerned, fans of Exodus will almost certainly recognise elements of their favourite band's music in compositions such as "Echoes of Fear" whereas those of you who appreciate Tankard's punkier side should definitely check out the four and a half-minute composition "Zodiac Man".
Finally, the co-existence of songs named "When Daddy Comes To Play" (strong social message) and "Myevilfart" (the title speaks for itself) on the same album present Tankard as a well-rounded outfit, capable of providing both entertainment and social awareness whenever the situation demands it.

I am very happy to see a band that I literally grew up listening to going through what can only be described as a musical 'second youth' and that is why I urge you not to make the mistake of thinking that what these four noisy Germans are trying to do it to cash in on their successful past.
Albums such as "Thirst" deserve a position close to classics such as "Chemical Invasion" and "The Morning After" and, with the right promotional strategy, they will bring about a renewed interest in Tankard - something that this unique band truly deserves. Bottoms up, lads!

John Stefanis

Rating: ****1/2 (4.5/5.0)
---
Nightshade - The Beginning of Eradication
Rising 2008




Here we have a new and young French band deathcore band with their debut release. The fact that the promo sheet says death metal and not deathcore is very misleading. By the look of the band they are very young and by the sound of the screaming on the opening track, this definitely has the traits one would expect to hear on a deathcore release albeit a pretty brutal one. The fact that they supported Bring Me The Horizon on their latest tour is also a dead giveaway.

Can you guess where I am heading with this review? Well yes this is not good. Nightshade have an unoriginal name and a totally redundant musical style as far as I'm concerned. The problem is that it's not even good deathcore.
These guys have a long way to go to even reach some of the more average deathcore bands out there. They don't seem to have any exciting riffs, even good copied ones would have been ok. But alas no, boredom invades every second of the songs, plus lots of screaming and aggression with the obligatory boring as all hell chug breakdowns.
Yes it's brutal and angry but when your songs have absolutely no energy or steam or any kind of groove or catchiness then you really are in the mire.

It's hard to imagine who would like this release to be honest. Dyed in the wool death metallers will be appalled I would guess and those into more melodic music even worse. Even deathcore kids will probably scoff and call them wannabes. That's how desperate the situation is for Nightshade. Thankfully it's only 28 minutes long.

© Pirage Forsi
Rating * (1.0/5.0)


Buy the album @ Amazon
---
Eden's Curse - The Second Coming / Angels & Demons
AFM 2008




So, only a year after their debut, Eden's Curse are back with a second slab of powerful eighties heavy rock and metal. And it's a cracker. It's a full sounding record, chock full of memorable choruses, air guitar inspiring riffs and a couple of the obligatory power ballads.

They've also dragged in a fair number of very special guests to fill out the sound, especially on the backing vocals, which all feature Tony Harnell (TNT, Westworld, Starbreaker), with Doogie White (Rainbow, Yngwie Malmsteen) popping up in the "Curse Choir" beside Carsten Schulz (Evidence One). If that wasn't enough, Pamela Moore (Sister Mary from Queensryches "Operation: Mindcrime") duets with Micheal Eden on 'Angels & Demons', the bands first digital single, of which more later.

First up, hefty props to Thorsten Koehne whose guitar work is absolutely immense, especially when he gets let off the leash as on 'Raven's Revenge,' and the pounding 'Just Like Judas'.
Coupled with the superb production by Dennis Ward, it lifts the album up into one of the finer releases of 2009. There are shades of classic Dokken and Bonfire about the band ,something that should bring a smile to face of those of a certain vintage.

Apart from the tracks mentioned above, 'Angels & Demons', the duet with Pamela Moore is stunning, as is 'Masquerade Ball'. But you'll be hard pushed to find a weak link on this release, although it does fade away slightly over the last couple of tracks. Regardless, this is a fabulous album.

Angels & Demons




'Angels & Demons' has also been singled out (oof!) for a digital single release, and comes as part of an EP which features 'Angels & Demons', 'Ride The Storm', 'Angels & Demons (Karaoke Version)' and an interview with Michael Eden, Paul Logue and Pamela Moore. If you're not sure, then go get this, and prepare to be converted.

Collectors should note that there is also a 3 track radio / club EP doing the rounds, but that is a promo only, and should not be available for sale. If someone offers you it, then grass them up!

I'm going to miss AFM in the New Year, as they're moving over to digital promos, but make sure you don't lose track of their excellent release programme.

© Stuart A Hamilton
Rating **** (4.0/5.0)


Buy the album @ Amazon
---
Six Feet Under - Death Rituals
Metal Blade 2008




It was way back in 1993 that then-Cannibal Corpse vocalist Chris Barnes decided to put together a side project. Three years later he finally parted company with Cannibal Corpse, and Six Feet Under became his main priority.
Focusing more on death metal than his previous band's, um, death metal, there was very little to distinguish them in the early days. But, credit where credit's due - Six Feet Under has evolved over the years into a more groove-oriented death metal outfit, something fairly unique in the genre.

It's a testament to the band that, with the exception of founder guitarist Allen West heading back to Obituary in 1998, they've kept the same lineup since their inception, with new boy Steve Swanson arriving from Massacre to takeover from West.
That kind of continuity is pretty unheard of in the death metal world, but what you're left with is a band that knows the ins and outs of each other's playing, allowing them to hit peaks of perfection.

Six Feet Under doesn't mess about. They're a death metal band to their roots and are proud of it.
It's something that endears them to their fans, of whom there are many, and which makes their records something to look forward to. Death Rituals is album number eight in their career — tenth if you count the two delightful covers albums, Graveyard Classics and Graveyard Classics 2 — and is definitely one of their best.

As one of the pioneers of the death metal growl, Barnes has no qualms about putting his voice well up in the mix, something that works particularly well on slower, groovier numbers like "Eulogy For The Undead" and the quite stunning "Seed Of Filth".
Elsewhere they even toy with the notion of a ballad on the exceptionally creepy "Crossroads To Armageddon", a precursor to one of the album highlights, "Ten Deadly Plagues". However, they can still bludgeon with the best, and old school fans will be taken with "Death By Machete" and "Involuntary Movement Of Dead Flesh".

They've also brought their Graveyard Classics humour to this album with an exhumation of the Motley Crue tune, "Bastard", from their 1983 album Shout at the Devil, a song rated in the Top 5 of the Parents Music Resource Center Filthy Fifteen list back in 1985. Kudos to the Crue, as if more were needed!

They don't take risks on Death Rituals; they don't display any previously hidden jazz-fusion tendencies, and they don't try to dissipate their sound with commercial considerations.
No, what the band has done is make the best death metal album they could. It's up there with Maximum Violence, my favourite Six Feet Under album, and it's probably the best death metal album I've heard this year. A job well done by Chris Barnes and the boys.

© Stuart A Hamilton
Rating ****1/2 (4.5/5.0)


Buy From Amazon
---
Diamond Drive - The Infidel's EP
self 2008




Well from the outset I was not at all happy about this review - and why well it is only an EP!!! This band rock and are making a huge name for themselves in their home country of Denmark. Diamond Drive have a keen following from none other than System Of A Down legend John Dolmayan and I can see why.

To me they are a cross between Disturbed & System with an edge all of their own! They are Jens Moss on Vocals, Paddy McCaffrey on Guitar, Anders Berg on Guitar, Chris Vengsgaard on Drums and Kalle Herborg on Bass (voted Bass player of the year in their home country - Denmark.)

The first track 'Be Gone' shows the System influences with strong vocals, lyrics and a haunting back voice during the guitar breaks a pure epic song showing why this band are so big in Denmark.

The title track 'Infidels' continues the high standard already set with an excellent mixture of powerful drumming, hot vocals and a song that drifts from anxious rock to an anthem like chorus.

'Traitor' beats you through a rip roaring carnage of awesome Rock showing the bands excellent talents to its full - this was also voted track of the day on another rock website.

The last track is 'Drowning Whilst Laughing' again another excellent track with powerful vocals mixed with that pumping drum and guitar licks that makes your hand move to increase the volume to maximum.

I thought they were a mix of a few bands but after listening to this EP 'a lot' I have come to realise it all sounds like 'Diamond Drive' I very good Danish Rock band that will destroy all before them once they get more airplay and hopefully a stint at one of next years fest's.

The Unforgiven he say - 5/5

© Dave Morris
Rating ***** (5.0/5.0)


MySpace
---
SERPENTCULT - "WEIGHT OF LIGHT"
RISE ABOVE (2008)



It is with great pleasure that I welcome in my hands every single promo that carries the logo of Rise Above records and that has simply to do with the fact that what I am always guaranteed an album of a certain (high) level of quality and originality. The latest promo from the London-based label to reach my hands was that of "Weight of Light" - the first ever full-length release by the Belgian female-fronted quartet Serpentcult.
This is a band whose name has been featured on the pages of many important Metal-related magazines over the last couple of months, and, judging by the overall quality of their work, this should come as no surprise to anyone.

Doom Metal may come across as a very limiting genre to those with an untrained ear, but the rest of us know damn well that there are many different ways of expression that a young band such as Serpentcult can employ in its attempt to forge a unique musical offering.
Listening carefully to "Weight of Light" one cannot fail but to notice that this album is indeed a product of a band with a well thought out musical plan - a plan whose strong point is not only the unique vocal contribution of the band's powerful female vocalist Michelle, but also one that features an impressive range of influences, from the classic early-day Black Sabbath to modern day heroes such as Cathedral and Electric Wizard.

If there is one thing that these four Belgians definitely share with Jus Oborn's outfit is their love for a heavy/dowtuned guitar sound, which is dominant throughout this eight track album.
Regardless as to whether their compositions move at an up-beat tempo ("New World Order") or a slow-paced macabre-sounding beat ("Awaken The Kraken"), Serpentcult manage to bring forth so much heaviness and aggression that even the most evil of Black Metal bands out there will get a run for its money.
Being a frontwoman of a band with such massive sound must be challenging in itself, but it is with great ease and style that Michelle manages to add an extra dimension to Serpentcult's music, to the extent that I do not believe that the Cathedral-sounding opus "Screams From the Deep" would have sounded half as powerful and commanding had it been anyone else standing behind the microphone.
There is indeed a great variety of compositions capable of satisfying both fans of classic Doom and maybe even Stoner music in this album, but if I was to name one song capable of unifying everyone under the same 'banner', that song would definitely be the eight and a half minute opus "Arkanum" - a composition that introduces itself through a massive and simple in nature slow-paced guitar riff that gradually evolves into a frantic groovy theme that will certainly get you headbanging!

It is very easy for any young band to either fall into the trap of quick success and create popular but uninspired music or indulge in its influences to such an extent that would result in yet another musical clone. Now, even though the music that the members of Serpentcult have created for our pleasure will guarantee them missing the clone bandwagon, it will gain them enough respect from a scene that is hungry for outfits with plenty of talent and artistic integrity. No bad thing in my agenda. Congratulations, guys - you have definitely gained a fan here!

John Stefanis

Rating: **** (4.0/5.0)
---
ANIMA - "THE DAILY GRIND"
METAL BLADE (2008)



The last couple of months have been really great for me, as far as music is concerned, seeing as, not only have I had the pleasure of getting my hands on some really inspirational new releases by already established bands such as Opeth and Enslaved, but I had also been lucky enough to attend a great number of mind-blowing shows.
Riding on this positive wave, I approached Anima's second studio effort "The Daily Grind" and, much as I am not naturally drawn towards Metalcore as a genre, decided to give those nine compositions my utmost respect and attention. The result...well, let's just say that there were no real surprises...

Anima is a group of relatively young musicians that are struggling to make their name known while serving a scene that is not only over-populated, but, in my opinion, has reached the pinnacle of its popularity and commercial appeal.
Now, if that's not in itself 'mission impossible' then I don't know what is - still, that being their goal, these five noisemakers should have done their utmost to create an album that would present something that most fans of the genre have not heard before, right?
Well, what we are presented with here are nine compositions based on terribly boring and predictable cliches (rhythmical/ repetitive guitar riffs, mixture of screamo & brutal vocals, etc) that a fan of this genre has been force-fed over the past few years!

My worst nightmares were confirmed the moment I heard the opening theme of "Behind The Mask". Though blessed by a clear and powerful Swedish-orientated sound, this three and a half minute composition did nothing to attract my interest, with the exception of a few seconds during a break half way through the song when vocalist Robert Horn made an attempt to leave aside his brutal screams and try to sound like Roger Miret - an attempt that was crowned with no success whatsoever.
Anima seem to focus so much on aggression that, in my humble opinion, they have failed to provide their compositions with what I would describe as a real purpose and as a result, I found both "There is Something Vicious" and "Sitting in the Wardrobe" to be both tiring and lacking direction.
Influences from the mighty Cannibal Corpse are audible throughout the album, but it is really during the same-titled "The Daily Grind" that they really emerge, thus making this composition slightly more attractive to my ears.
Admittedly so, I would have lost complete interest in this album, had it not been for a few inspiring moments such as the Dark Tranquillity infused melodic guitar theme and solo on "A Wrong Person to Trust In" and the Slayeric opening riff and overall Thrash mood of "Isolated", which made the overall experience of listening to this album slightly more bearable.

Much as I feel naturally inclined to support any new group of musicians that have the guts to get to a studio and record their music, I would be lying if I were to say that I found "The Daily Grind" to be an attractive offering.
I can understand that fans of the genre and, generally speaking, adrenaline freaks may disagree with my evaluation, but even they will hopefully realise that a few things will need to change prior to Anima becoming part of the Metalcore elite. Now, if that ends up being the case, nobody will be happier than me - for the time being, though...

John Stefanis

Rating: **1/2 (2.5/5.0)
---
Speed Theory - Blood Money
Ant Hill 2008




Not really an album, clocking in at six tracks in 25 minutes, but I'd rather have 25 minutes of metal this good than 70 minutes of Metallicrap, thank you very much.

Runners up to Evile in the win a slot on the Megadeth tour not that long ago, they're basically an old school thrash band, but with some modern edges to keep the kiddywinks happy. It's pure aggression, and although I'm no great fan of the clean vocals that pop up now and then, the utter rage and venom that spills through the music made me very happy indeed.

They do edge a bit close to the dreaded metalcore on a couple of occasions, but straight from the opening 'City At Night' they hit you hard upside the head and never let go, replete with vicious riffs, especially on my favourite 'Red Hour'. Wesley Alexander Davies III does a nice turn in brutal vocals, with just a hint of Anselmo about him.

Top quality stuff, that all thrash fans should check out.

© Stuart A Hamilton
Rating ***1/2 (3.5/5.0)
---
Crocell - The God We Drowned
Casket 2008




It seems old school early 90s Swedish death metal is making huge waves all across Scandinavia once again and now you can add Crocell to the list of bands at the forefront of the movement. Of course Crocell happen to be Danes rather than Swedes but the song remains the same, as the saying goes.

This is their debut effort; however the guys in Crocell have taken their time to write the best record that they could possibly write, given their chosen style. These boys have really delivered here.
The sound production courtesy of Tue Madsen's famed Antfarm Studios is very impressive to say the least. When a debut release is blessed with the crisp and gargantuan sized riffs that this bad boy is chockablock with, even the most staid and blase of reviewers has to perk up and take note. This album is just a great surprise for me and rocks so hard from beginning to end.

I must say some of the old school death metal comebacks of late haven't managed to float my proverbial boat so to speak, however Crocell have it sailing the choppy seas of death metal with nary an iceberg in sight. What makes the band stand out from the crowd is the use of these monstrous grooveathon stomp riffs which bound out of the speakers like behemoths and crush all in their path.

At times I am reminded of the almighty Amon Amarth but without quite the sense of melody as the Viking legends and at other parts of the incredible war-machine, Bolt Thrower. Throw in a cult old school feeling but with a modern sheen and belching growls straight from the pits of hell and you have a great release on your hands.

After all this praise, I must say that the band still has room for improvement. On occasion the band tends to hit a lull within a song where the riff tends to drag, but the good thing is that the next great riff is just round the corner. Over the course of the album they have enough ammo in their six-strings to level the most stubborn of defences!

If you are a follower of the current wave of old school death metal commandos and want to wage war alongside the latest troops to peddle this style, then venture forth and get a hold of the Crocell debut - it roars like a mean beast of a record!

© Pirage Forsi
Rating **** (4.0/5.0)


Buy From Amazon
---
DIAGONAL - "DIAGONAL"
RISE ABOVE (2008)



Being a person with a varied musical taste can be both a blessing and a curse: a blessing because I always find myself able to dig up a song from my record collection capable of expressing my emotional, at the time, state but also a curse because I always feel that there is always an album out there that I have yet to get my hands on.
Now, much as I appreciate almost every single genre of the Rock/Metal scene, I have to admit that it is the late 60s/early 70s Prog Rock scene that I find most capable of satisfying me in terms of artistic credibility, so it should not be a surprise to you why albums from bands like Yes, Pink Floyd and Eloy are given a predominant position in my Record/CD collection.

I guess that, based on all the above, you can really understand why I found the prospect of indulging in the works of a new British Prog Rock band in the year 2008 to be a daunting one, as I find it almost impossible for any new band to create such quality music that would even remotely manage to compare with that of the above-mentioned artists.
Being aware of Lee Dorian's obsession with Progressive Rock though, and seeing how willing he was to support this band by bringing it under the protective wings of his label Rise Above Records, provided me with all the motivation that I needed and now, a week after I started listening to this album, I can safely say that his vote of confidence in Diagonal was completely and utterly justified.

It is indeed quite shocking to realise how musically mature these seven lads really are, as they have managed to bring to life five compositions which, despite avoiding the common popular music song structures of verse-chorus-bridge, they somehow manage to become appealing not only to an audience of such a musical orientation but also to those of us with a much more 'demanding' approach to understanding music.
That is indeed the reason why songs like the highly sophisticated technical interludes of the ten minute opus "Semi Permeable Men-brain" manage to connect so well with the far simpler but equally emotionally charged piano melodies of my personal favourite "Child of the Thunder Cloud", the refrain of which, strongly influenced by the mighty Yes, manages to affect me deeply every time I listen to it.

Progressive Rock is all about pushing the limits of a musical composition to the absolute extremes, though, and that is why I consider "Cannon Misfire" to be the one composition that best represents the band's musical capabilities.
What we have here is a five and a half minute composition, built upon various rhythmical changes and numerous/different keyboard/guitar melodic patterns all of which somehow manage to 'make sense' after a few good spins.
Finally, I do believe that extra praise should be given to the band for the creation of the fourteen minute opus "Pact" - a composition whose main melody may indeed remind you of Pink Floyd's all time classic "Shine On You Crazy Diamond", but one which also moves in deeper waters by shamelessly flirting with numerous Jazz-fuelled bass/drum themes and ethereal/futuristic keyboard passages.


I cannot even begin to describe how impressed I am by this debut album. What we have here is a band that has managed to raise the standards of their own music so high, that any future endeavour that they will undertake should really fill them with equal amounts of anxiety and excitement.
If you are a devout fan of Progressive Rock, you should not allow this beautiful little gem to get away. If, on the other hand, you are young enough to be still trying to figure out why your father is still so keen on wearing his old/discoloured T-shirts the moment he hears that bands like Yes are coming to town, then this album will almost certainly answer all your questions.

John Stefanis

Rating: ****1/2 (4.5/5.0)

---
Slick's Kitchen - live @ Liquid Rooms, Edinburgh, 7/12/08




It must be the bane of an opening bands life. Getting your stage time bumped up to 7pm at an hours notice. On a Saturday night. And so it was, thanks to an on the ball PR fella, that i was one of eight people to see them take the stage. And two of them left during the first song. Which was their loss.

For live Slick's Kitchen really rock hard, much more so than on record. They seemed to take the large empty space in front of them in relatively good spirit, giving shout outs to nobody and encouraging the self same nobody to come down the front. The new song "Hail To Yesterday" was encouraging fitting in snugly alongside the three minute biker punk clatter of their other tunes.

Fans of The Almighty will find a lot to like here, and with the crowd swollen to double figures by the end they probably made, ooh, two new fans. Well at least one, if the merchandise stand was anything to go by. The best 25 minutes of the day by far. Hell, having passed the CD along for review to an unappreciative colleague, I even went and bought one. Shame all those Damned fans missed out.

Oh, and their strobe enhanced version of "Ace Of Spades" kills. Although someone should definitely rethink playing Lynyrd Skynyrd before a punk gig.

© Stuart A Hamilton
Rating ***1/2 (3.5/5.0)


http://www.myspace.com/slickskitchen

---
dited Mon Dec 8 19:17:58 2008
BLOOD CEREMONY - "BLOOD CEREMONY"
RISE ABOVE (2008)



One of the main reasons why I enjoy my involvement in the music business from the post of the journalist is because it provides me with the unique opportunity of coming into contact with the music of not only the well established acts that have helped shape my outlook & musical orientation, but also that of many new and interesting bands, such as the Ontario-based quartet Blood Ceremony.
These young Canadians are amongst the most recent signings of Lee Dorian's Rise Above Records - a label that is renowned for both its 'classical' and ' experimental' tendencies, so it was with both pleasure and great anticipation that I started to listen to the band's nine track debut/same-titled album.

Most of the promos that I receive are accompanied by a press release - in this case, I was very interested to see how Rise Above decided to describe a band whose music may indeed be mainly influenced by late 60s/early 70s Classic Rock but somehow manages to sound fresh and contemporary.
I was not really surprised to see names such as Black Sabbath and Jethro Tull being mentioned in the narrative, as the simple guitar riffs and flute melodies that adorn each composition are definitely following a direction that is heavily influenced by the music of these great bands, but what indeed surprised me was the lack of reference to bands such as The Doors and Pentagram whose influence appears to have been equally important in helping shape the musical character of Blood Ceremony.

This influence can definitely be heard in the seven minute opus "Master of Confusion" - a simple and very catchy composition whose female vocal melodies and mesmerising organ themes will stay with you for a long time.
Any of you who are wondering whether a band with all the above-mentioned influences should indeed feature a female singer, namely Alia O'Brien, will lose all such doubts the moment you hear the more vocally-driven compositions, such as the Witchcraft-sounding "I'm Coming With You" and the doomy but relatively uptempo "Into The Coven" whose flute parts I simply adore.
Much as I truly enjoyed the above-mentioned compositions, the duration of which averaged between four to five minutes, it was in the much longer and slightly more varied/experimental compositions such as "The Rare Lord" and "Hop Toad" that these four musicians managed, in my humble opinion, to reach their true potential - the former being a medieval-fused composition with strong influences from Pentagram & Jethro Tull that somehow manages to finish with an explosive guitar theme reminiscent of early Iron Maiden ("Iron Maiden" era) and the latter featuring an array of beautiful Jethro Tullesque ("Stand Up" era) flute melodies that I am sure that the great master Ian Anderson would almost certainly approve of.
Finally, do not miss the equally challenging composition "Hymn to Pan" - a song whose Sabbathesque guitar theme blends in perfectly with a brilliantly performed flute solo whose tune will remind you of the guitar solo of Deep Purple's classic hymn "Child In Time".

If you believe that Lee Dorian and Will Palmer's record label sponsors bands whose music targets a very limited audience you are probably very right, however, it would be unfair to all the hard work the members of Blood Ceremony have put into behind the creation of their debut album if I were to claim that these nine compositions are only really capable of attracting the interest of the fans of all the above-mentioned classic bands.
What we have here is a band whose music deserves the attention of every fan of good quality Rock music and as such I have no other alternative but to support them whole-heartedly in their current and future endeavours.

John Stefanis

Rating: ****1/2 (4.0/5.0)
---
Blastmasters - Twisted Metal
Deathgasm 2008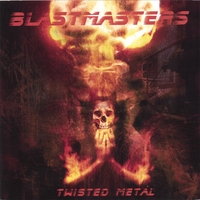 Blastmasters are a concoction straight from the deepest and murkiest swamps of Florida, USA and they peddle rip roaring death metal with no frills and serious attitude.
They sound like a straight mix between the almighty and peerless Morbid Angel and the more brutal over the top and relentless battery delivered by the likes of Hate Eternal but without the clarity of either band when it comes to sonics.

Blastmasters deliver song after song of pretty insane and savage stuff without much need for technicality or finesse. There are hints of Morbid Angel peppered throughout the cd but not quite as classy or individualistic as those legendary swamp dwellers. These guys sway hither and thither with labyrinthine groove riffs but in the main use their stock blast-section pummel riff with torrent upon torrent of double bass blasting away until you get the message.

On occasion a Trey-like manic solo appears but they are not quite as adventurous as the Morbid Angel 6-string legend when it comes to spewing forth the lava. Not to say they don't have talent for guitar but this band is just not about guitar pyrotechnics at all.
Only thing missing from this release is just a touch of finesse or class or subtlety when it comes to delivery. I guess their aim is to be as brutal as possible whilst channeling the old Florida Death Metal feeling and no one can deny that this aim has been fully accomplished. However in order to stand out a touch more and to promote yourself as musicians to a higher level, that little extra bit of class is needed.

As things stand, Blastmasters are highly adept at delivering their brutality without compromise and with the type of assault guaranteed to win them friends in death metal circles. Having said that in order to reach the higher echelons of death metal mastery a good injection of classier song-writing is needed and a slight lowering of the pace here and there wouldn't go a miss either.

Still a solid beating is guaranteed here with enough neck snapping riffing to please the most severe of death metal critics out there and if you are a fan of Floridian death metal in particular then I would definitely lend an ear to this.

© Pirage Forsi
Rating *** (3.0/5.0)
---
David Ellefson & Jimmy Degrasso interviewed

Interview by Cameron Edney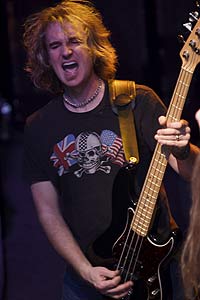 Every now and then I get to do something a little bit different and this was certainly one of those cases. After four years of conducting interviews, I was about to do conference calls with two of thrash metal's iconic musicians ... David Ellefson and Jimmy De'grasso!
If neither of those names rings a bell then you are on the wrong website right now! Both David and jimmy have been in the business for well over twenty five years and have influenced more people than I could ever mention. Recording and playing with bands such as Megadeth, Soulfly, Suicidal Tendencies, Alice Cooper, Alice In Chains, Temple Of Brutality and David Lee Roth has earned them both their rightful places in heavy metal history.
Years after working together with thrash royalty Megadeth, Ellefson and De'grasso are back together making metal for the masses with F5. Earlier this year F5 released their second album 'The Reckoning', heavier than the band's debut 'A drug for all seasons' 'The Reckoning was well received by fans of both guys past work and it opened up the eyes to thousands more who were not aware of F5's existence. There is no doubt that with outstanding songs such as 'Rank and File', 'Love is Dead' and 'Control', 'The Reckoning' will be classed as one of the better metal albums to be released in 2008.
After speaking with Dave & Jimmy for what seemed like only a few minutes, I got an insight to another side of these thrashers that I had never before witnessed. We discussed so many different topics as you will see and both guys were not backwards in coming forwards by any means. We discussed the latest kick ass F5 album 'the reckoning', touring with so many influential artists, parenthood and much more. The time has come to discuss The Reckoning with David Ellefson and Jimmy De'grasso.... Enjoy!

Cameron Edney: Hi guys, how are you both doing?

DAVID ELLEFSON (DE): Hey Cameron, what's been going on down under lately?

JIMMY DE'GRASSO (JD): Hello, Cameron I'm well, how's life treating you down under?

Cameron Edney: All is good mate, busy as usual. Dave, we have been getting some amazing tours over the last few months.

DE: Yeah, I've been getting all of your emails man, I've been seeing that! There were a ton of things coming through!

Cameron Edney: Guys, I want to thank you both for taking the time out to talk with me today, it is a true pleasure to have not one but two of my favorite musicians on the phone at the same time. Let's talk about the latest F5 album 'The Reckoning' what an amazing rockin album, the band has certainly grown since 'A drug for all Seasons' was released. No doubt you were happy with the outcome?

DE: I think so, just knowing from where we came from when the band started, to the process we went through with 'A Drug For All Seasons' and the touring for that album which took us to the next phase of the bands growth! In my opinion 'The Reckoning' is a progression that a rising band should take, it shows that the growth between the two albums is huge and with Jimmy on drums now, it helps us take it up to where we wanted to go musically.

JD: The first record which I didn't have anything to do with, I liked. I really thought it was a good commercial rock album. I don't know if you would have called it a metal record, but I thought it was a great groove rock record. This one is obviously a lot different; it's more of a metal record.

Cameron Edney: David, 'The Reckoning' was once again produced by Ryan Greene, when it came to look for a producer; did you consider working with anyone else?

DE: We did, we thought about using a couple of other people and we talked with a few other people and there were several things we had to consider. Ryan already knew the inner workings of the band, we felt comfortable working with him. The fact that he was in our home town of phoenix helped a lot.
You always run the risk when you use a new producer. We wanted to make this record with us being much more in charge of what we felt the right direction was. The whole process of working with a new producer was something that we didn't want to take up that much time and energy doing, especially when we knew that the working relationship with Ryan was very productive and solid after working together on the last record.

Cameron Edney: How did you push each other musically and creatively to get the best results possible for the new album?

JD: The funny thing is Dave and I have known each other for about eighteen years now and we've had a repour personally and musically. As you know, we both played together in Megadeth a long time ago and we have a knack for playing together. Since then we have played together in Montrose as well and there are certain things we both know the other is going to do, and we don't have to discuss music too much.
Dave is always open to trying new things and more aggressive things on the drums and our producer Ryan was the same. Ryan is also a drummer and he would come up with an idea here and there, he would say 'now i don't know if this is psychically possible, but play the double bass, then play this tom tom and hit those two cymbals there' [laughs]. I could usually make it happen, so we would come up with more weird stuff and i would try to feel my way through it. We don't take it too seriously anymore, we just try to make the best album we can while having fun!

DE: I think Steve and John really stepped up big time. Steve especially pushed us all to get back to some essentials that were happening when we were originally writing the very first batch of songs back in 2003. One of the things that Steve wanted was a lot more lead guitar playing on the record. When we were going through the transition from our former drummer, everybody in the band looked at me and said call Jimmy De'grasso immediately [laughs]. I love Jimmy, he's one of my best friends, he and I make a great rhythm section together and i think he'd fits in great with F5.
There were a bunch of songs that we wrote while we were on tour for 'A Drug For All Seasons', some that we wrote when we came off the road from that tour. Steve and John wrote the music for 'Love Is Dead', Final Hour, and 'Through Hell' a week before Jimmy came in! They were written really without a drummer. Steve and John wrote them with no limitations, just wanted to be as crazy as they could musically knowing that Jimmy could come in and just play it! Getting Jimmy into the picture pushed us in the sense!

JD: I got called at the last minute to come in and do the drum tracks, and the songs were still in a pretty rough form when I got down there. Ryan Greene and I really had to refine some of the song structures with David and one of the other guys to pull the arrangements together. Most of the songs didn't really have any melodies or lyrics at that point.
It's really hard in that situation to create drum charts and arrangements when you don't know what the vocal subject, the vocal melodies and the vocal lines are at this point [laughs]. You're playing blind a lot unfortunately. I have been in the studio several other times where the songs haven't been finished, and we were under the gun! You just have to guess your way through a lot of things and in this case it came out really good. I thought sonically it's a pretty tight sounding record and I'm really happy with it.

Cameron Edney: Guys Over the last couple of months I have had the album on heavy rotation and it's a very fresh sounding metal album.
I found myself comparing it to Megadeth, Alice Cooper in parts as well as newer bands such as Disturbed and Sevendust. There are many stand out tracks on the album such as 'Rank and File' and 'Love is Dead', what stands out the most when you play the album back?

JD: No, not really. 'Control' is a good one. 'Love is dead', it's funny that you mention that one, the main trigger on that song is a blues shuffle and there's not too much of that done anymore. Not a lot of metal bands are even familiar with the term shuffle cause it's almost like a ZZ Top, Aerosmith blues based form, you don't hear much of that in the 'Metal Genre'.
I think that it's funny that you've picked that track. There's some interesting stuff on 'The Reckoning' but I don't really have a favorite track at this point. I have always done records where there are one or two tracks where I go ehh! Why did we put that on the record and believe me... that's happened on a lot of occasions. When I listen to this album there is nothing that I would have left off.

DE: Just as the same with 'A Drug For All Seasons', I think 'The Reckoning' is best when digested as an entire meal, the whole record from top to bottom. It's not a concept album, but it flows like one! Lyrically, musically, the way one song ends and the next one begins it's really put together and flows all together.
It was almost like the album wasn't complete until we knew we had all the right songs. We didn't set out to write any particular songs, but we knew when it was done! I love all of the progressive musical playing in 'No Excuse' I love the old school metal riffing in 'Love Is Dead' and then a song like 'Final Hour' to me is such a pleasure to listen to! I have a lot of favourites on this one!

Cameron Edney: Looking at it from a drummer's point of view Jimmy, one of the standout tracks is 'Wake Up'! I loved everything from start to finish, when you hit the studio, did you have complete power over your drum tracks or did the band want certain styles from you for certain songs?

JD: I had pretty much complete control unless it got too out of hand and became too busy! We didn't run into that too much, we've all done this for such a long time that we know what works and what doesn't at this point. There was no one putting any controls or parameters on what I did. I tried to complement the guitar riffs as best I could, whether it was playing more or playing less.
The purpose of every song is the riff, all you want to do as a drummer is compliment the riff without getting in the way of the vocals, and that's where the trick is. In this case I didn't know where the vocals were or if there were any vocals at all [laughs]. We cut the drum tracks in three days without many problems and barriers.

Cameron Edney: For the fans, family and friends who have heard the latest album, how has the responses been?

DE: So far across the board the response has been great. It's everything we expected it to be. I love the first record, but probably from the fans perspective it may have been a bit of a curve ball because they were expecting me to be continuing on more with what i did from the past.
The way I saw it was that F5 was a different band, with a different name, with different musicians in it and my goal was always to let this band create its own sound rather than dictating to this band that it needs to sound like my past work.
As a result, I think it kept F5 honest and it allowed the band to be creative and grow as you can hear now from the difference between the first and the second records. F5 stands on its own, and we're probably going to have fans on our own. It isn't always going to be solely relying on my past work to carry F5.

Cameron Edney: Dave, does that actually bother you! The headlines always start with Ex-Megadeth bassist rather that F5 bassist.
Do you get annoyed that many of us in the press are always referring to you as the Ex-Megadeth guy rather than the bass player for one of your more current projects such as F5?

DE: No, I personally don't mind it at all. It's to be expected and I think that if they stop doing that I should be concerned [laughs].

Cameron Edney: David, when we last spoke back in 2006 you told me Dave Small had come up with the name for the band, now that he is no longer in it, will we be seeing a name change because of legal reasons or anything like that?

DE: No, no everything is fine with Dave. He is a great drummer and a really sweet guy. Dave has a real good spirit to him; we wanted to take the band in a much more metal direction because we really felt that this was a whole side of the band that you never really got to hear on the first record. I think that for Dave, it may have been a little bit out of the reportage of what he likes to do and what he normally would do. Dave was the one who stepped aside and there are definitely no hard feelings at all.

Cameron Edney: Guys, let's talk about life on the road for a moment. Earlier this year you played some shows in the U.S.A. but i can't seem to find any details on upcoming F5 shows. What touring plans do you currently have in the works?

DE: Some agents have contacted us about some dates. Things have changed a lot since our last tour. Here in America diesel fuel is now five dollars a gallon, where it used to be two dollars a gallon. F5 is a new band, as much as Jimmy & I are known from our past work, legacy doesn't necessarily mean that you want to rely on that when it comes to touring.
We're not playing any songs from our former bands we're only playing F5 songs. Years ago you would get a band and you would go out on the road and you would play whenever and where ever you could because that's how you built it, but Jimmy and I are in a different situation now. To take a band out on the road for a six pack of beer and a couple of blow jobs... we don't do that anymore [laughs], the music business is entirely different now.
In our mind we did some shows cause we wanted to warm the band up and get some things going and help get the band up on the radar screens. But as far as going out an extensively touring.... ideally we'd like to go out touring with somebody else rather than us just going out and playing some tiny clubs. Some of it is a comfort level and some of it is just being realistic about how we are going to start and build a new band rather than how we would have done it twenty years ago.

Cameron Edney: Speaking of going out on tour with other bands... I believe you are back on speaking terms with Dave Mustaine?

DE: Yeah I am!

Cameron Edney: Does this mean we could possibly see F5 added to an upcoming Gigantour bill?

DE: [Laughs] I don't know if I'd go that far [laughs]. Anything is possible, I try to keep all doors open but I don't know if our cycles will be moving in the same direction by the time we are ready to take the album on the road.

Cameron Edney: Jimmy lets go back to late December 1993 when Suicidal Tendencies and Alice in Chains played Australia together.
I was fortunate enough to witness both Sydney shows which took place one week apart due to the touring schedule, and two things that come to mind when I think of the second Sydney show are 1. You were filling in on drums for Sean and 2. Layne jumping into the crowd to belt some guy who was spitting at him! Do you remember that incident?

JD: [Laughs] I totally remember that and I'll tell ya what... I have the only existing video of that show! The sound man for Suicidal's had this video camera and I taped three of the shows. He set a tripod up at the soundboard and I totally remember that happening! I was sitting up on the drum riser and someone had spat on Layne, then Layne had jumped into the crowd. We only had one security guard and he couldn't get Layne out.
I remember stepping off the drums and I couldn't even find Layne in the crowd at one point. We were standing on the edge of the stage looking for him and he wasn't a terribly big guy. I remember standing there with Mike [Inez] and he said 'well, he's in there somewhere' [laughs]. Eventually he will come back out and we can finish the set [laughs]. I remember that like it was yesterday!

Cameron Edney: [Laughs] I wasn't standing too far away from the guy who was spitting at Layne and I still don't know why the hell he was doing it in the first place! Those Alice in Chains / Suicidal's shows were life changing concert experiences for me.

JD: I'll never understand why people pay money to go and see you, spit at you to then get beat up! I'll also never understand why people come to see you and then throw their shoes onstage! I'll also never understand why you go to a show, you buy a beer then you throw it at the band [laughs].
A couple of years ago I was playing with David Lee Roth and during the last song, which was Jump, I got hit in the head with a full beer bottle. It knocked me for a second, but I remember thinking... what was the point of throwing a perfectly good beer on the stage and hoping it would hit someone? If you don't like the song, you don't like the song, but don't throw your friggin beer! It's one of those mysteries that you and I will never understand [laughs].

Cameron Edney: You both have played with some amazing musicians throughout your careers, is there any one band you would love to go out on the road with?

DE: It's pretty wide open, there are a lot of other big tours up here and I think F5 is a band who could play with Judas Priest and Queensryche or we could hit the road with newer bands like Sevendust, Disturbed or Symphony X. The cool thing with this new record is it has its traditional metal roots because of my background and because the guys in F5 are a little bit younger, it by nature has a fresh feeling about it too.

Cameron Edney: Jimmy, out on the road who has given you the best piece of advice and what was it?

JD: I'm not a very good card player and I got a lot of poker playing techniques from Alice Cooper. I had to learn very quickly, because if you didn't learn you would lose your pay.

Cameron Edney: [Laughs]

JD: You had to know when to get out of the game too. That was our past time out on the road, gigs over, we're on the bus, and we're playing poker. It's fun for a couple of hours but then you start losing and it's not that much fun! I've got to learn to be a better card player [laughs].

Cameron Edney: [Laughs] What has been the best show of your life thus far, is it even possible to pinpoint one occasion?

JD: Not really, there are so many great experiences. I would say that those Alice In Chains shows were memorable. I was always a big fan of the band and that's how I could fill in so easily, I knew all of their songs. There were a lot of gigs with Suicidal Tendencies, when we were opening for Metallica, we had a lot of great nights, great crowds.
Playing in Europe to 150, 000 people a night was just insane. The first David Lee Roth show was another great show. We didn't rehearse, just got out there. I grew up listening to Van Halen, so I knew all that stuff really well and you know the Dave solo stuff, but when you get up there and David Lee Roth is standing in front of the drum riser, it's a bit surreal. Woodstock with Megadeth was a pretty intense show.

Cameron Edney: That's right there were a bunch of fires and riots weren't there?

JD: Yeah! We were going out as the riot team was coming in past us, guys in full armour with machine guns. I remember thinking this is not going to end well!

Cameron Edney: Dave, you recently finished up work on the new Alien Blakk album also! What can you tell us about that?

DE: It's funny, Josh who is the main writer for that has always called me to play on his records, to the point where I'd usually hold him off to make sure his material is done. He eventually ends up at my house with a Cd, a guitar and music in hand saying 'here it is, I need you in the studio Friday' [laughs].
That's how the first one went and that's how the new one went! Once we got into the studio he had a really good drummer lined up and the writing had really approved a lot from the first to the second record. I really like doing second records cause bands grow and people grow and stretch out more artistically and musically, there is a comfort level when you have been working with someone before!
I have played on two Soulfly records, two F5 records and now two Alien Blakk records. The Alien Blakk stuff overall I really walked out of feeling satisfied as a bass player. Unlike the F5 record which is more a big rock band sound, The Alien Blakk is much more of a musician's type of album.
There are a lot of different styles on the album from melodic to thrash to funk and it allows me to play what I want and not worry about it fitting into some kind of a box. As a musician it's fun to be able to do that, it's not about radio play, not about commercialism, it just about musicians hanging and seeing how far we can go with this!

Cameron Edney: Guys we have hit the part of the interview where our readers get to find out more about the real you! What have your parents thought about the music you have played?

JD: [Laughs] They never really had an opinion. They were always really supportive when I was a kid of playing drums. They gave me a drum kit when I was two; most parents won't give you a drum kit when you're ten 'cause they don't want to hear it. From that stand point they have always been supportive. My dad's no longer with us but my mum is and she has come to Suicidal Tendencies, Alice Cooper and Megadeth shows. You name it, she's been there, and she's always liked it!

DE My parents were always supportive of me playing, they never liked the music that I played [laughs]. What parents want their kids getting into heavy metal? Fortunately I had a good upbringing and I think my father got really excited, that I got passionate about something.
I later learned after he died that he was really passionate about architecture, but he took over our family farm and ran the farm operation which he was really good at. He was a business man but I think ideally he had this artistic thing inside of him that he probably was never able to realize to the level that he wanted.
I think once he saw me grab on to music he got excited. He saw that I was serious about it, I dedicated my whole life to music, my every waking hour to it and he really got behind it and supported me!

Cameron Edney: Jimmy has there ever been a point in your career where you thought it was all over?

JD: I always tell this story when I do drum clinics, because this is a prime example of not knowing where your career is going.... back in 1992 I was sitting at home one day, and there was nothing going on, I hadn't had a gig in a couple months and I was thinking to myself maybe it's over? If that's it, that's it, no big deal! I was contemplating retirement at twenty seven [laughs]. Next thing the phone rings, it was a management company and they wanted to know if I wanted to go and play with The Cult.
I thought... that sounds great, they said 'can you be in L.A. in a couple of days'? I said 'Sure, I'm going to be there then anyways, see you then'. About an hour later the phone rings again, and it's Robert Trujillo, and he says 'hey man do you want to come down and jam with Suicidal's'? I said 'sure man sounds good, I'll be in L.A. on Monday, see you then'! Cameron, I'm not making this story up... about an hour later I get another call from another management company saying 'we're so and so and we represent Olivia Newton John, she needs a drummer are you interested in coming down and jamming'? I said 'sure why not'.

Cameron Edney: [Laughs]

JD: I had gone from not knowing what I would be doing tomorrow to within three hours getting three calls from three completely different people! I had told my mum about it and she was completely thrilled by the Olive Newton John offer.

Cameron Edney: [Laughs]

JD: She was saying 'oh that's a great one' - of course she was going to like that one! Ironically, I went down and jammed with The Cult, then with Suicidal's and about two days later Olivia had found out that she had breast cancer and cancelled everything. Her management was very nice, they called me and said thanks for your time, but everything's off for now as Olivia has some health issues, thanks for your consideration, they were very very nice.
That show was obviously out of the mix very quick as she wasn't going to be doing anything for some time! Then I wound up getting an offer from Suicidal Tendencies and I really liked them, they had just releases a new record which I thought was great too. With a weird twist of fortune that's how that all worked out, and I always tell people you never know what's going to happen, be open to different things cause you just never know where it's going to lead you.




Cameron Edney: What is the one metal song you wish you had written?

DE: Iron Maiden's 'Number of the Beast'! It's friggin' awesome!

Cameron Edney: If you woke up tomorrow and decided you no longer wanted to work in the industry, what would you be doing?

DE: That's a tough one! I don't know maybe I would pursue becoming a professional swimmer [laughs].

Cameron Edney: Jimmy, I believe you actually own your own drum shop, how long have you had that now?

JD: I've had it for a couple of years, I have a staff that takes care of it and I go in a couple of days a week when I'm in town. I try to spend as much time as possible there but there are always other things going on.

Cameron Edney: Dave how old is your kids now mate?

DE: Roman is 12 years old and Athena is 9 years old.

Cameron Edney: As they get ready to enter their teenage years Roman in particular here, I wanted to ask you... when you look at the lifestyle that comes with being in this industry and being a parent who has done it all and seen it all, how do you plan to tackle the hard topics such as sex and drugs and what's the best piece of advice you think you could give the kids when the time comes?

DE: I am hoping that because I went out and lived my life and did almost every possible thing there is to do in debauchery that ever happened; I am hoping my kids will do the complete opposite [laughs].

Cameron Edney: [Laughs] I guess in your case the hardest thing is you can't sit there and say if you do this and that this will happen to you, because let's face it you are one of the fortunate ones who has been able to make a very good living, is looking well and healthy and survived it! If your kids put up that argument down the track where does that leave you?

DE: You're absolutely right. I'm at the front end of it right now, and I'm not into it yet but one thing I have realized about parenting is that kids teach you how to parent. You can read every book until you're blue in the face but kids basically tech you how to be their parent. In my case, one of the best things that I have on my side is life experience. I'm not saying that the bible says this or that parenting book says that, in my case my experience becomes my greatest asset!

Cameron Edney: How hard is it to juggle family life when you are so busy with various projects, it must be hard diving your time between both?

DE: It is a lot, recently I was in Hawaii for the Rock N' Roll Fantasy Camp then I came home then a week later I played an F5 show, then I did The Alien Blakk. Put it this way, the more I play, even if it's a lot of different varieties of music, the more excited I get, I feel like I'm living life to its fullest.
I think sometimes that's the balance with family, music can be very self consuming and self absorbed and I think family is a way to pull me out of sucking myself up into my own asshole [laughs]! Having kids has made me stay young and feel youthful, it's kept me in touch with what's going on out there. It also helps me realize that music is an art form that is fun and passionate and entertaining for other people not just you!

JD: Without going into any details I am involved with some other business ventures, and when you play your whole life you don't wake up one morning and just say that's it, you always play!
I don't tour as much as I used to cause I have family commitments now, and it just doesn't work for me, so I tour when I can in certain situations. At this point of my life nine - ten months on the road straight... I don't think I could tour like that anymore; I have other things in my life that takes priority. But I will always play.

Cameron Edney: For many years I have been a huge fan of the work you have both done & the various projects you have been involved with. What does the future hold now that 'The Reckoning' is completed?

DE: I find that in life the best things usually happen without me trying. You lay down the footwork, roll down your sleeves one day the phone rings for this and an email shows up for that and that's kind of how I am doing it right now with 'The Reckoning'. Right now we're talking to the media and I'm really enjoying talking about 'The Reckoning' and letting the next things unfold for me!

Cameron Edney: Jimmy, what's the craziest rumour you have ever heard about yourself and or any of the bands you have been in?

JD: I've never really been with anyone that controversial.

Cameron Edney: Oh Suicidal's copped it for a while there!

JD: The image that the band portrayed was so different from how the band actually was. I remember people being scared of us, but if they ever met the guys in the band they would see that we were all really nice guys, normal and down to earth.
We weren't choir boys by any means, but you take a band called Suicidal Tendencies and a lot of people would be intimidated and don't get me wrong, the band could be intimidating in certain situations but we were all pretty normal guys for the most part. A lot of people developed an opinion without really knowing what was going on behind the scenes which is completely wrong.

Cameron Edney: Most artists are lucky to survive in the industry for 2 - 3 years and yet, you have had an amazing journey up to this point. If you had to relive it all again, would you change anything?

JD: That's a great question 'cause one part of me wants to say yes... I wish I had done this or changed that or got out of this one sooner but, I think by letting things take the course, that's what creates the whole journey. If you went back and perhaps changed something then the whole thing would have a different end result and the end result isn't really finished yet!
There are certain things I wish I had done differently but it all happened for a reason and they're all learning experiences either musically or in a business sense. I'd hate to say it but it is what it is, and you just have to deal with it the best way you can. There have been plenty of positive experiences and there have been some bumps in the road, but that's what separates the men from the boys.

Cameron Edney: Jimmy I have one last drumming question for you... these days it seems that everything has been done. Drummers seem to be more interested in trying to outdo each other, by playing faster than the drummers before and so forth especially when you look at the more extreme sub-genres of metal. What advice can you give to drummers who are trying to come up with their own unique sound and styles in a time when so much has already been created?

JD: I think you need to be open to everything when you are developing your sound and your technique. I think even if you want to be a death metal or jazz drummer you need to listen to everything. If you want to be a speed metal drummer that's great, there's nothing wrong with that.
If you have some different influences then that can add more to your sound. If you wanted to do some jazz or Latin drumming, you should be able to do it with some metal, some rock and some punk. Be musically aware of other things going on; don't just know the one style, that's what will be holding you back. For drummers to set themselves apart they really have to be given the opportunity within the framework of the band and you don't always get that.
Sometimes some of the greatest drummers are in the background or go unnoticed because they just aren't part of the song writing process or the sound of the band. The whole speed thing has come to a halt and you're exactly right the extreme metal drumming has already reached another plateau, and I admire that but it doesn't really do anything for me.
I don't really enjoy that style of music. I like to hear some melody and that's a musical style that's not really based on melody, it's more on the attitude, the aggression and the speed. I can appreciate the work of anyone who can play that and I enjoy plenty of the musicians that play that stuff, but it's not something I'll be listening to a lot in my free time!

Cameron Edney: David, just before we wrap it up I do have one final question which I ask of everyone: who is the one band you never want to hear again and why?

DE: I've never hated one band that much [laughs] maybe The Bay City Rollers or something. My brother used to play them all the time. There are some songs in this life that you know you hate, but when they are played around you, you end up singing them [laughs]!

Cameron Edney: [laughs] I hear ya man! Guys I can't thank you enough for speaking with me today, it's been awesome! Do you have any last words for our readers?

DE: Thank you so much everybody for hanging with me on this journey I've been doing this a lot of years and I've been creating a lot of different music with a lot of different people, and none of it means much if there isn't anyone out there listening so thank you!

JD: I just want to say thanks for doing this, I hope everyone gets to check out the record and hopefully we will get to play for you all!

© Cameron Edney 2008

'The Reckoning' is out now; grab your copy where all killer albums are sold.




To keep up with all the latest news of F5, Dave & Jimmy or to order 'The Reckoning' head to the following websites

Official F5 Website

F5 On MySpace

Official David Ellefson Website

Official Jimmy De'grasso Website
---
Strange Corner - Human Society
Casket 2008




Strange Corner come from Italy and after forming in 1993 and getting rave reviews and spots on tours with the likes of DOA, Ignite and Snapcase, recorded two albums before this their third.

Listening to the record, it's easy to think that your ears are bursting with the Hardcore belting out at you. It leads you in gently with the start of 'Collapsed World' then rips your heart out with the awesome vocals and head banging beat.

I must say that that is where the enjoyment of this album ends for me, 'II Troppo Di Tutto' and 'Continue To Fight' don't exactly have a gap in between in fact you can't tell which track you are on!!

They say their lyrics are about society matters and personal experiences - which is commendable but it would be nice to have a different beat every now and again - this band has the potential to be so much better than this album shows and I am sure they are immense live.

The redeeming factor is that it ends on a very good note in the title track 'Human Society' which shows that Strange Corner does have a lot of raw talent just trying to burst forth - I can't wait!!

The Unforgiven he say - 2/5

© Dave Morris
Rating ** (2.0/5.0)


Buy From Amazon
---
The Modern Age Slavery - Damned to Blindness
BMB 2008




Oooh, loving the album cover; it's like a scene from the film "Saw"! Nice.

This is Deathcore; FACT = shouting and incomprehensible vocals, fast drums and repetitive guitars. Yet, dirty, heavy, dark and a ruddy good album to get out your angst and give something a good kicking - an imaginary kicking of course!

I am absolutely loving the vocals of 'Gio' you can't have Deathcore without a really rough metal front man with a voice that would scare Satan himself.
I don't know why, but I find filthy low manly growls as a big lady turn on! He's no George Fisher (Cannibal Corpse) but I am sure over time his voice box will be so ruined he will even more superior with the turn on!

This album is definitely going to go well with the younger generations, as they seem more violent and in need of a massive mosh than us oldies who just appreciate pure filth for the hell of it.

I can't believe that they have ripped off 'Wolverine Blues'! It's not as dirty as Entombed's version, but not a bad version all the same. Not as heavy or melodic and there seems to be a lot of bass missing from the production of this CD, which is always needed in the times of Deathcore.

I can't really compare the tracks, as Deathcore is usually similar, just a change of tempo here and there.

Really liking this album and I'm gonna keep it my car and scare my Nan with it later.

© Fluffmeister
Rating ***1/2 (3.5/5.0)


Buy From Amazon
---
CYNIC - "TRACED IN AIR"
SEASON OF MIST (2008)



It was not more than a week ago that I was asked to compile a list of albums which I consider to be the best for the year 2008 and, seeing as this year has been indeed very productive for all the genres of our beloved music, I managed to draft something in a relatively short amount of time.
The reason why I chose not to submit that list to our webmaster just yet, though, was due to the fact that I still hadn't received a promo copy of Cynic's second studio effort "Traced In Air" - an album that I have been waiting to see released for the last fifteen years!
Now, I cannot even begin to describe how high my expectations with regards to this album were, as I felt that it ought to at least be capable of competing with the band's classic debut "Focus" (1993) and I am absolutely thrilled to be in the position to say that what Paul Masvidal (guitars/vocals), Sean Reinert (drums) and Co have produced is not only the absolutely best release for 2008, but also an album that will soon (if not already) be revered as an absolute Progressive Metal classic!

If there is one band whose music is an absolute nightmare to describe, that band is certainly Cynic and believe me when I say that each and every one of the eight compositions that are on offer here, from the more melodic and dare I say 'straight-forward' to the most technical and highly sophisticated, all deserve the inclusion of words such as 'progressive', 'jazzy' and 'technical' in their description.
So, what should a person who has never heard this band's music in the past expect to come across? Well, that person should really expect an explosive musical 'cocktail' of numerous technical progressive guitar/drum passages which manage to blend in perfectly with an equally impressive number of robotic 'vocoder-fuelled' vocal themes and their accompanying melodic guitar themes. I know that it is hard to picture what all this might sound like, but it will all make sense the moment you push the 'play' button on your CD player.

The album's opening track "Nunc Fluens" provides an atmospheric drum-driven tribalesque introduction to "The Space For This" - a five and a half minute composition which is blessed by Paul Masvidal's ethereal/melodic vocals and which is based upon a solid and highly impressive progressive structure, courtesy of the band's amazing drummer Mr.Sean Reinert.
It is absolutely impossible to describe in words the strength of emotion that this highly intellectual composition is capable of conveying, and the same applies to the following composition, "Evolutionary Sleeper" - a three and a half minute song whose main rhythmical theme moves from a deeply melodic to a highly technical pattern with a speed and ferocity similar to that which made American sprinter Carl Lewis a legend in the world of athletics.
If all this sounds too complicated and technical for you, then songs like "Integral Birth" and "Nunc Stands" may indeed provide you with a very nice and welcoming 'melodic' break, while retaining those elements that characterise the spirit of Cynic's music. The idea of having to choose a personal favourite has never really crossed my mind, as I find that each and every composition featured on "Traced In Air" has something unique to offer.
However, If I were to name the one song that I feel represents the epitome of what Cynic's music is about in the year 2008, that song is definitely "King Of Those Who Know", as I feel that it is the one composition whose structure is so technically demanding that only a true Prog Metal convert will truly appreciate it.

My introduction to "Traced In Air" took place during a four and a half hour drive and some of the things that this experience taught me are a) that this is an album that can work as background music, however strange that might sound, as well as a frontline, b) that however many times you listen to these eight songs, there is always something to discover with every new spin, and, most importantly, that five stars is a very poor way of describing this amazing release - a release that all metal fans should add to their CD collection! Simply a masterpiece!

John Stefanis

Rating: ***** (5.0/5.0)
---
ENSLAVED VERTEBRAE
INDIE RECORDINGS (2008)



Enslaved belongs to the category of bands whose career I have been following from the early days of their inception and that has never been anything other than a pleasurable experience for me.
The now Bergen-based Experimental Black Metal quintet has always been keen on expanding their musical horizons and experimenting with new sounds and formulas in their numerous releases, thus keeping my interest active throughout those eighteen years.
I guess that you all understand, then, why I was deeply disappointed by the fact that the band's current label, namely Indie Recordings, was not featured on the list of record companies which provide us with their valuable promos. Would that be enough to deprive me from writing a review for the band's tenth studio effort Vertebrae? Of course not 'it only really meant that I would have to wait until the album's official release date in order to finish my task.

Much as the above delay was slightly annoying, I believe that it helped me reach some very interesting conclusions - ones which I may not have reached, had I been provided with the promo from the start.
You see, in between the period of carefully studying Vertebrae (studying is the only appropriate word to use while referring to this album) and preparing my review, I was given the chance to see the band performing the vast majority of these compositions on stage and that, I believe, gave me a better understanding of what Grutle Kjellson (bass/vocals) and co were set out to achieve in this release.
To put it very simply, I believe that Vertebrae is the first album where Enslaved managed to achieve a perfect balance between the numerous experimental/ atmospheric elements which have dominated their sound since the release of Eld (1997) and the simple in their conception but ever important solid guitar riffs that are typical of all those Norwegian Black Metal bands which dominated the extreme metal scene in the early 90s.

The first thing I realized the moment the energetic rhythmical theme of the opening track Clouds dominated the narrow space of my room is that Enslaved have finally managed to sound really confident in their own skin and that is a feeling that was enhanced the further I studied the album.
How else could one explain the perfect harmony that exists between Ivar Bjornson's Black Metal riffs and Herbrand Larsen's inspirational 70s sounding keyboard themes which beautifully enhance the feeling of terror and angst that this composition wishes to convey? One of the things that I am still trying to grasp is why it took quite a few spins before I managed to connect with To The Coast especially as I am now totally obsessed with its moody epic introduction and its Opethesque melodic breaks.
Getting hooked on Ground was much easier, as its catchy melodic main guitar theme and Rush/Tool influenced massive refrain, not to mention its long and brilliantly performed Floydesque guitar solo, make it an instant crowd pleaser. Fans of Prog Metal will almost definitely appreciate what the same-titled composition Vertebrae has to offer, whereas fans of fast-paced rhythmical Black Metal will be most pleased with the atmospheric but quite upbeat opus New Dawn a song that's destined to give many headbangers a run for their money.
If the catchy riffs of Ground did open your appetite, then the seven and a half minute Reflection will certainly satisfy your hanger, as it features some really beautiful guitar melodies accompanied by Cato Bekkevold's inspirational and highly articulate drumming themes.
One of the things that I am always looking to find in a Black Metal release is dark atmosphere, and there is indeed plenty of that in Center a song that can easily compete with any of those that the legends Celtic Frost included in their 2006 masterpiece Monotheist, as it also invests heavily in simple/ atmospheric guitar melodies/ effect and haunting/chanting growls. The closing composition of the album, namely The Watcher, provides indeed the most fitting ending to this album, as it encompasses all those elements that best describe the music of Enslaved in the year 2008: confident and dynamic, while also daring and highly experimental.

Looking back at the numerous releases that managed to make a huge impression on me this year, I believe that as a fan of Heavy Metal I have plenty of good reasons to celebrate. None of these albums, which will soon be featured in my best of 2008 list, have managed to both surprise and satisfy me to the same extent as Vertebrae did, and that is probably why there has not been a single day since that I have not felt the urge to succumb to its magic. Extreme music cannot get much more intelligent than this!


John Stefanis

Rating: ***** (5.0/5.0)
---
---
**** Out of this world | **** Pretty damn fine |
*** OK, approach with caution unless you are a fan |
** Instant bargain bin fodder | * Ugly. Just ugly