THIJS VAN LEER (FOCUS)
Thijs van Leer formed Focus back in 1969 and for a few years at the start of the seventies the band became one of the major international attractions, with several best-selling albums and singles. The band finally split in 1976 and Van Leer pursued a solo career. More recently he reformed Focus with new musicians and a new album, recapturing the spirit of the old band but reinterpreted for a new generation of listeners. Thijs van Leer and Focus support Uriah Heep at the Astoria in London on Saturday 8th November.
1. What are you currently up to?
In order to promote Focus new album "Focus 8" we played headlining on festivals in the UK Canada USA Holland and Belgium. in November 2002 we did a major tour in Latin America and a second one in March 2003. In April we did a series of concerts in Tokyo- Japan. Everywhere the gigs sold out, standing ovations, rave reviews about the concerts and the Focus 8 album.
On top of that my girlfriend loves me so I'm the happiest man on earth.
2. What has been the highlight(s) and lowpoints(s) of your career to date?
Except for the last year's tremendous success with Focus, as mentioned above, highlights of the recent past are:
A Two Far East tours with the jazz trio of Mike Delferro with me as flute soloist.
B My group "Conxi"consisting of Senegalese drummers, singers and dancers and Dutch musicians.
C. Concerts with classical (symphony) orchestras and choirs and CDs
D. Performances with my children and CD's.
Low points: not having enough time to compose while touring.
3. How did you first get into the music business? Who have been your main influences on your career to date?
First piano lessons by my mother when I was three years old. At 12 years I got my first flute lesson from my father. Many famous Dutch piano teachers I took classical education from, until I got inspired by Miles Davis & John Coltrane to go and play improvised jazz (bebop). I started to compose by the age of 8 and wrote `Moving Waves" which later became the title track of the Focus album, including our number- one world hit: Hocus Pocus at the age of 16. My first professional appearance was in February 1968, age of 19, in the show of singer- songwriter Ramses Shaffy, in an Amsterdam flower power theatre, specially designed for this show.
Influences were Bach, Bartok,Menotti, Miles, Coltrane, Herbie, Weather Report, Hermeto Pascoal, (with whom I recently jammed together with his band members) Led Zeppelin, Traffic, Sly and Family Stone, Jimi Hendrix, Jan Akkerman & Pierre van der Linden (ex Focus).
Right now I receive lots of inspiration from the new Focus members: Jan Dumee, guitarist, Bobby Jacobs bassist, Bert Smaak drummer. They amaze me every concert, as they grow better and better
4. How has the new album been received? What are your personal highlights on the new album?
From all over the world reactions from good to extremely good "makes me shy". Even the most "dangerous" critics appear to love the album. My favourite tracks are: Rock In Rio, Neurotica & the bonus track Flower Shower because of their weirdness & surrealistic quality.
5. Focus are one of the few bands in history to have two singles in the top 10 of the UK charts at the same time with Sylvia & Hocus Pocus. How come both tunes were out at the same time?
As we are going to tour the UK in May 2004, I hope to meet our producer Mike Vernon. I will ask him your question about Hocus Pocus & Sylvia, because I haven't the slightest idea why they released two singles at the same time?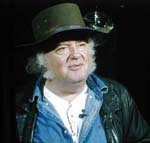 Thijs van Leer, 1974/2002
6. What do you think has led to the longevity & success of Focus and is there anything else you still want to achieve with the band?
According to my humble opinion Focus was never subject to fashion and trend. Notwithstanding the fact that we won Billboard's trendsetter award in 1973 in the USA, Brightest Hope award of Melody Maker in the UK, golden albums and singles worldwide (which was quite exceptional for a mainly instrumental rock band). We never felt being that progressive either in the 70's or at a continental European (classical) tradition, one could call us rather evolutionary than revolutionary.
Other than develop and grow with band, meeting more and more fellow-musicians all over the world that may cross influence us in positive sense may enhance understanding and peace in the world. There are some invitations in the near future for me to compose film scores and other art- forms where my music could play a more serving role.
7. How did you hook-up with Uriah Heep for their 'Magician's Birthday' shows in 2001?
I was invited by "The Heep" to play flute in 2001 in London's Shepherds Bush theatre standing on two legs. The year before they invited Jethro Tull's Ian Anderson to do it on one.
8. Has your style of playing and composition changed over the years?
No I keep on trucking.
9. What do you do in your spare time outside of music?
Composing for other artists and bands, oil-painting,reading,crossword puzzling, seeing friends (most of them not musicians), walking in the woods and the seashore together with my lover, the rest is none of your business.
10. Message to your fans...
Dearest fans, please pray for us FOCUS so that we have the power to continue our beautiful work of sharing our music with us...
Sincerely Thijs van Leer.
---
Interview © 2003 Jason Ritchie/
Format and edit: The Music Index.
All rights reserved.