As a (belated) celebration of the Newswire's first birthday this year I sent a new 10 Q's to keyboards player Don Airey. A very busy mas who has appeared on many albums and is now a full-time member of Deep Purple.
1. What are you currently up to?
Recorded an album in LA with Purple, (Bananas), & toured Europe, UK, Brazil and Mexico with the band. Have had time to fit in session work on the new Silver project, "Intruder", that involves me old mates Gary Barden and Michael Voss, a few tracks on the upcoming Metallium album, and handle harpsichord duties on Uli Roth's amazing new CD version of Vivaldi's 4 seasons, called "Metamorphosis". Also made a guest appearance on guitarist Rolf Monkes new CD.
2. What has been the highlight(s) and lowpoints(s) of your career to date?
By accident, literally. I had just completed my Piano diploma at Music College, when I fell chipping my left elbow. My Chopin and Schumann have never sounded quite the same, and I drifted into the rock side. Main influences of those I have worked with are Cozy Powell, Ritchie Blackmore and Jon Hiseman. Over the last couple of years as well I have started to appreciate the part Roger Glover has played in my progress. Listening -wise, keyboard-wise, Jimmy Smith, Keith Emerson, This van Leer from Focus, and many jazz players such as Chick Corea, Bill Evans, Junior Mance and Makoto Ozone.
3. The new Deep Purple album is complete now. What was it like recording your first album with the band? Could you share any song highlights with us?
It started happening as soon as we walked into the rehearsal room. My favourite song is the title track "Bananas" - the instrumental piece at the end of the number is as hard as anything I had to play in Colosseum II, and it emerged out of Steve and I trying to outdo each other; when he first heard it Ian Gillan walked over to us and said "You two blokes are bananas!"
4. What was it like appearing on stage with Jon Lord during his farewell shows last year? How have fans taken to you replacing such a longstanding member?
It was just great. I think both of us were equally apprehensive about the situation, but it worked out. My favourite part was when Jon took over the keyboard solo from me, just before Perfect Strangers as if by magic. I also enjoyed playing the synths during "Smoke" and watching what the master was doing on Hammond over his shoulder. I told him I had the best seat in the house - he is really incredible! The fans couldn't have been nicer to me.
5. Any plans for some further solo work at all in the future?
Always, just there's never the time. I am halfway thru a new album, and also busy writing a setting of the mass for performance in the spring.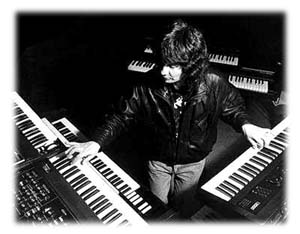 Photo: http://www.donairey.com
6. Empire- you appear on this album along with Tony Martin & Neil Murray amongst others. It is a superb album, very melodic - how did you become involved with this and how do you fit all these appearances on other people's albums in?
I met Rolf Monkes at a German truckstop - we got talking and I agreed to do some stuff for him.He's a talented guy. How do I fit all these appearances in? As quickly as possible!!
7. Will you be involved at all with the new grouping of ex-Whitesnake members M3 at all? How did you come to leave Company of Snakes?
No. CoS fired me!
8. What has been the best career decision you have made and why?
Leaving CoS...only joking, apart from taking over Jon's mantle, joining Rainbow. The band with Cozy and Graham Bonnet was an amazing one to be part of - Ritchie was still at his best, we had made a great album ("Down to Earth") that spawned 2 big hit singles, and there was absolute mayhem everywhere we toured.
9. What do you do in your spare time outside of music?
Practise the piano, tend the garden, read the broadsheets, support Sunderland AFC and go to the village pub. I 'm also the official but very occasional deputy organist in the local church - the only proper job I've ever had, and I do a bit of fundraising for local hospitals and schools.
10. Message to your fans...
Thanks for making me feel a useful member of society.