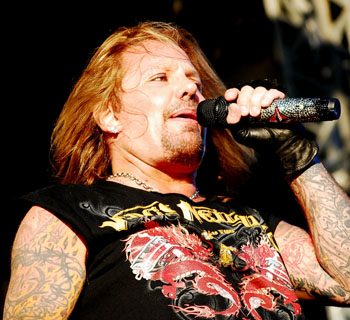 Hi Vince. Your new album "Tattoos & Tequila" sounds like it was a lot of fun to make, "Viva Las Vegas" captures the feel of the city and I have described the album as like you throwing a BBQ in Vegas complete with free beer and half naked cowgirls. How was it making the album?

Yeah, it was great to make the record you know. These are my favourite songs and favourite albums and that made it even more fun to make.

How come you chose mostly covers for this album - and was it easy to chose which songs to record?

You know, each and every one of these songs is on my IPhone, these are the songs that I grew up with and each one has a memory attached to it. These are my favourite albums growing up.

So, what are your favourite tracks on "Tattoos & Tequila"?

They're all my favourite tracks on the album!

But, if you had to pick just two of them, which two would it be?

Come on man. I mean, I love the title track "Tattoos & Tequila"- that was a new track and I think it's great. I even love the Creedence song ("Who'll Stop The Rain"), a lot have people have re-done that. And The Hollies' "Tall Cool Woman", it's a good song.

What about "Viva Las Vegas"- that does capture the feel and spirit of the place?

Yeah, "Viva Las Vegas" – that song, because I live in Las Vegas, so I re-did that song because nobody has really done it since ZZ Top and that was very electronic when they did it. So this song was either gonna sound really good or really bad- it was gonna work or it wasn't, and I think it sounds pretty good rocked out.

You are also releasing a new autobiography of the same name. Your career, and indeed your life, has contained some amazing high points - and equally amazing lows- will the book contain any surprises for fans?

The book is like, you know, The Dirt was written about four guys, my book is written about me. It's like I touched on a lot of things in The Dirt but I didn't go into real detail.
So this is what I do, about growing up in Compton and getting into Motley Crue, the highlights of my life. Plus, The Dirt is 10 years old and a lot of stuff has happened since then- and it's not only my voice in The Dirt, there were a lot of ex-wives and managers and, you know other people's views of me.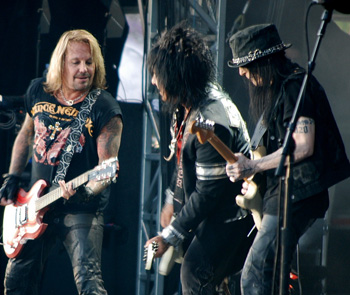 Motley Crue are playing on this year's Ozzfest bill in the US - are you planning a solo tour once this is done?

Well actually we're on tour right now, we've been touring but we had to stop because of Motley. So we're doing a lot of shows with The Scorpions right now and we'll tour until at least the beginning of next year.

Will you be bringing the tour to the UK?

Yeah, you know I am looking to come over here in October/November and play - I'm kinda really keeping my fingers crossed on this one.


You have built up a hell of a business empire with your own brands of tequila and wine, Vince Neil Ink, Feelgoods Bar and Grill and now your own airline- what drives you as a business man?

Well, I only make businesses that I have fun with. You know, with the nightclubs and the live music - my place in Vegas "Feelgoods", I have bands like Ratt and LA Guns and old bands and friends of mine come in and play, so I have a cool place to play in Las Vegas.
With the tequila, I started with wines but I bought the tequila company about 5 years ago because tequila, to me, is like summertime and bikini's and getting girls drunk (laughs). The tattoo parlours, hell, I get my tattoo's for free now (laughs).

You name check the tequila brand a couple of times on the new record, that is good marketing.

It's great tequila you know. It has actually won the bronze medal out of 900 tequila's not so long ago.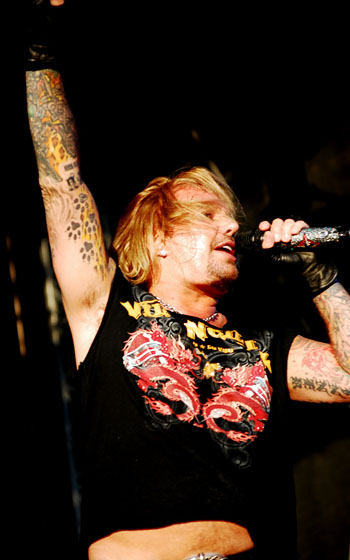 Next year sees 30 years since you joined Motley Crue - are you planning anything to mark the occasion?

Well, yeah, our 30 year anniversary is next year and so it'll be CrueFest 3 and I don't know exactly what we're gonna do but, as Motley Crue does, we're gonna blow it out of proportion and make it big and crazy.

Are there any plans to bring the CrueFest over to the UK?

We're trying to, you know, we've talked about it and I think next year we probably will bring CrueFest over.

The CrueFest has picked up on some of the newer bands around. What are your favourite new bands at the moment?

I am really bad at that. I'm kinda like stuck in the old times, I listen to what I grew up with AC/DC, Van Halen, Deep Purple - bands like that. It really kinda opened my eyes last night at the Kerrang! Awards, there are some really good young bands out there and I think that's good, just to check them out.

What do the next 5 years hold in store for Vince Neil?

Work (laughs). Motley Crue, when we tour with Motley it's like a good 2 years so that is 2011/12. 2013 I am planning to do another solo record - but all originals. Then Motley Crue 2014/15, so 2016 maybe I'll take a break (laughs).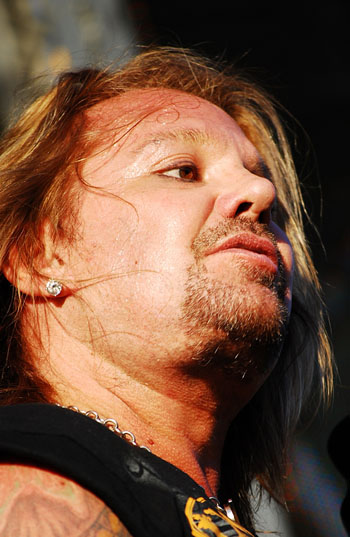 You have made several film and TV appearances over the last few years - are you still planning to make the reality show "According to Neil"?

No, I mean reality shows are just something that if they come up, and they're fun and it works I'd do it. I've just got a contract today to do a thing at The Palm's Hotel (Las Vegas) so we might do a reality show with them, they'll be using my airplanes, so..

Yeah, how did the airline thing come about?

I have a home in San Francisco and I live in Las Vegas so I got tired of chartering airplanes to take my dogs back and forth because my ex-wife wouldn't let the dogs fly regular airlines in a crate, so I was basically chartering planes for my dogs. It was actually cheaper to buy one (laughs).

The film of The Dirt is something that keeps coming up, is this still happening?

People talk about it. You gotta realise that Motley Crue has nothing to do with that - Paramount Pictures has bought the rights to the book and they had it and were gonna make the movie then the president of Paramount left and the new President came in and they kinda dropped everything. I'm hearing rumours though that another company has now bought the rights to the book and is now gonna do it, so it could happen. I am hearing rumours that it's finally gonna get made.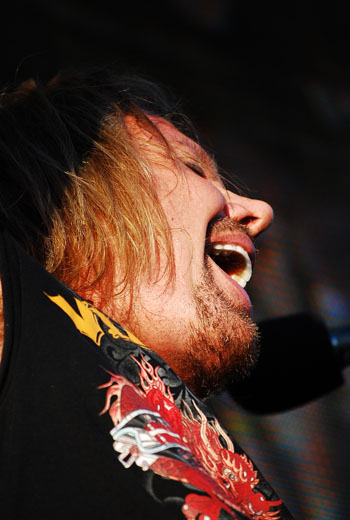 Who would you like to see play you?

Dana (Strum, member of both Vince's solo band) and Slaughter - and sitting in with us - much to laughter all round. You know, I don't know (laughs).

You've got a lot of fans here in the UK, have you got a message for them?

Really, just thank you and I really want to get over here- I love playing here with Motley Crue and I finally want to get over here with my solo band and play some smaller places and really see the fans. Motley really play festivals here - I wanna play some clubs and stuff, get down and dirty.

Thanks for your time Vince, have a great show at Sonisphere tomorrow.
---
Interview © July 2010 Nikk Gunns
Photos by Moonshayde Photography/GRTR!