During the 70s and early 80s, Foghat released a string of top quality blues rock albums, becoming one of America's top live draws in the process. The name (dreamt up by founder Dave Peverett as a kid while playing Scrabble) is now synonymous with top quality boogie and stadium blues rock.
Tony Stevens was the original bass player and founded the band with guitarist / singer 'Lonesome' Dave Peverett and drummer Roger Earl, all ex Savoy Brown, with former Black Cat Bones lead guitarist Rod 'The bottle' Price.
Tony left in 1975, after 4 albums, and the band from then on had a myriad of line-ups, before splitting in the early 80s. The late 80s saw two versions of the band tour, before the original line-up reformed in 1993 for some excellent albums that really should be checked out. More recently Tony left the band for a second time, again to be replaced by Craig McGregor (although the first time did include a stint by producer Nick Jameson).
The band have also lost Rod Price (fall) and Dave Peverett (cancer).
In 1998 Tony released his first solo album in America, which soon gets a full UK release on Angel Air.
Your 1998 solo album is just coming out on Angel Air, how did that deal come about?
I got a letter from the guitarist who worked on the album, who said that Angel Air were doing the Midnight Flyer album, which I did with Maggie Bell (ex Stone The Crows), between 1979 and 1981, on Swansong and managed by Peter Grant. I got talking to Peter Purnell (Angel Air boss) and he asked me if I had any other material. He loved the solo album and asked if we could do it, and as the original deal had passed...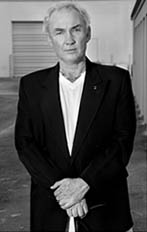 You were still in Foghat at the time you recorded it, so how did the solo album come about?
When I started it, in 1988, I came of the road with Roger Chapman, and said OK, I had some money, wanted to do my own album. A friend, an actor called Alan Love, who had been in Hair, lots of stage productions, was working on a rock opera called Fallout.
He needed to take it further, I got involved, and it will come out, but was partly rewritten. So in 1988 I decided to start, and did 7 tracks. But between acting and then the Foghat reunion, it got put on the back burner. Then in 1998 Dave (Peverett, Foghat singer/guitarist) fell ill and was undergoing chemotherapy. I was in England and decided to finish it, with Anthony Glynn. Mixed it, and remixed it in America, and was introduced to Earl Slick who had his label Slick, and got a deal.
And that title?
The full title is 'Don't Blame Me...I Just Play Bass'. As a bassist I'm good, and I'm a good song writer. I have a unique voice but when people mention the vocals I just say Don't Blame Me...it's a coward's way out.
You've now left Foghat twice, both times to be replaced by Craig McGregor (OK once via Nick Jameson), what were your reasons?
The first time in 1975 I had differences with the manager, who was a typical New Yorker, shouted a lot, and kept the band on the road. Bad Company came over, supported us, went down well. The then album 'Rock'n'Roll Outlaws' didn't do as well as 'Energised', and we were always on the road in America. We were getting Oldhat (laughs). I wanted him to take us off the road, or off to Europe and Japan, new markets, then come back. The manager wanted us all to live in the US, around him. I was tired of touring, touring the same country, and I didn't want to live in the US.
The second time, I was kicked out. So I went out as my own Foghat, and there's a court case now with Roger over the name. But now I have good management.
How did the early 90s reformation come about? Any big 'Make Ups'?
Really got phone call from the management in 1993, the management had brokered a deal with Rick Rubin's label and wanted the original line-up or nothing at all. But the big problem was when the band split in the 80s Roger and Dave made a deal not to use the name.
So when Dave went back to England he came back to find Roger using it so he formed his own Foghat and Roger sued Dave, but nothing really happened. I was the mediator to keep the air clear. And we nearly broke up over Roger's drumming but I helped him. There were big problems with Dave and Rod, but I got them to tell me so it wasn't coming from all sides, just to avoid break up.
The two studio albums are fantastic, how do you feel about them?
Yes they were great. First was 'Return Of The Boogie Men' in 1994, some great tracks, like Motel Shaker, and the live acoustic tracks, great. But the manager put pressure on the producer, we were then with Modern Records as Tony Outeda lost us the deal with Def American.
'Road Cases' was produced by a friend of mine, a live album with some studio tracks. Didn't get arrested; good album but no-one was really pushing it. Difficult to get record companies interested in classic rock, they all want fads. It's a viable market, steady. Look at Aerosmith, they have their own writing group, a team, and add their rock stamp to the songs.
'Family Joules' needed to be a new stamp, with a new guitarist (Bryan Bassett, ex Molly Hatchet) and singer/guitarist (Charlie Huhn), showing we could carry on. More commercial, we were on the right track. Could have been a couple of singles with the right promotion.
It would be great for them to get a UK release too...
Everything does, whether we know about it or not (laughs), live albums or compilations or whatever. Maybe Family Joules would be good, to depict the band of now, would be nice.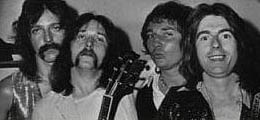 Foghat, c 1972 (Roger Earl, Rod Price, Tony Stevens, Lonesome Dave Peverett)
What were your highlights in Foghat?
Energised going gold, we all wrote on that album, showed a complete side to us. Not one view, worked together.
And getting back together in 1993 was a good move, but we didn't have a good record company or a manager with vision.
Why did the 3 of you (with drummer Roger Earl and singer guitarist Dave Peverett) leave Savoy Brown together?
When (singer) Chris Youlden left, Kim (Savoy Brown founder/lead guitarist) was getting into Jazz. He's a great guitarist. Look I'm weened on jazz, but Kim was getting into different jazz guitarists. All of a sudden there were these jazz solos, freeform, in the middle of 'Louisiana Blues'! We looked at the audience and you could see them thinking 'What's this?'.
I was writing on 'Looking In', everybody loved the commercial edge, and 'Poor Girl' was a single. But it became very Spinal Tap-ish with Kim's wife pushing things, a Yoko Ono thing.
I got sacked, I saw it coming, and Kim said to Roger he could stay if he improved his drumming, and something else to Dave. Then he left the room, and the 3 of us looked at each other and said 'Fuck him!'. His manager (brother Harry Simmonds) asked us what happened and we told him, and we left at the end of the tour. Spent 1971 putting Foghat together.
Within 4 albums, Foghat went from an earthy boogie rhythm'n'blues to stadium blues rock. Was anything ever intentional?
After Savoy Brown, which was pure blues boogie, it was natural progression. 'I Just Want To Make Love To You' was a slow number, like the original, but I added this faster bass riff. Dave Edmunds, who was producing, wasn't stuck in one vein, he keeps your mind open. We played harder, with more original material.
A group of you recorded the Warren Phillips album while still in Savoy Brown (reissued 10 years later as Before Foghat Days), how did that come about?
We were in Decca Records, recording 'Looking In', and one day waiting for Kim, Dave was doing his Gene Vincent impression, and all of a sudden we had an original 50's sound.
Kim came in, and we did the stuff with Savoy Brown, but when he went we finished off the sessions, with I think Bob Hall on keyboards.
Came out on Decca in 69 or 70, as Warren Philips And The Rockets, and was reissued as Before Foghat Days 5 or 10 years later.
Is there much live or previously unreleased studio material in vaults worth releasing?
Not a lot. Dave would have some, solo, not much Foghat. Maybe Rod, I don't know.
When Foghat reformed, how did you feel playing Craig McGregor era material?
When we reformed, it was part of the band. Craig had been playing my stuff. So when I came back I put my stamp back on. He's a nice guy, a good bassist, but I do it my way. There's some good stuff, when we 'Stone Blue' (on Road Cases) Rod let rip with the slide guitar, sounds like an angry bee.
Tell me about your acting career.
It started after Foghat, we were with WEA and I got a call from an A&R guy, couldn't get this American bassist a work permit for Rock Follies. We all played along, it worked, I did the second series. And in the late 80s I came off the road with Roger Chapman and went to drama school, worked in Comic Strip, The Bill, East Enders and other stuff. Would do it again.
Apart from Roger Chapman, who else did you work with? Didn't you record with Maggie Bell too?
Roger I worked with for 4 years, from 84 to 88, a great time, a great person, we did 3 albums. After Foghat and Rock Follies I did Nobody's Business in1977 with Bobby Harrison and Joe Jammer. Recorded for about 2 years, in a studio outside Nice, did an album.
Then I put together Midnight Flyer with Maggie Bell, around 1980, after that 2 years with Cheetah. Two girls from Australia, we were the band. Same management as AC/DC, who pulled the plug on it. Good band, lots of shows
Then Roger Chapman, then acting, and Foghat.
Any memorable sessions?
Tommy, the Who's film version, and the original version of Evita. Rock Follies was fun too.
Didn't you move to Spain for a while?
In 1977, when Nobody's Business started, we played in Ibiza, we were a good rock band. Fell in love with it there. Brought a place in 1988.
What are your interests outside of music?
Tennis, skeet shooting. I love being creative; from 1975 I took up renovation. I love property restoration. Did it for 7 years, good fun.
Drinking and laughing (laughs)
What do you listen to outside of Foghat? And as a musician and a bassist who are your influences?
I was weened on jazz, John Coltrane, Charlie Mingus. Started playing at 10, so was listening to The Hollies, Beatles, Del Shannon. Then R'n'B when I was 14, Stateside and later Motown.
Influences, mostly the simple bassists, who played with the likes of Freddie King, BB King, steady stuff. Loved Stanley Clarke and Jaco. John Entwistle was a good friend, the Who are great. Kenny Jones is an old friend too.
For the techie, what can you tell the budding bassist about your technique, how you learnt, and your bass / equipment?
I'm self taught, and never had the urge to be a fast bass player. Most modern bassists are all technique, but have no soul. Mark King was great, fast, but has soul. Some have no soul.
My advice is choose your technique, what you want to be. I was solid, the stepping stone / springboard from the drums to the guitar.
I play a Warwick bass, I have an original Spectre copy, one of only 100, nice, old, light, nice to use. On stage I go for an SVT cabinate and a Cruger 600 amp. Simple, and for outdoor gigs you need a solid round punch.
Foghat losing both Rod and Dave has been pretty bad luck...
Dave contracted cancer in 1998, and had a kidney removed. Rod then left, he didn't want to go out on the road. Dave was out with chemo, and Bryan stepped in for Rod. Dave died in 2000, and in 2005 Rod too. Both bad luck, before their time.
I saw Molly Hatchet play a tribute to Dave, and Nazareth's Darrell Sweet. You've crossed paths with Hatchet a few times haven't you?
We did a lot of shows with Molly Hatchet, we had the same agent, and some with Nazareth. Hatchet love my band, they've seen many Foghats over the years.
What are your plans now?
To carry on playing. When these legal battles are over, I'll tour, could be as Foghat, or Slowride.
Parting message for your fans?
Watch this space. Got a great band, We'll be back, and buy the CD.
---
Interview © July 2006 Joe Geesin