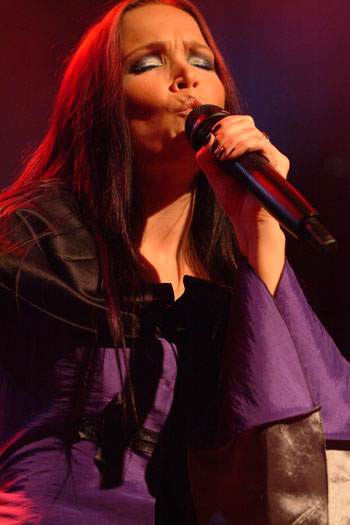 Born in Finland, domiciled in Argentina, and recording for the English Spinefarm label, Tarja Turunen is the gothic diva of 'drama and decibels' who has taken her classically trained soprano voice to the heart of Metal and achieved international success.
The former vocalist of the million selling Nightwish is now a best selling artist in her own right. In 2007 she recorded her English language debut the gold and platinum award winning 'My Winter Story' album.
Three years on she's also slipped into the role of song writer and producer on the forthcoming follow-up 'What Lies Beneath', not to mention a star turn on 'The Good Die Young', the lead single from the Scorpions final album 'Sting In The Tail' .
Tarja talks to Pete Feenstra about her burgeoning career and future aspirations.

You've been described by your PR as 'Queen of Metal Opera'. Is that how you see yourself?
Well (laughs) that's quite a lot to say. Really all I do is to try and do my very best. I enjoy the beautiful freedom I have to express myself both as a person and in my musical life as an artist. And that sometimes means I have been working in different musical genres, but really I'm guided by how I feel and how music moves me.
For example, I'm now working on my second album - in fact it's been nearly two years - and I feel stronger than ever in terms of the music. The songs are almost there and I know what I want.
I'm clearer about what I wish to do. So Opera and Metal labels don't really apply. It's more about how I feel about the music and the direction that the music takes you in rather than writing for a particular kind of genre.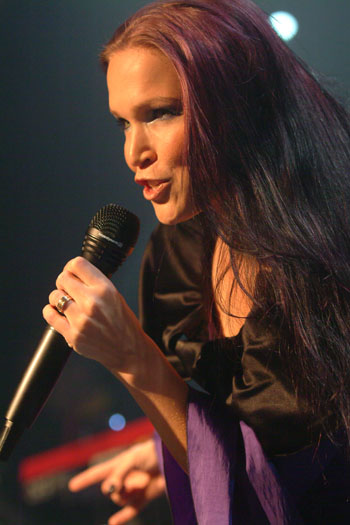 You've started to write your own songs on 'What Lies Beneath'. Was that a big step for you?
Yes it was but in a way it was a natural thing, a sort of progression because of my experience from what happened before. The whole project has been much easier for me this time. Because of having worked on my first album I have a lot more experience of recording and what is required to get things done. It was because of having gone through that whole process before that I was able to start writing.
I still like 'My Winter Storm', but I know a lot more now and I know this album is a lot stronger in terms of songs, production, direction etc.

Does songwriting come easily to you?

Doing that first record was all part of a learning process for me. I now have more confidence in many things, such as knowing what I want and how to achieve that. So I started writing which was obviously a new experience for me and an unbelievable step for me as well as being a nice change.

On the new record I've also been surrounded by great people who have helped increase my confidence to the point I can step out and explain to people what I really want. But it's been just as important that these same people would also tell me when I should do something else, or take a different approach etc. I suppose the big thing is that you really feel for the music you have written yourself and that is especially so when you perform it.

How many songs did you write?

We did about 30 songs altogether in the two years since we've been working on it That's now been narrowed down to 16 and then eventually we'll reach 11 for the album, with maybe some different ones for bonus tracks in different territories.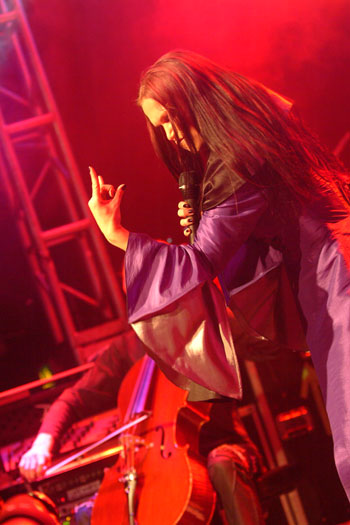 What was it like producing yourself?

Being my own producer helped me make things much more clear. On the first album the production was a problem. There were a number of things including my inexperience in trying to bring different people round to the different styles of Classical music and Rock.
At that point in my career I wasn't able to say things like, 'maybe we should do this instead of that' etc. I was happy with the album but now I know a lot more I'm much happier now with 'What Lies Beneath'.
As a producer you have to have a vision, maybe a concept. And I thought about what I wanted this album to be. So I thought let's make it a bit heavier, much more focused, perhaps less diverse but with an orchestra and choir so I could still retain my classical influences. Above all, being the producer means everything is the result of me pulling the strings.

What does Colin Richardson (Machine Head, Bullet For My Valentine, Slipknot) bring to the mixing stage of the album?

Well we're actually doing that part of the album now in London at the moment. And Colin is doing an unbelievable job. I loved what he did with Slipknot for example, and he gives me what I want to hear - excuse my language - but he makes the thing sound fucking powerful which is exactly what I wanted.
I wanted a heavier sound, a big sound and he can give me that. And if I wanted bigger guitar sound at one point he gave me that too. Above all he's a great guy to get on with, a real gentleman and brilliant to work with.
I was born in a little village in Finland with 500 people ... and I have lived in different countries in my life. I've also been in the music business from an early age and things happened very fast for me so I've been very lucky especially to have had great people around and help me handle things.

Do you see yourself as a groundbreaking artist? After all you have brought international appeal to symphonic metal?

I don't have a really grandiose vision of myself like that. I was born in a little village in Finland with 500 people, in a big world, and I have lived in different countries in my life. I've also been in the music business from an early age and things happened very fast for me so I've been very lucky especially to have had great people around and help me handle things.

Even with Nightwish everything happened very quickly. We recorded a demo and were signed up and we hit the ground running. But my solo career is very different from being in a band. After leaving Nightwish I really needed to go on the road immediately and I guess it pushed me towards my solo career.

But things have worked really well for me. We toured the first album for three years and I guess the road work and promo worked as lots of places we toured were packed out, but it was very different from Nightwish. In fact there's no comparison.
The main difference is things like being a songwriter, working on your own ideas and material and me literally being who I am as an artist. So people might say it's groundbreaking because of the different genres I deal with but I think of it as simply what I do.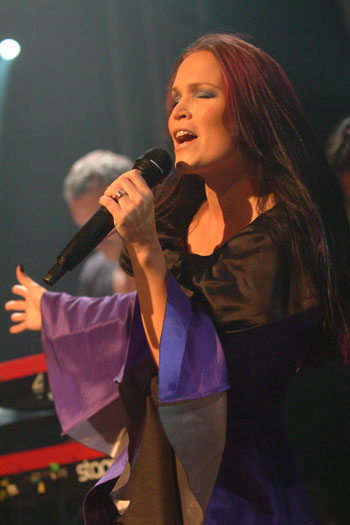 It's quite a journey from the Sibellius Academy to receiving an award at the Metal Female Voices Festival in Belgium. Was that kind of thing unimaginable to you when first started out?

Well firstly it was very special to be recognised like that and I was very proud to win the 'Best & Beautiful Voice' award etc. It's also great there are festivals like that but it shows what is possible through music.
I did struggle to find my artistic freedom at the beginning of my career and not many opera singers have crossed over two such different sort of musical genres.
Of course when I started I could never have imagined such a festival, let alone me being on it but events have moved so fast in my career that it doesn't seem so crazy now.

Is your duet with Klaus Meine on The Scorpions single 'The Good Die Young' a defining moment in your Metal career?

It was a fantastic surprise for me to receive a call from Klaus to do the single. Back in my teens I used to listen to Scorpions and here I was getting a call from him asking to sing with him, which is unbelievable. I really thought it can't be true. But it all turned out to be great.
They sent me two songs to choose from and I actually recorded the original vocal in Finland apart from the band. The producer came back to me and said you can do what you want on the song.
And even better I got a call today to say that they are going to use more of my vocals on the song in terms of melody, verse and harmonies. So it couldn't have been better. The band were really great people and I enjoyed performing the song on the 'Wetten Das' German TV show (Europe's biggest TV show).
I found Heavy Metal very difficult and it wasn't until about 2004 before I started to feel comfortable with my techniques. Then I started to enjoy the greater freedom the music offered me.

Going back to your early career, was it difficult for you to adapt your classically trained approach to Metal?

Yes it was really was hard. It took years for me to be confident enough to use my voice in a Rock setting. I struggled at the beginning and I had to take lessons to learn to adapt and to get to where I wanted to be.

In fact I found Heavy Metal very difficult and it wasn't until about 2004 before I started to feel comfortable with my techniques. Then I started to enjoy the greater freedom the music offered me.
Through my career my voice had been developed in a particular way and I had to get away from that. It took quite a long time and a lot of practice but if you really feel the music you can eventually perform it. I still have singing lessons in Buenos Aires where I now live.

Do you listen to rock music outside of your own work?

Yes I do but mainly to Metal and particularly American bands such as Slipknot, Korn, Disturbed etc

Is there any crossover in your audience from Classical to Metal and back again?

Oh yes there's a surprising amount of crossover both ways. I still perform classical concerts with orchestras and chamber music and I see different people in the audience.
I've seen Heavy Metal heads at some of those concerts. I know some of them have never been in a church before and they seem to have liked what they heard.
So for me it's a crossing of the border which is fantastic. I have no musical limits as I'm really just guided by the feelings and emotion of music. It's those sorts of things that drives it all for me.

Do you think it's the case that your music has found greater acceptance in the more 'traditional' European countries where classical music is a significant part of their history?

Yes some countries really do have the history and perhaps the audiences are already potentially there and they make that connection. But over the last 10 years there have been new audiences especially in places like South America for example.
But apart from Finland where I come from, I've been especially well received in places like Rumania, Hungary, The Ukraine, Russia, Slovakia, Bulgaria and Germany of course.
I guess they are used to classical music and we're just pushing things a little. Even in a little villages in Italy where they like opera they liked my music so perhaps there is that cultural acceptance.

Did you ever have a problem with musicians/producers etc adapting to your Classical to Metal crossover?

Oh yes! At the beginning of my career it was difficult and later it was especially the case with the recording of my first album Things were a struggle I had problems with production and right down to the basic thing of people finding it hard to accept the concept of the music.
I can see now that it was important to go through those experiences on my first album to be able to deal with things better now. It means I am now able to produce myself and make clear what it is I'm trying to do.

So when I came to recording the new album I had both the experience and just as important I was able to record with the same band I've been working with for three years.
They are just the best - Mike Terrana drums (Steve Luthaker,Tony MacAlpine, Axel Rudi Pell, Yngwie Malmsteen), guitarist Alex Scholpp (Farmer Boys), Max Lilja cello (Apocalyptica) and Doug Wimbish on bass (Tackhead/Living Colour Rolling Stones, Jeff Beck, Madonna).
They are all brilliant and after 3 years of working together they know what I want. I also had Jim Dooley the orchestral arranger who worked on 'My Winter Storm' to work with me again. I'm still learning lots of things but with these people I am closer to achieving what I know I want to do. It's very exciting.

And of course you finally made it to the US when 'My Winter Storm' was released over there?
Of course I love playing to my fans over there but I do wonder sometimes about people saying it's their dream to get to America.
I mean you still have to sell records when you get there and it's another territory that is very different from Europe and it can be tough.
We had problems getting albums by Nightwish distributed over there a few years ago. But of course I'm very happy to have got there and play to the fans and try and get my music accepted. I'll just do my very best and approach touring there in a relaxed way and go there when I can.


---
Interview © April 2010 Pete Feenstra
Photos by Noel Buckley/GRTR!
---