The Flower Kings have been given the great distinction of being one of the leading Progressive Rock bands touring the planet today. The Swedish band has a very extensive, as well as impressive, catalogue of studio albums which includes many double CDs, solo albums and live recordings.
Members, Roine Stolt, (vocals, lead guitar) Hans Froberg, (vocals, guitar) Tomas Bodin (keyboards, b.g. vocals) Jonas Reingold (bass guitar, b.g. vocals) and percussionists, Marcus Liliequist, Zoltan Csorz, and Hasse Bruniusson, round out the musical tour de force that is the Flower Kings.
Roine Stolt founded the Flower Kings back in 1994 with his epic solo album which gave the band its name. He has had an astonishing 35 year career as a musician who has played on over 250 records and still counting!
We are pleased to talk with Roine about the new Flower Kings compilation CD, The Road Back Home, which is compiled of songs from the band's previous 10 studio albums. Due to popular demand, the band have also included their uncut rendition of the Genesis classic, Cinema Show, which is highly sought after by fans of both Genesis and the Flower Kings. The Road Back Home is scheduled for release by Inside Out Music in June of this year.
Do you see Progressive Rock music as becoming more mainstream in the future, especially with the event of the internet?
I hope not, that's if mainstream means watered out or dull; as I feel the freshness of Prog Rock is that it does not give a sh*t about fitting into radio play and such. I mean how can you possibly hope to get a 25 minute song played on the radio? In the end, I guess it is a very individual question.
Personally, I'd like to see more bands get adventurous, but still maintain a sense of good melody. Now there is too much of either Prog Metal "with an attitude" (boring and lacking melodic content, in my opinion) or watered down mainstream 70's copycats that are trying to be the new Genesis or Pink Floyd or a full-on tribute band. At the same time, there are lots of great and adventurous artists and bands out there that are doing shows for 25 people and selling 300 records...and no, they don't belong to the Prog mainstream.
What made you and the Flower Kings, decide to do a compilation CD?
Well, it was entirely my own decision. Frankly, even the record company was against it when I first presented the idea in 1999, but since then I managed to convince them. I wanted to do it because I believe that there are gems hidden in the epic and "bombastic" pieces that are really good songs. I think it is good if people outside the Prog circles get a chance to open up to the band and I think these songs can do the trick. The record sounds fabulous on a good Hi-Fi set or even better on a pair of headphones.
Why did you choose to redo these songs and not just release the tracks as they have previously appeared on the original records?
In fact, we didn't re-record them. I remixed most of it and we added some cool new stuff on a few and also got rid of some garbage that clouded the songs in the original mixes. This CD has a very tight and clear sounding mix on all songs; stellar and far superior to the original mixes. Some songs have new or alternative guitar solos. Releasing just a regular compilation album did not interest me. Besides, I want to give some value to all our diehard collectors, too.
Which of the songs would you consider to be your favorites and maybe even the most radio friendly?
Favorites, hmmm, it's hard to say. Compassion, Vox Humana and Grand Old world came out great in these mixes, but others like Cosmic Lover, Paradox Hotel and Ghost Of The Red Cloud are definitely radio friendly -- in an ideal world, that is. (Laughter). Then the classics like Stardust, Flower King and our rendition (on request) of the Genesis track "Cinema Show" are all fun to listen to.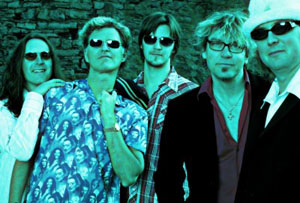 Photo: Frank Seifert
Do you feel that these songs best represent the Flower Kings of today and the future?
Well, they represent a part of what we are -- that is the "short song" format that we also do. I imagined it would be fair to highlight that TFK are not only big epic songwriters or fusion Proggers. I can't say anything about the future, but we are very determined to get in the very top position of modern adventurous progressive and symphonic rock. We have very little competition and whatever it is we're going to wipe it off the map with the new (next) studio album.
Are there plans to tour Europe and elsewhere with the release of the compilation CD?
Not really, but we'll wait and see what happens.
How would you describe The Flower Kings to people who have never heard of the band before? And who would consider being the Flower Kings biggest influences?
I would describe it as a great melodic rock band that can improvise and that has a slight touch of 70's art rock. Our biggest influence would be.......Roine Stolt! (Laughter).
Are the Flower Kings planning to release an album of all new material soon? And will it be a double album Like Paradox Hotel, or Unfold the Future?
No, it is a single CD, but the sheer quality and abundance of melodies and symphonic beauty make it almost superior to each of the double CDs. The new album is very compact and focused.
As an extremely proficient musician, are you planning to record a solo album this year as well?
I'm working on it already, but I spread out the work hours, as there is no hurry, really. I'm going to work with a few interesting names, some Proggy and some not. I need to do something different and get a few odd ideas out and also work with new people again.
Are other members of the Flower Kings planning to release solo albums, too?
Yes. Tomas Bodin plans to release "You Are", and Jonas Reingold's project, Karmakanic, will release "Who's the boss in the factory?"
Do you think the Flower Kings make too much music? (Laughter).
Absolutely! There's virtually no time for us to take drugs, commit crimes and get involved with all of our groupies, or check out our stash of weed or firearms! (Laughter).
Are there any plans for a Transatlantic reunion with Mike Portnoy (Dream Theater), Pete Trewavas (Marillion) and Neal Morse (formally of Spock's Beard)?
You're asking the wrong person. I've been asked this a hundred times, but I really don't know. It's up to God, or Neal Morse, or whoever else. If they want a reunion, I would definitely be interested, as I've always believed there was at least a third great album lurking in there waiting to be made, but I'm not holding my breath.
What do you see in the future for the Flower Kings?
World domination, of course! (Laughter). Other than that, touring, touring, recording, kicking about seven drummers out of the band a year, (laughter) touring again, recording a three hour epic song, sleeping on the flights, doing interviews, signing autographs, recording live albums and DVD's, doing the Jay Leno Show, getting the cover of Time magazine, No. 1 on the Billboard charts and being in next big Speilberg film, both acting and writing music! Let's see what more? Touring and yes, twelve sold out concerts at Earls Court in the UK. Wait...what now? I'll send that crystal ball back to IKEA! (Laughter).
Thanks for chatting with, Roine! You have a marvelous sense of humor! Good luck with the new records!
---
Interview © April 2007 Angela Schultz
---