Michael Bruce was an original band member of the Alice Cooper Band, along with Dennis Dunaway, Neal Smith, Glen Buxton and of course Alice himself.
Michael was over in the UK to promote his new live CD 'Halo of Ice' (NMC), play some UK dates including the recent Alice Cooper convention in Crewe and he will also be on stage with Alice Cooper performing 'School's Out' at the London Monsters date.
A big thanks to Nikk Gunns for helping with the interview, Ross & Carlton at NMC, Michael's manager Chris and the man himself, Michael Bruce. Check out the live CD – a great interpretation of the Cooper classics.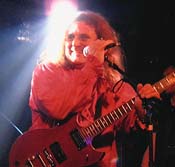 How has the tour been going?
Played Iceland and froze my butt off! Did the Cooper convention in Crewe with Neal and Dennis, Joe Bouchard (ex-BOC) was there as well. They did a show in Paris, one in London, Crewe and now their back in the States.
What as the Alice Cooper convention like?
There was a Q&A period, autograph signing. Then Sadness played (Sadness Killed the Superman – Michael's backing band for his UK tour), I got up and sang a few numbers with them. It started twelve and went on until twelve. I never had to buy a drink all day!
What do you think of Marilyn Manson? (Often accused of stealing his stage ideas from Alice).
I don't really follow him. I watch a lot of MTV – you know I see too much, hear too much. I try not to listen to too much music in case I pick-up the wrong thing. He is a big Cooper fan, he makes no bones about it.
I was talking to a friend of mine who had talked to the bass player of David Bowie's band and said when they saw Alice and it changed their whole style. We did the circus thing and he never mentions it – he says 'Alice who?' I saw him once at Ralston Musical Hall and I really liked Spiders from Mars and what they were doing. He seems to bounce around a lot trying different things.
In 1999 you played with Alice at the Glen Buxton tribute. Was that planned or did it just happen?
We didn't know if Alice would make it – he said he would try too. It was planned Neal Dennis and me would be there, we weren't just sure whether Alice would be there. Next year there maybe another tribute at Coopers Town in Cleveland.
Is it true that you are playing on the 16th at Wembley with Alice?
Yeah I will be there and Brian (May) also. Brian came down last year to do 'School's Out'. Brian wants 'School's Out' for the 'Air Guitar 2' album he's compiling. So I told him about how Glen came up with the riff. I said as a footnote that Glen had to have his jewellery taped to his body as he rattled too much. I am in London for the next week promoting the record.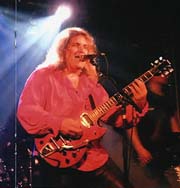 You are with NMC for this live CD. Are you doing any new material?
We're talking about that right now. We recently filmed a show in Iceland and that may come out as a DVD. I have recorded eleven tracks but I haven't finished them yet. NMC may be interested. I've got them in the can and I am looking for a label.
If Alice asked would you ever tour with him again?
Yeah, there's no reason not to.
Would you ever get the original band back together?
We never toured over here with 'Billion Dollar Babies' and we toyed with the idea of touring. Glen's no longer with us but we could get Bob Dolin. Make the whole stage show and maybe make a DVD. Do some European dates. At this point in Alice's career it is a gamble. Procul Harum is a good example. They did a tour and nothing happened. It's a gamble. A band like Kiss, a lot of those are our audience but we don't do as much make-up. Alice would have more to lose if we got back together.
When Alice came back in 1989 did you think maybe you could have come back into the band again then?
I got out of Grade school. I was in the Eighth Grade and I started playing guitar. I was into folk singing – Peter, Paul & Mary – until I heard the Beatles. I did records on my own, the struggling years. So I have had a real complete career that ended at the top. I am now doing my solo stuff. Towards the end it got really rough. I take my hat of to Alice, he's still doing it. This is probably more work than going on the road for 2-3 months. I wish I was 25 again!
How do you get your backing bands? Do you pick them or are they booked for you?
Actually they came out to the Glen Buxton memorial. I met Ingrid there and they came out the following year for following year's Glen Buxton memorial. I also met them again at Chiller in New York. Chiller – it covers horror/sci-fi with autograph signings, memorabilia. They said do you want to come over (to Iceland) to play some gigs, that was last year. They are good players. They would like to do more. I am like a songwriter/guitar player without a band, like Chuck Berry.
Who would you like to work with in the future?
John Lydon, Marky Mark – some other cats who are on vacation, not doing anything right now. I would like to finish this album and get it out there.
Toying with the idea of writing for some movies or TV. I do like to write but I also like to get and out and play. I am losing track of all the Cooper versions that I do – I have one for Iceland, different one over here. I am like 'which ending was that?' The album is tentatively called 'Dark Side of Love'. Get the album out by spring next year and then tour. Kinda test the waters with the new songs, see if I have some success. I've got this great version of 'I'm Eighteen' called 'Forever Eighteen'. Very major – very upbeat.
Tell us a little more about tonight's show – the first UK headlining show for you.
We rehearsed for three hours. What I don't like is getting over and not having enough time to rehearse properly. Just because they know the songs it's not like playing the album.
Which Cooper song do you enjoy playing live the most?
Cooper had great songs and great production with Bob Ezrin. The Alice Group was a frightening group with a great sense of humour. Wasn't all just death, we didn't take ourselves too seriously. I love playing 'Muscle of Love', 'Desperado'. Alice will be appearing on the children's telethon over here? (BBC's Children in Need) Alice is a great yarn spinner and he gets better with age.
Any more writing planned?
Well the second edition covers Glen's passing and what have you. There will be another version that will be cut down to pocket size covering Glen's memorial concert.
What style of music will the new album take?
Very straight-ahead rock, very acoustic. There are a couple of piano tracks. Some tentative titles are 'Dark Side of Love', 'Muff Daddy'. The 9/11 events kinda threw me and I just chilled. Another version of 'Muscle of Love' with a Yardbird's power riff. 'Dark Side of Love' is this guy's sitting here with his heart ripped out and a nice pair of legs walking away with his heart. Acoustic finger picking and then it gets kinda chunky. All the songs relate to the dark side of love. But is has good melodies and nice catchy hooks.
That's about it. Thanks for your time and good luck tonight and with the new album.
Thanks. Been a pleasure


---
Interview © 2002 Jason Ritchie
Under My Wheels
© 2002 Michael Bruce & NMC Music. All rights reserved.
---