Keith Emerson needs no introduction to rock fans. He is one of the leading keyboard players, having made a name with the Nice in the late 60's/early 70's and then throughout the 70's being one third of one of the giants of prog rock, Emerson, Lake & Palmer (ELP). He has also released a series of well-received solo albums, is gearing up for a UK tour with the Nice in October (which will also feature ELP music) and has a recently published autobiography in the shops (Pictures Of A Exhibitionist published by John Blake).
The Nice has an UK tour coming up in October, how did the Nice get together again?
Well we have always remained true friends despite the fact that both Lee Jackson and Brian Davison were both obviously upset when I disbanded the nice and formed ELP. But their friendship was something that really kept us together and we were always looking for an opportunity to get back together.
The first time we played after all those years was about a 3 or 4 years ago when I invited them to my mum's birthday party, it was her 80th. So we had a little jam there and it was quite a lot of fun. Then I had a solo piano album released by EMI Classics and ENI wanted me to do a showcase, so I said I don't want to do it on my own and can I have a band?
They said What sort of band?' and I said I could put one together. They said no, no this won't work out and I asked What if I reformed the Nice?' They thought about it and asked around people, then came back saying that was a great idea. They were keen for me still to play the piano, which I was going to but 45 minutes of piano would be extremely boring. I like a bit of light and shade.
We did the showcase in London and as a result of that I got to meet a guitar player called Dave Kilminster, who was absolutely brilliant, a drummer called Pete Riley and Phil Williams on bass, who had pretty much got ELP's repertoire down. I thought it would be great to try and represent the two bands and present a history of progressive rock music, as we know it.
Are there any long term plans for the Nice?
There are long term plans and the next thing to do is too look for a record deal. I'd certainly like to go on, as out of all the bands I've ever played in this is certainly one of the happiest bands.
Your autobiography, Pictures of a Exhibitionist has just come out in the UK. How did you go about writing it?
Took me over six years to write. My mother had all these scrap books she kept and the reviews, I was also fortunate to have a list of every gig I've ever played in my life. So I could look down the list and say, Oh yeah, I remember this place is where that happened. It's not in strict chronological order but its all very accurate and been checked out by the publishers and gone through the legal department.
I found it very enjoyable. I hope people enjoy it and find it funny number one, other parts will probably shock them.
On you website it has a review already, from the Rock Ahead website that gives a glowing review. The review says it is on of the best rock n roll autobiographies of the past ten years or so.
That's very flattering, as I've never written a book before.
Well, many music biographies tend to be ghost written and don't really give in depth detail or are formula ones without the person's input.
Nobody else was involved, apart from Chris Welch who has written many biographies. He just looked over it and advised me on grammar, paragraphing and stuff like that.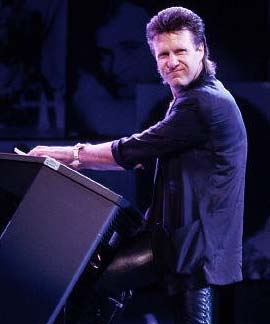 Photo: Neal Preston
Did Jim Davidson and his Generation Game (UK TV family quiz that ran up until 2001) get ELP more exposure? (The ELP track Welcome Back My Friends was used as the show's theme tune)
Jim and I have been mates for quite a long time now. I've played music for one of his situation comedy shows and to my astonishment he used a lot of my music for his pantomimes (Jim Davidson is a UK based comedian and he still puts on 3 or 4 pantomimes per year up and down the UK).
In London we had lunch occasionally and he really wanted to use my music in pantomime. I said you can't use my music you'll scare the kids. He said it will really work well and I saw the pantomime and I was amazed it went down very well. Then of course with the Generation Game and Jim wanted to use 'Welcome Back My Friends'. Well I thought, gosh if the television company accepts that but he got their approval.
ELP actually did a special recording for the show; we didn't use the original recording. Quite a shock to see it on the television. Jim is very generous in that regard. (Adopts a cockney accent) 'Err mate, you know what, if we get it on there your royalty statements will certainly go up'.
At one stage he had Carl Palmer on the show doing a drum clinic.
He did that's right (laughs). There's a clip where he had someone miming me running around from keyboard to keyboard. Oh dear, I am sure a lot of people didn't know what he was going on about. Certain people when they were answering questions had to go into the Emerson, Lake and Palmer room! I could just imagine them saying, 'What's the Emerson, Lake and Palmer room?'
When do you did the Emerson, Lake and Powell album, Cozy Powell had to use branches from your orchid as he'd forgotten his drum sticks?
Yeah we tried that while we sent someone into the nearest town as I lived right in the heart of the Sussex countryside. Anyway, we were all set-up ready to go and let's do a shuffle. Cozy says, 'Hang on a second I don't have any drum sticks. Can you believe it I left them at home? So we got some branches of the trees and he used those.
Message for your fans?
Yeah, I love England and look forward to playing and having a damn good time. Lots of happy memories and lots of good surprises.

---
Interview © 2003 Jason Ritchie