Jeff Berlin is a legend of the electric bass, known as a major innovator through his incisive playing through recordings and performances for the last thirty years.

His numerous recording credits include six highly acclaimed solo records, Champion, Pump It!, Taking Notes, In Harmony's Way, Lumpy Jazz and Aneurythms. Jeff tours with his band that has features ex. Pat Metheny drummers Danny Gottlieb and Paul Wertico, steel drummer Othello Molineaux, trumpet player Randy Brecker and pianist/bassist Richard Drexler.
He also toured with BX3, a bass conglomeration that includes the great bass players Stuart Hamm and Billy Sheehan. In 2009 Jeff toured with guitarist John Abercrombie and drummer Adam Nussbaum. Jeff also played in Asia in an explosive trio with drummer Dennis Chambers, and guitarist Scott Henderson.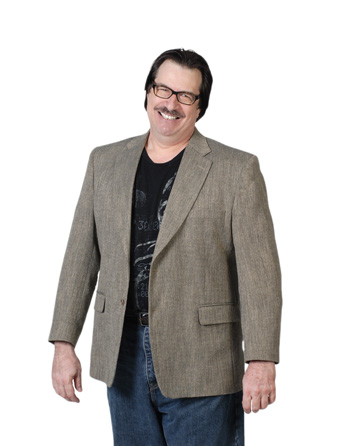 How did you get the gig with Bill Bruford? Were you a Yes fan previously?

Jeff: My ultimate favorite two bands were The Beatles and Cream. The Beatles were continuously unique, inventive, and their songs got into my heart and have never left. But in terms of a 'playersí group, then Cream were my main inspiration in playing. But, Yes was that orchestral rock band, creative and with really brilliant songs. My friend Phil Mandel 'discovered' Yes and turned me on to them.

What was it like working with Bill Bruford?

Jeff: It was wonderful. He was a guy with vision and I learned a lot from him. He and I sounded great together and we had a nice musical influence on each other. I opened him up to an American-type feel for music, and he opened me up to everything else. I learned so much with Bill, lessons that have ingrained themselves into my musical life to this day.

Reportedly Allan Holdsworth overdubbed his guitar on the first two Bruford albums and was not present when the rest of the band recorded their tracks - is this true - can you elaborate?

Jeff: I actually donít know Allanís methods of recording when he did those solos. But, I would say that essentially, you are probably right. I think that he may have come in after the fact and laid down that remarkable guitar playing of his.

On Gradually Going Tornando you sang lead vocals on several tracks - was this your first attempt at singing on record? Was this a conscious move to make the band more commercial sounding?

Jeff: Yes! Bill wanted to see if my vocals could help with the commercial impact of the group. My problem was that I had a boring voice. I could hit a pitch, but I really had no style, no real sound as a singer (although Peter Gabriel vocally did imitate me on one of his records). As I said, I could hit a pitch, but I gave it my best shot, but I think that it might have been much safer for all involved if I didnít sing.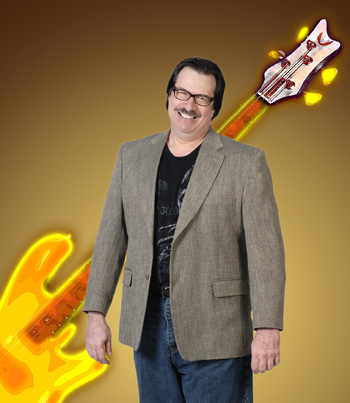 You played with Allan Holdsworth in the early 80s - can you tell us about working with him?

Jeff: Heís a true original, one of the greatest guitarists who ever played. I loved playing and touring with Allan. We were, and are, great friends! We toured around in a beat up old Cadillac toting a U-Haul behind us and we played all kinds of different venues around America. The band was Allan, Chad Wackerman and Paul Williams on vocals (I really loved Paul. We have a lot of fun on the road together). But Allan was great! Recently we got in touch to discuss the possibility of playing together again. Time will tell!

You have played with some of the greatest drummers in music - can tell us who.

Chad Wackerman, Vinnie Colaiuta, Simon Phillips, Danny Gottlieb, Dennis Chambers, Steve Gadd, Louie Bellson, Billy Cobham, Mike Clark, Neil Peart, Alan White, Alex Van Halen, Billy Hart, Ray Baretto, Jeff Porcaro, Bernard Purdie, David Garabaldi, Mitch Mitchell and a whole lot more than that. I am always going to grateful for the wonderful times that I had joining my bass to the incredible rhythms of these drum Masters!

What were the circumstances in you getting the gig with Anderson, Wakeman, Bruford, Howe (original members of YES) - what was it like playing with the legendary group?

Jeff: Their bass player got hepatitis from eating shellfish and their tour was in jeopardy of being cancelled. Interestingly, it was Steve Howe, not Bill Bruford who brought my name up as a replacement.
I am a super fast learner and I was known for this. One Sunday night, Steve Howe called my house and asked if I would play their tour. He gave me the list of songs.
On Monday I went out and bought the CDís with these tunes and wrote out music charts on what I heard. I reviewed Close to the Edge because I had heard that as a kid and sort of remembered it, but I didnít need to write that tune out.

On Wednesday, we rehearsed, and on Thursday I was touring with them. Frankly, I treated the gig as a sort of music school assignment; 'Your homework Jeff is to write out the bass parts for these tunes. It was a piece of cake!'

But still, the gig was fun, the music was great, and the musicians were wonderful guys. I enjoyed the tour.

Tell us about your current bass and rig

Jeff: I play Markbass Jeff Berlin 15 inch combo bass amps and a Dean Jeff Berlin Bass.

The amp that I play was originally a standard model 15 inch Markbass combo. It was the amp that Marco Devirgiliis first sent to me to check out. When I plugged into it, the amp sounded so utterly unbelievable, that I was really shocked at the incredible tone.
When Marco offered me any kind of amp that I wanted, I asked if I could stay with the 15 inch amp that he sent me. It was, and still is, THE finest amp I ever played through. It is light, it puts out tons of highs and because it is a 15, it puts out really great lows as well. My only alteration was to remove the tweeter because I donít like the sound of a tweeter.

The bass is a plain jane instrument, just the way that I like it. It is a four string passive bass, because I donít like the sound of an active pick-up either. The bridge is my usual Leo Quan Badass Bass Bridge, the pick-ups were made for me by Bill Bartolini himself, and the strings are nickel because I donít like the sound of steel strings. They are DR Strings, the Lo-Riders in .040 .060. .080 .100 You can get tons of lows out of thinner strings. Itís a myth that if you play lighter strings then your bass sound with sound thin as well.


You are active and renowned in the field of music education, and have very strong opinions about the subject - can you explain your stance. Also talk about the music schools you started in Florida.

Jeff: I noticed that the quality of musical instruction began to go away around the time that the 1970ís ended. Two handed tapping and rock exercises became popular lessons with many magazines and their impressionable young readers began to believe what they were reading about music education and its false lessons that put rock music into a classroom instead of great musical information.

My problem was that I knew that few would become good players via these pseudo study principles. Players who sought out a decent education didnít have the musical experience to know that they werenít being given important musical information in these schools and lessons.
So I told people that music is factual for a reason, and should be learned this way, that art and academics were two different points of view and needed to be regarded differently. But, many people couldnít separate art from academics and still canít! Therefore, they missed the point about what great musical learning is all about. For these reasons, I am called controversial. But Iím not! Iím right! And Iíve proven it for two decades of teaching!

My son got cancer when he was 5 years old. When he was diagnosed, I put my bass in a closet and didnít touch it again for two years. I had to make a living. So I started The Players School of Music which I feel is one of the finest little music schools in the world.
People from all over the world come here and tell me that they donít find at home what we were teaching them here in Florida. Some people who come here couldnít read a note. In ten weeks they were soloing and reading charts. And they do this 100% of the time!
P.S. My son was cured of his cancer but I kept the school operating in order to provide a good source for learning how to play music for anyone who wanted to improve their playing the right ways.


Tell us about the new CD

Jeff: It is a recording of three guys in a room playing standards together. I call the CD 'High Standards'! It is shifting, a little rough, bumpy sometimes, missed notes now and again, just a wonderful example of an organic recording session with very little discussion and very little rehearsal, if any. We just wanted to play. And it came out great! I solo on almost every tune and left them the way that they came out. Bumps, shifts, fret noise, it is the real deal and I never recorded quite like this before.

Richard Drexler is the pianist, but he is also the upright bass player. We played trio tunes with me usually on the high pitchers, and his upright bass beneath. And it works beautifully. Then when Richard soloed, we would swap positions and then I would take the low sonics.

Danny Gottlieb is the drummer and I have never played with anybody as tuned into the other musicianís thinking as Danny is. No joke! He is a one of a kind player. Weíve known each other since 1975 when he was the drummer in Pat Methenyís band.

You will be touring in support of the new CD release, can you tell us about the band, and what to expect from a Jeff Berlin live performance.

Jeff: I have a joke relating to touring to promote this CD. 'The Audience will be on Its Foot!' Meaning; only a few people care about players anymore. I also joked that if Michael Jacksonís CDís always go Platinum, then 'High Standards' should definitely go Wood.

You are also performing with jazz legends Scott Henderson and Dennis Chambers, can you tell us about working with this ensemble.

Jeff: It is three middle-aged players who are actually teenagers at heart. We kid together, we love to hang out, even after long flights to get to the next gig.
We eat together, we hang out in each otherís rooms after the show is done. We simply like each other as people and we love to play together as well.
Frankly, this is the most peaceful and fun band I was ever in. Players want a sense of peace when we are bundled up together for weeks. In this group we have it. We simply love to hang and we love to play! Friendships on the road are organic, they either work or they donít. This one works beautifully. Plus we play our asses off in this band, especially those guys!

Can you talk a bit about how you practice and compose.

Jeff: I havenít touched a bass in three weeks. I have a growth on my right thumb and it is killing me. So I bought a wart remover and froze the darn thing. For two days I was seeing stars. That bump hurt worse after putting on that freeze stuff. But, today my thumb doesnít hurt much at all. Then I can get back to practicing and writing.

How do I practice? There are lessons that I have found over time from phenomenally gifted teachers and music authors and I work on their material.
Jerry Bergonzi and the late great Charlie Banacos figure greatly into my practice life. The Dave Liebman book is a bit hard, but I find things there to use. Plus I have a ten page Keith Jarrett transcription that I did a few months ago and I am still picking my way through it.

But, I write differently. I simply play the bass and see what I hear that I like. Recently I found some stunningly beautiful harmonic things that, in my opinion, have no precedence on bass. I need to continue to examine this to see what will come of it.
I write on piano and I sing to myself melodies then write them down. Writing is a task for me because it never comes easily to me. I have to put in hours to realize and then develop ideas. But, I guess that if it was easy, then everybody could do it.

Are there any other new projects (recordings or gigs) you are involved with?

Jeff: Herbie Hancock and I have chatted about possibly hooking up. Heís an old friend and playing with him would be an honor. Also, Simon Philips and I have talked about touring together.
Lately a lot of music schools are asking me to come and give clinics to discuss what and how to improve their playing. Scott Henderson Dennis Chambers and I will tour together this year and next. Plus we plan on recording together this year. So, as long as I am healthy, I will keep playing and learning and showing other guys what to do if they would like to improve as players.



---
Interview © April 2010 Billy James
Photography: Lee Burgess
---