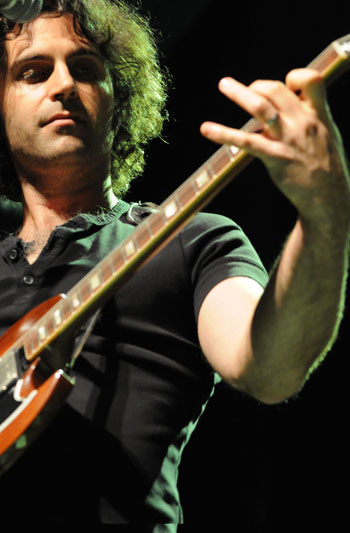 Dweezil Zappa brings his 'Zappa Plays Zappa: Tour de Frank' to Europe to continue the challenge of keeping alive Frank Zappa's musical heritage to a new generation of listeners as well as the original fans.
Schooled by Eddie Van Halen and Steve Vai, and influenced by Randy Rhoads Dweezil was already an established recording artist in his teens before becoming an actor and composer.
It wasn't until 2006 that he set himself the goal of keeping his dad's music alive by learning Frank's music and putting together a tour band.
With a new album of live solos 'F.O.H' to promote and more surprises from Zappa's 60 album back catalogue, ZPZ hits the road again with a dedication that would surely have pleased his dad.
Pete Feenstra talks to Dweezil Zappa about his band, the job at hand and his own career.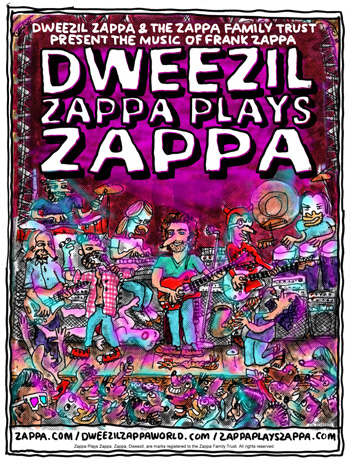 In a curious if not unexpected parallel with Frank's own career, you are under pressure to keep a sizeable band and crew on the road. What are the changes for the 2012 tour?

We'll there's less crew and we have a more stripped down rock version at the moment. Frank toured with many different size bands on multiple occasions and in many of those line-ups he didn't have percussion or marimbas.
This band is still able to stretch out the parameters and explore a range of different textures and sounds through the keyboards and guitar.
The line up is me on guitar, Scheila Gonzalez on saxophone, flute, keyboards & vocals, Kurt Morgan on bass, Joe Travers drums & vocals, Ben Thomas on vocals, and Chris Norton on Keyboards

You've been called the 'The Modern face of Zappa music'. Does that mean you've updated the music in terms of technology?

Not in the sense that we actually change the music through technology no, but modern technology does open the possibility of playing some of the material that was out of our reach before, so that's a good thing.
For example, Frank used to experiment with sound all the time. He was always looking to use new technology and he'd try out all kinds of different things in his search for new guitar sounds.
One example of that would be the way he combined 4 or 5 tracks to make one sound. Now when you are in the studio you can work on that and blend different things together.
But in a live situation that becomes a huge challenge and to achieve what you set out to do, you would have to have an extreme guitar rig and mixing equipment etc.
But now I'm using a digital guitar effects processor called Fractal Audio Axe Effects which allows me to access multiple sound sources and better still I'm able to mix them and control them with my foot pedals. What that means is, it gives me the ability to play songs that previously I couldn't do. I can explore more textures and timbres of instrumentation and now I'm able to simulate electric violin sounds for example.
So none of Frank's music actually changes as a result of this technology, but it does open up new possibilities of what we can play live.

I've always been interested in modern technology and have kept up with it. I'm always noodling with the latest device, so now I can do what I need to do and I can adapt what I have to the material I want to play.
The crazy thing about this little box is that it gives you everything in a compact form. Previously in the old analogue days, you would need say 2 to 4 amps and speakers and between 40 to 50 effects, and on top of that they would all have to be wired up. This would equate to 500 or 600lbs of equipment rather than just 6lbs.

So what kind of 'new' material can you approach now then?

Well one example, would be 'The Gumbo Variations' from 'Hot Rats'. On the original version Frank played guitar and there was Don Sugarcane Harris on electric violin. But now I am able to cover the guitar part and recreate the violin sound as well.
We are now able to look at some of the pieces I really liked as a kid and those things that have a bigger scope like say, 'Strictly Genteel' from '200 Motels'. It's a hard one to play but now we can approach those pieces and try and be more ambitious as a band. .

Did you have to change your style of playing to interpret Frank's material?

I had to make some technical adjustments, and it took about 2 years of study before I thought I could play this challenging music.
In some ways I did have to change radically. It really had more to do with certain parts, most obviously the solos.
I'd be playing the parts pretty much as they were written down but when I came to focussing on the solo's I aimed to put my own spin them, that is to try and evoke Frank's playing but to do more than merely copy a solo.
Because of the way Frank wrote, you have to spend the time to learn the structured parts first. He would write structured elements that you have to adhere to, then there might be expansive moments when you can improvise and connect with the audience and then you'd go back to theme.
So my role there would be to try and share the same experience as Frank's solo. And to do that I went back to learn the phrasing of his solos for example, but my approach was just to lean the fragments of solo's as a guitar part and then play it as I felt it.

Was it difficult to assemble a band that could learn the music and the commit to touring behind it?

Yes of course, it was difficult, but I deliberately made difficult auditions to find the right people. And when you've done that, you also have to find a balance between musicians that have the ability and attitude to play the material and are willing to tour.
But you also need to be able to hang out with those people when you are not playing, as you spend a lot of time in each others company. So you have to choose wisely.

How did you approach Frank's catalogue, all 60 or more albums of it?

Initially when I stated playing the material - but before ZPZ hit the road - I simply chose my favourite stuff and the material that made an impact on me.
So the vast majority of stuff I played in the beginning came from the 70's, in fact the 1974-79 era. Since then I tried to find ways to create plenty of variety and bring in different eras.
I thought about calling the new tour, 'The Decades Tour' because we are aiming to draw on the 60's, 70' and 80's and create a bigger landscape with more variety.

On last year's tour you played the whole of the 'Apostrophe' album, what have you got planned for this year?

Funnily enough quite a few people have commented on that. Some people really liked it while others wanted to hear more variety - a bigger scope of Frank's music.
The one obvious problem with doing something like that was that not everyone likes the whole of one particular record and maybe that's not what people expect to see, so we're going with a wider approach this time.

Back in 1988 you recorded your own version of 'My Guitar Wants To Kill Your Mama'. Will you be playing that at all?

Well I do still play it but back then I did my own updated version of the song, whereas when we play it now, it's the same version Frank used to play it at the time.

As regards your own artistic career, you were a recording artist in your teens, an MTV DJ at 17, an actor and you worked in TV and library music. Did you always have a plan to return to music full time in your own right?

Music yes, but I had no idea that I'd end up touring so much, let alone learning so much of Frank's music. I thought I might be composing music but this project has kept me so busy since 2006.
...with Frank's music we have actually learned 250 pieces since 2006, but that doesn't mean we could just play them at the drop of a hat.

Going back to your solo career and the 'Confessions' tour of 1991, you used to play a medley of some 200 songs. Was that any kind of inspiration for learning a similar number of your dad's songs?

Funny you should mention that as a lot of people have picked up on that. But back then I was playing my own music which wasn't on the radio and so a lot of people were unfamiliar with my music.
So I thought it would be difficult for a crowd to be faced with a lot of stuff they don't know, so we tried to create a bit of familiarity in the show. It really started out as a joke, just to play a song or two that people might know, but it became a 200 song encore!
But with Frank's music we have actually learned 250 pieces since 2006, but that doesn't mean we could just play them at the drop of a hat.
Some of them might have taken 6 months or so to learn but I'm sure I can't remember them all now as we don't play all of them all the time. Generally we go into a tour with between 30 and 40 songs that we can play.

Your new album 'F.O.H' features solos from your last tour. Do you record everything on the road like your dad?

Yeah I'm lucky enough to be able to record every night, as it's so much easier with all the new equipment now.
Frank used to cart around this semi trailer track full of recording equipment and he'd ship it all the way round Europe!
These days you can do exactly the same thing by using a lap top. It's another example of benefits of modern technology.

Do you tend to stick with the original arrangements of his songs?

Yes that's what we try and do as the aim is to preserve whichever version it is we are playing at the time. The aim is to present the music in just the same way as when you first heard it on the record.
Each song had a particular instrumentation which relates to a period of time and we try and get that authentic sound.

But there are moments when we do improvise. One example would be 'Bamboozled By Love' which originally was recorded as two different versions with two different tempos. So we might take the two different tempos and fuse them with one hybrid arrangement (laughs).
The aim was always to give younger people a chance to experience this music.

What kind of audiences are you reaching?

The aim was always to give younger people a chance to experience this music. For example, most of it wasn't officially available in digital download digital download and it's not on the radio and the media aren't interested, so you have to bring it to them.
Back before I started this project, I noticed a lot of people my age didn't know about Frank's music, so that was a big reason to try and expand the audience base and keep his musical legacy alive.
That was our goal right across the board. When I started in 2006 it tended to be guys over 55 mainly. Sometimes they'd bring the kids or an occasional girl friend but generally there were very few women, but now I notice we get college kids which is what we aimed for at to start.
Of course we love the original fans but the aim is to spread the music to a new energised audience.


10 Nov '12 London,UK The Roundhouse
11 Nov '12 Brighton, UK Brighton Centre
12 Nov '12 Nottingham, UK Royal Concert Hall
13 Nov '12 Cardiff, UK St David's Hall
14 Nov '12 Gateshead, UK The Sage Gateshead
15 Nov '12 Edinburgh, UK HMV Picturehouse
17 Nov '12 New Brighton, UK Floral Pavillion Merseyside
18 Nov '12 Birmingham, UK Town Hall
19 Nov '12 Brussels, BE Ancienne Belgique
20 Nov '12 Utrecht, NL Tivoli
21 Nov '12 Groningen, NL Oosterpoort
22 Nov '12 Luxembourg, LU Rockhal
24 Nov '12 Gothenburg, SE Congress Centre
25 Nov '12 Oslo, NO Sentrum Scene
26 Nov '12 Copenhagen, DE Amager Bio


---
Interview © September 2012 Pete Feenstra