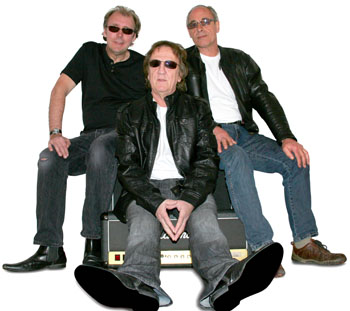 Mr Big are back. The original English Mr Big that is and the band that opened for Queen on their 1975 'A Night at the Opera' tour and charted big time with the glistening harmony laden single 'Romeo'.
In truth Mr Big were a much more powerful outfit than their hit single suggested, touring America with the likes of Tom Petty, Journey, Kansas and Cheap trick etc and recording their second self titled album in LA.
The third and final album 'Seppuku' was produced by Ian Hunter but sadly it got shelved and the demise of the band followed quickly.
And after two albums as Broken Home and several solo projects including a stint of working with famed producer Mutt Lange, Mr Big vocalist and main man Dicken aka Jeff Pain seemed to disappear from the music scene.
Now comes a brand new album 'Bitter Streets' as a reinvigorated Dicken once again teams up again with co writer Paul Gibbon, Edie Carter and the younger Jake Carter on programming, for an updated version of the British band on a beautifully crafted album.
Pete Feenstra talks to Dicken about the new CD and the constant fight to retain the Mr Big identity

Bitter Streets' is a great pop rock album full of strong songs, well crafted arrangements, sweeping melodies great harmonies and a lush production. There's lots of commercial potential but it does sound very 1980's right down to the programming, was that the intention?

That's probably true, but you can't just suddenly move out of the genre that you are known for. I mean people interested in Mr Big are probably my age and their musical choice comes from that time. And I'd say you can't be anything other that what you are. My girl friend is younger that me and she likes the record, not just because of the songs, but because it's from her era.

The single 'Georgia' sets a high standard and the opening 'Come And Dance' is another excellent track, but my personal favourite is 'Die in Love' Did you see that song and the album as an update of the 'Romeo' style?

Yes because the whole idea of the project was to go out and play gigs again. In fact I've been back working with Paul Gibbon and Eddie for about 9 years and during that time we got a lot of interest on My Space etc', and online in general. But then just as we started again and recorded 'Baby Come Around'… which is on you tube… no sooner did we come back and the American Mr.Big started again.
Soon after we cut 'Baby Come Round' they released 'Next Time Around', so there's a bit of cynicism my end. It's like they are trying to say, 'WE are Mr Big'! , it's all too close to be a coincidence. In fact a few years ago I was in a club with Lemmy when he turned round to me and said 'Sheehan is going to nick your name'……and that's just what happened.

So why did you adopt the name all those years ago? After all Mr Big suggests a powerful rock band while you seemed to focus on songs, harmonies and hooks?

Well when Jack Barry at the Marquee gave us that name all those years ago, we were much more of a rock band. And now things have come full circle, because although the album is what you said it is, song friendly etc, we have Dan Kindness on drums and when we gig the live thing is much heavier.
In fact Dan is one of the most solid drummers I've worked with. We've had some great drummers Johnny Marter, Barriemore Barlow etc, and recorded with Jim Keltner but Dan is a Bonham type drummer, a cross between Gerry Conway and Barrymore Barlow.
When you hear the live version of 'Die in Love' for example, it's much more in your face and much heavier than the album version and that's because the album doesn't have drums on it.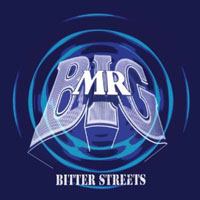 Were the songs on 'Bitter Streets' predominantly new or reworked songs from the past?

Mostly new. I never really stopped writing but a lot of the older stuff wouldn't suit this project. For example I got the dreadful call about 14 year ago - 5am in the morning - to say my mum had died.
My immediate response at the time was to write a song about that, which would have suited an album I was working on at the time, but not now. And actually I had a lot of songs from back then , Id written stuff with Paul but they were also written in different genres, some rock, pop, country and stuff but not really suitable for this album.
The song 'Bitter Streets' does actually go back a few years but songs like 'Die In Love' were from last year. Paul Gibbon had an idea and we put it together. Only 'Baby Come Around' came from years before.
I love the album as a whole but when you know what goes into it you constantly want to do more. On 'Bitter Streets' for example, there's a guitar part that I wanted to extend. The problem is you work on songs for while then someone takes them on, and you constantly want to do more.

There's certainly a coherent feel to the album with a real focus on the songs and quality production. Was that your intention?

Well yes for me songs are about the lyrics as much as the music. Some critics have gone to the album and looked for the rock elements. They go to 'God Save Me From The Blues' for example, but songs like 'Bitter Streets' are all about the lyrics. I mean it's a song about soldiers coming back from Iraq and finding that when they get home there's nothing there for them. Songs like that have their own message that for me is much deeper than just the music.

Your vocals are startlingly good, did you manage to keep your hand in when you left the business.

Off and on. I did a lot of things outside of music like working for a building company for ten years and I nearly got killed falling from scaffolding. But as regards music, the nearest I got was singing in old people homes for over 4 years. I met some wonderful people with their own rich history and it was something that allowed me to keep singing. Ten years ago I had a tonsillectomy and the specialist told me that if I had been gigging I might have had a real problem, so I'm just grateful to be singing again.

How did you start to work on this project? Did you write the songs and then everyone else contributed?

No it was basically me and Paul. We said at the outset that we'd start this project by splitting all the writing credits 50/50. Sometimes we might have a complete song and other times one of us would have an idea and we'd finish it off.
Then Jake Carter who is this 28 year old whiz kid would look at the songs and add his feel to them. .With 'Georgia', 'Bitter Streets' and 'God Save Me From The Blues' we all but had the finished article, whereas on 'Come And Dance' we added things to the basic idea. Paul was responsible for 'Bitter Streets' while on other songs I might have had a verse and he'd come up with a chorus. He's great to work with and a brilliant writer.

So did you completely leave the music business after trying to establish a solo career?

More or less yes, but the thing that kept me going was the fact I had always kept a studio, so there was always the option of doing something.

All these years later, do you see 'Romeo' as an albatross round the band's neck or the opposite?

No. 'Romeo' is still really what we are about. It's the hit that made us and it still gets played on the radio and issued on EMI compilations. In fact Chris Evans played it last week and there are some people you would never imagine who say they really like it, like Steve Jones from the Sex Pistols. Back in the days when we toured with Queen Freddie always complimented us on the song, so it remains our calling card.

But wasn't it a case much like Racing Cars, who also had a big hit single, that the hit was different to the live band?

In some ways yes. We did gigs when Johnny Marter was in the band for things like the 'Supersonic' TV show and the guys were much heavier than on record, but with lots of energy, which is just like it is now and that's is mostly due to the drummer.

So you are enjoying another shot at things?

Oh yes, I just look at the fact that I'm 61 now and still able to do this. In fact it's a privilege really to be able to make an album like this and to be able to do it now. In fact we've had 4 CD's issued by Angel Air and they seemed to do ok so there still seems to be some interest.

Ian Hunter produced 'Seppuku' and he loved the band, but the album was never released?
Well his aim was to produce a powerful rock album, but at the time I thought that the sound was abysmal. I see Ian now and again. He still likes it.

Your label moves mirrored a career on the up. You established yourself with Epic, had the big hit 'Romeo' on EMI and moved to Clive Davis's Arista and toured the US with the likes of Tom Petty, Kansas, Journey etc. In contrast to the Punk riddled UK, surely your style fitted the soft rock American landscape of 1978? What went wrong?

Basically our manager of the time Bob Hirschman (who also looked after Mott The Hoople) pulled the plug on us.
It cost £50k or whatever to tour and keep the band on the road in the States and he stopped it. It's a shame as we got on great with people like Tom Petty and bands like Cheap Trick who were really good to us and respectful.
It wasn't the same in the UK though, but I have to say that both Queen and Status Quo were very nice. Freddie Mercury always looked after us on the 'A Night at the Opera' tour and there was never a question of us trying to blow them off etc. We were a 4 piece back then with two drummers, me and Pete Crowther who was like an orchestra on his own.
After the coming back from America we took our demos to Tony Smith who was very positive but the time had passed really.

So now you've re recorded 'Romeo' on the new album. The vocals still sounds startlingly good and 'Bitter Streets' seems like an updating of the harmonies with which you made your name?

Well we all sang on this album and we're hoping there will be some interest. 'Georgia' was the lead single but it didn't make the Radio 2 play list but people seem to like it, so maybe we'll have a think about trying again with 'Die in Love'.

---
Interview © May 2011 Pete Feenstra