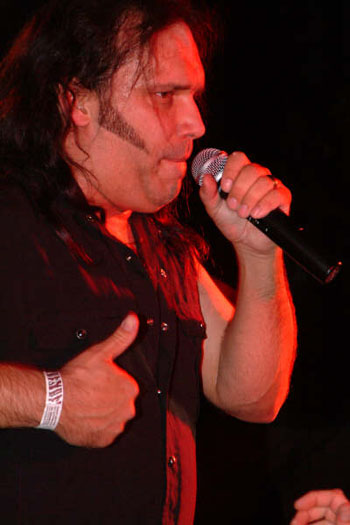 Photo: Noel Buckley
Singer Blaze Bayley, former Wolfsbane frontman and replacement for Bruce Dickinson in Iron Maiden for two albums, has been recording with his own band since leaving Maiden.
After several albums under the Blaze moniker, the band have been relaunched as Blaze Bayley, and are currently touring in support of the new "The Man Who Would Not Die" CD. A DVD, recorded late last year, was sold through the band's website ( www.blazebayley.net ), featuring a disc of live material and bonus disc of documentary and an exclusive new song.

During a lengthy post interview chat, Blaze detailed how much the band are doing online, almost following Marillion's lead with funding releases through pre-orders, and that the DVD came fully autographed, hand numbered and with a letter of authenticity; now that's dedication for you.
Blaze also revealed his love of vinyl, how fans turn up at gigs with pristine copies of the first Wolfsbane album and how his tenure with Iron Maiden also coincided with the band presenting more and more lavish vinyl releases for fans and collectors (anyone with the Best Of The Beast 4LP box can testify to this).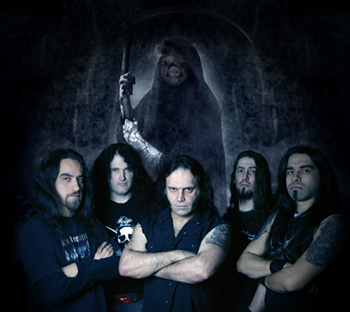 Tell us about the new album?

Blaze: The new album is about getting the band together really, I've got a totally new band, and we've changed the name of the band. Nobody knew who Blaze was, I would talk to fans and they would ask "What are you doing", and nobody would know about it. So I had a chat to the rest of the guys in the band, and said it's time for a change really.
I've got to start again, just like when Ozzy left Black Sabbath, got to take radical steps and change the name. A lot more people recognise the name Blaze Bayley. Blaze is a Playstation controller, a character, a hockey team, it's all sorts of things when you Google 'Blaze', but generally speaking when you Google 'Blaze Bayley' it's me. So that's made a big difference.
And I talked to the band and although we changed the name to Blaze Bayley, we share everything, the writing, it doesn't matter whose ideas they are as long as they're the best thing we come up with at the time.
I don't write all of the lyrics, if I'm writing with someone and they come up with good lyrics then we use them. Same as the music, and that's the approach we took to the album really.
"The Man Who Would Not Die" is an expression for all of us as to how hard it's been to get to this point. We've got a distribution deal, started my own record company, we're sharing that, do everything on our own terms.
It's all very small, but we say when the album comes out, we say when we go in the studio, we way when we go on tour and we say how the money gets spent. We say how much things cost for the fans. No-one's ripping it off, we're not paying for a big office or a load of people who don't even know about the band, just supporting ourselves.

I notice there's a lot going on through the website, do you think that's the future of the industry?

Blaze: It's certainly the future for us. We have our own shop, and we put out some things you can only get from the shop and people seem to like that.
Sometimes when you go and see a tour and you haven't got any money, you've spent it all on beer and you still want the t-shirt, that's another way to get it and it also means no-one else takes any money off the fans.
For too long the music industry has been about taking money off the fans and paying the artist a fraction of what comes in. We don't have to pay anybody else, except maybe when we play a festival. We sell it ourselves, if I have to sit behind the merchandise stall myself then that's what I'll do to make sure the fans get the best deal.

So how's the tour been going?

Blaze: Absolutely incredible. Since we changed the name, that means we get twice as many people come to see us. So many people know the new album. We've just done the best tour of Brazil I've ever done, and all around Europe things seem to be building, you know, getting better and better.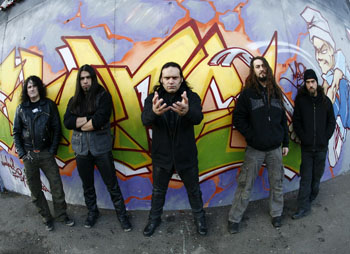 You've pretty much got a new band?

Blaze: It's a new start, we started with the DVD, getting the band together with that, and 'The Man Who Would Not Die' is really the start of this comeback. It's been so long since the last album, this is fresh start for all of us. It's back to the roots, back to how I started, we go and play for people who like live music.

So how was the recent Wolfsbane reunion?

Blaze: It was my wife's idea, she'd kept in touch with everybody, and an opportunity arose a couple of years ago when I was playing in Tamworth, that we could get up and play a few songs together. She arranged it all and it was fun.

Then the Wildhearts said we could go do a few shows with them, the money was good, it sounded like fun, so we said we would do it and it was a real laugh. So we left it open, so if anything came along and it sounded good, like a laugh, then we'd do it, and if it sounded like hard work then we wouldn't. And that's the way we left it. Then The Quireboys got in touch with us this year and asked us to do some Christmas shows for the anniversary, so we said yeah alright.

Did it feel strange play together for the first time in years?

Blaze: Not really, because we were all older and fatter but we didn't feel any different, like we all did when we were 25, just in the body of a 38 year old.

Weren't you all signing on when you formed Wolfsbane?

Blaze: Yes we were when we started, yeah, it's always been difficult. Whenever we weren't playing we were signing on, we were living with our parents, had a broken down transit van, we rehearsed in a condemned building. It was all we could afford, it's how we started. We never made a lot of money out of Wolfsbane at all, we never got any royalties from it at all.

Were you surprised to get the Iron Maiden gig?

Blaze: Only when I got the auditions, there were a lot of people up for it, and when they told me what the auditions would involve I said I would love to have a crack at it. I'd been a huge fan of the band, had been for years.

So I went along and they seemed to like what I do, went back for a second audition, with a few others, and to my surprise, nobody could have been more surprised than me, but they chose me.

My voice is so different to Bruce Dickinson, you can tell on 'The X Factor', it's such a different album. I think it's a great album, but it's very very different. I learnt so much. It's like going from the fourth division into the champions league; it's the same game, doing the same things, but the level of intensity is incredible. But I learnt so much and, in a weird way, gave me a lot of confidence.

The press at the time seemed to assume you'd got the job before you actually did.

Blaze: I can't remember, it's such a long time ago now.

How did it feel to take "Man On The Edge" onto Top Of The Pops?

Blaze: It was incredible. They made a special platform for me, they had this stage extension they'd wanted to use for a while. The band didn't want to so they said You use it Blaze, and I said of course I will. So our appearance on Top Of The Pops was on a different, bigger stage to everyone else. Incredible experience.

I was glad to have the opportunity to sing some of the greatest metal songs ever written, and to write and compose with some of the greatest musicians who I've totally admired and respected.

How did you feel you fitted in with the fans?

Blaze: I got a lot of support from a lot of fans around the world. A lot of support and encouragement, but there was a small element of the fans who couldn't really understand that Bruce Dickinson chose to leave Iron Maiden, and almost saw that it was my fault that he'd left.

It's ridiculous but that's how some people are. But he chose to leave Iron Maiden, he didn't want anything more to do with it. He went his own way to do his own things and I was glad to have the opportunity to sing some of the greatest metal songs ever written, and to write and compose with some of the greatest musicians who I've totally admired and respected.

Any interesting stories you remember?

Blaze: Everyone always asks me about Eddie. I suppose Eddie's got his own way of doing things, and we had a couple of different Eddies, but on 'The X Factor', Eddie didn't seem to be that well and had difficulty walking around the stage.

At the last gig on the tour, in France, I was singing "Iron Maiden" and all the fans in the front were laughing. I was looking at my flies to see if they were open, but Eddie had walked out, and he hadn't walked across the stage, he'd just gone flat on his face and there were all the crew dragging him off the stage.

The world is a better place with Iron Maiden in it, and it's given me an opportunity to do something on my own, and it's taken a while to get it off the ground but at last things seem to be working.



Were you surprised when they got Bruce Dickinson back?

Blaze: Yes I was really, because we'd already started thinking about the third album, I thought we really needed to do something with the third album and I thought we could do it, make an absolutely great Iron Maiden album. I had every confidence that working with Steve and the rest of the guys, that we could do something special, so I was very sad about that, never had the opportunity. But it's business I suppose, someone at EMI was paranoid about CD sales or whatever and there was a lot of pressure put on to get Bruce back in the band. Bitterly disappointed but it's business.

The world is a better place with Iron Maiden in it, and it's given me an opportunity to do something on my own, and it's taken a while to get it off the ground but at last things seem to be working.

Was it a springboard?

Blaze: People know me around the world for Iron Maiden, but they don't know about the Blaze Bayley band, they're still finding out. New fans know about Blaze Bayley but the majority of fans around the world don't. We're a cult band but the fans who do know us are totally devoted, the most loyal fans, it's incredible. And people who find out about us become that, but not many people know about us. Hopefully that'll change with the name change, it seems to be happening bit by bit, with every gig.

Who are your main influences?

Blaze: My earliest influences go back to Ronnie James Dio, Bon Scott, are the main to, and David Coverdale, when he was with Deep Purple. When he was with Glenn Hughes, that era, and the first Whitesnake album as well.

I love vocals that tell you a story, that sound like they're talking to you, not just singing but saying the story. Also a lot of early punk, Anti Nowhere League, Sex Pistols in my early days, so that's responsible for quite an aggressive performance.

Is there anyone you'd like to work with?

Blaze: Cliff Burton and Dimebag, if they were still alive. Still living - I've been very fortunate to work with some fantastic people.

What were the first and last records you bought?

Blaze: One of the first was Iron Maiden's Number Of The Beast, and I think the last record I bought was the soundtrack to The Wicker Man, there's an album from the film. I love film soundtracks and there's something dramatic about the folk element which I really liked. I can't listen to metal all the time, because being a producer (I'm a producer as well) sometimes I can't get enjoyment out of it because I'm cutting music to pieces, pulling it apart, thinking that could be better, but when I'm listening to classical music or movie soundtracks it just takes me away.

I do use excessive amounts of deodorant. This may sound wasteful and bad but I do throw socks away. And fans who have become friends text me to say do I want them to bring anything to the gig and I say yes bring me some socks.

What fact about you would surprise your fans?

Blaze: There's not much about me would surprise my fans because they know I'm mad really. Some fans know about it but we have problems with laundry on tour and sometimes it's very difficult to get laundry done on tour.

The way we tour is intense, we're on the bus for days and days, we don't see a hotel room and you don't get a chance to wash your stuff. So I do use excessive amounts of deodorant. This may sound wasteful and bad but I do throw socks away. And fans who have become friends text me to say do I want them to bring anything to the gig and I say yes bring me some socks.

Any recording sessions fans may not know about?

Blaze: I don't think so. Mostly, everything I've done has come out. I have been very lucky in that way. I am working part time, in the background, it's nowhere at the moment, doing a couple of little bits for a friend in Italy who's doing a musical of the story of Cane And Abel. It's a rock metal thing, and I've done a little bit of work with that. I don't know whether it will come out but it's just something we've decided to do.

Do you play any instruments?

Blaze A little bit of keyboards, but my vocals are my main instrument.

Any message to your fans?

Blaze I would just like to say thanks for all the support and encouragement you've given me over the last few years, hope you enjoy the record.

For current news, shop and tour dates, go to www.blazebayley.net
---
Interview © April 2009 Joe Geesin