Photo: Ian Pollard/GRTR!
Melodic hard rock guitarist Axel Rudi Pell may not be a household name in the UK but he's carved out an impressive reputation as an inventive melodic heavy metal guitarist in his native Germany.
He originally made a name for himself with his home town band Steeler in Bochum and has since enjoyed a prolific solo career. In fact as Axel will go on to explain he doesn't like being labelled either one thing or another.
So while the anthemic 'Strong As a Rock' (one of his very best songs) suggests strong metal with commercial possibilities, other equally impressive songs like 'The Masquerade Ball' are imbued with more proggy sensibilities
And as Axel's playing on his excellent new double 'Live Over Europe' DVD on SPV shows, his fluid speedy note flurries, tempered by some more measured warm toned space rock lines mark him out as much more than a regulation metalist.
Indeed a cursory glance at his discography confirms the suspicion that Axel is beholden to no one, save the seemingly mutually exclusive musical tangents of melody and volume. The fact that he manages to balance the two in the context of his own work gives a clue to the creativity of the man's work.

In his 28 year pro career, 19 years of which he's spent as a solo artist, he's worked with vocalists of the pedigree of Charlie Huhn (Ted Nugent/Gary Moore), Jeff Scott Soto (Malmsteen /Journey), Rob Rock (M.A.R.S) and is currently working with Johnny Gioeli (Hardline).
And in a Metal environment where familiarity is everything Axel has not fought shy of exploring different musical avenues, even when they might be regarded as unfashionable.
In 1993 for example he recorded an album with the self explanatory title 'The Ballads' and last year he brought his melodic guitar solos to bear on a covers album called 'Diamonds Unlocked'.
The diverse collection of songs included a rocked up version of Phil Collins's 'In the Air Tonight' and Axel further added a crunching guitar solo on his interpretation of The Who's 'Won't Get Fooled Again'.
And by the time you've marvelled at the man's chops in over three and a half hours of hard rocking on the new 'Live Over Europe' DVD, you to will have a pretty good idea as to the Axel Rudi Pell's signature style.

So firstly am I taking to Axel Rudi Pell the heavy Metal or hard rock guitarist?

That's a good question but one that isn't easily answered as I'm not really happy about being pigeonholed as either a Metal or a hard rock guitarist. I play different things in a different way and just try to add my style to things.

So given your recording history has included such a number of different styles of music, don't ever feel trapped by people seeing you as a Metal guitarist?

Again that's really not the case for me as I don't really pay attention to the labels and besides different people come up with their own different ideas about what constitutes one label or another.
I mean for example some people see Slayer or Metallica as a Metal band while for others they can represent hard rock. And it's exactly the sale with older bands like Deep Purple. The irony is that back home in Germany the DVD has been marketed in two separate camps, and I've charted at number 6 on the hard rock charts and number 12 on the Heavy Metal charts, but that doesn't mean I will call it hard rock just because of its higher chart position.

The 'Live Over Europe' DVD includes some of your best known work from 'Strong as a Rock' to 'Call Her Princess' and as such the DVD is a timely reminder to fans of your standing in the rock world. It is also the perfect introduction to your music for new fans, especially in the UK. Was that part of the aim in producing this DVD?

Absolutely, although we did do another DVD about five years ago, but this release is based around our appearance at last years Rock Hard Festival in Gelsenkirchen and the extras include festival footage from around Europe as well.
At the Rock Hard Festival we co- headlined with Thin Lizzy in front of about 6,000 people and that meant we were able to play with the full light show and pyros. In fact the whole festival was filmed so we thought that if something good came out of it then we might have the basis of a DVD release.
Our performance was only a 75 minute slot but on the 'Official Bootleg DVD' release there are other film clips and some different tracks from things like the 2004 Sweden Rock festival and festivals in Switzerland, the UK, Belgium and the Wacken Open Air Festival in 2005.
There is a difference playing festivals, the crowd can inspire you, the atmosphere can be electric and the band can rise to the occasion as they did on the Rock Hard festival. So the DVD is a good representation of who we are yes.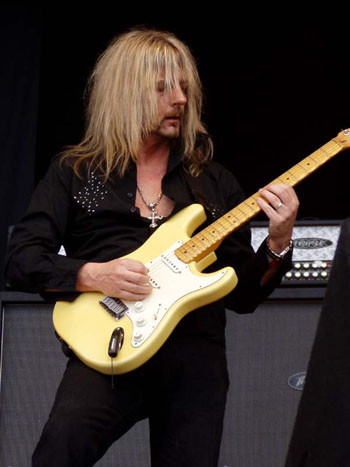 Photo: Ian Pollard/GRTR!
You've worked with such vocalists as Rob Rock and Jeff Scot Soto, and now Johnny Gioeli. Do you have to adapt either the material or the arrangements to integrate the new singers?

No. because actually the vocalist isn't the main part of the band. The singers may change sometimes but the process remains the same.
I work on my own when writing the songs, I start on the melody line first and put my own guiding vocals on the track, and when I've done that I take it to the singer and try and explain what I'm looking for.
In the case of Johnny he worked on his recent parts in a studio in LA. After that we communicated by phone and the internet. The next stage would be that he might come up with his comments, something along the lines of 'I like that verse' or 'maybe we can do that' etc, so there is no formal arrangement of the song at that point.
As regards actually performing John would come over and go into three or four day's rehearsal. He would of course receive new songs and work on them for up to a month before, but the guys in the band are pro musicians and so is John, so they learn their music and get it together right down to the gaps or linked pieces. It might of course take longer when we will work on the new material next tour in the fall.


The fact that he lives in the USA and we the band live in Germany it isn't a problem and actually works very well for us. This band has after all been going for nearly 10 years this year and the musical process remains the same. In fact when we do all get together to rehearse, record or tour we are all fresh and enthusiastic.
I don't think that would necessarily be the case if we were all in the same place, town or even country. We are usually are genuinely excited about the prospect of playing again, and that's really great. As it is John tours up to five times a year at present and he flies business class so it isn't cheap (laughs).


On the 'Rock Hard Festival' footage your guitar playing on songs like 'The Masquerade Ball', 'Mystica' and 'Call Her Princess' manages to fuse both Proggy melodic Space Rock elements with more obviously recognisable Metal chords. Did you originally set out to bring such diverse elements into play in the context of such songs?

No really I didn't. Of course I recognise those styles but they just reflect how I felt when I wrote the songs. There is maybe a special feel sometimes and it comes out in the playing; But really it is a result of how I approach both song writing and when I work on a cover song.
In fact it's not about arrangements so much as just the approach. So when I do a cover song for example what I really try and do is to make it sound as if I wrote it. So in a way it's like putting your signature on something, but there's no one particular formula I use apart from feeling my way around a song, maybe searching for a strong melody etc.

You surprised a lot of people with your first 'Ballad' album on which you took some songs that in some cases seemed to have no relevance to rock music at all and turned them into something more interesting. Was that a bit of a career gamble?

Yes I suppose it was in a way as people have certain expectations of you and I thought that at best I might sell only two thirds of what I'd done before with my previous albums. But I'm happy to say that that 'The Ballads' album was something that was enthusiastically accepted in Germany. In fact it became one of my best selling albums until 'Oceans of Time' and we have since made three in all.

But for me it doesn't matter whether a song is a ballad or a hard rocker because a good song is a good song and as I said I like a strong melody, and again all I tried to do was mix those songs into my own style.

That search for melodies certainly seems to be part of your guitar playing too?

It is yes. With certain other guitarists I have a problem with them because although they are technically excellent they very often write songs or approach a song around the solo. But for me the melody is the key thing, then comes the vocals and then comes the solo, and that leads you into the feel of a song. So my priority remains the song and the exercise doesn't just become an excuse for a solo.

So aside from bands you have mentioned previously such as Rainbow, Purple, and specifically Richie Blackmore etc, there aren't too many song writers that influence you?

Not really no, as I just work on what I do, though I do like Ronnie James Dio for example.

And of course you also recorded Rainbow's 'Temple of the King' on 'The Ballads 3' album didn't you?

Yes I did but the version I've done wasn't the original studio version of '75, but was inspired by the 1995 version when Doogie White was on vocals, and that was a case of a great arrangement for me.

Staying with your performance at the Rock Hard Festival you played one of your oldest songs 'Call Her Princess'. Where did that Celtic/'Greensleeves' medley come from in the middle of the solo?

I suppose I must have been playing that song for nearly 30 years now and one of the reasons I still like it is that it is one of those numbers we can all join in on. And with this band we all like to do to jam on a song, it's the magic of live performance.
I don't see any point in playing a song live exactly as it has been done in the original recording that would be boring. So as a band we enjoy making things happen on stage and perhaps over a period of time that's how the different elements have come into the music.

Your profile is still growing in northern Europe but you've only just made just the one trip to the UK back in 2006 for the Bloodtstock festival. Do you have any more plans to come over here with the band?

Well the Bloodstock festival answered a lot of questions positively for us. We were really surprised by the reception especially as we'd not played in the UK before. We wondered who would know us and how we would be received, and whether they would like us etc. But the crowd was really good to us and it was a great feeling knowing that people appreciated our music.
As regards the future we have a couple of good possibilities of coming to the UK. We will either be coming over in a support slot – but I can't tell you the name of the headliners just yet – or headline ourselves. If we come over as the support it would probably be in October or November of this year. Alternatively if we come on our own we would be looking at probably three months after that, so maybe the following February.

Some of the extra DVD footage is of the band playing the Zeche club in Bochum which must have been like a home town gig and the huge Wacken festival must have been a special gig?

Yes Zeche is a home town gig for me since my days in Steeler and Wachen is such an amazing festival anyway but again it was a really great for us and I was proud of the fact we've been asked back since.

Despite a succession of American vocalists does a groundbreaking US tour remain an unlikely possibility?

We'd love to do it, but as John says, 'no way at all'. Our kind of melodic hard rock is hard to market over there, and at best we'd end up with a two week club tour playing to maybe 100 or 120 people a night and it wouldn't work financially, especially when you include the air tickets etc.

Given your ever expanding dates round Europe, do you find a difference in different territories?

Yes actually some crowds in Northern Europe take the laidback, come and impressive us approach. You have to work hard and get them on your side, but the further south you go to Italy for example and especially Spain, they really go crazy for their music and they encourage you.

Finally, do you consider your band of music to be a particular German version of melodic hard rock?
Not really, it's just what we do, it's what I produce and write but really it's an international thing. Johnny sings in English because it's an international language and besides the only words he knows in German are a few bad ones (laughs).
SPV Records release Axel Rudi Pell Live Over Europe a double DVD on 25th February

The bonus Official Bootleg DVD contains material featuring select footage from 2004 to 2006.
---
Interview © February 2008 Pete Feenstra
---