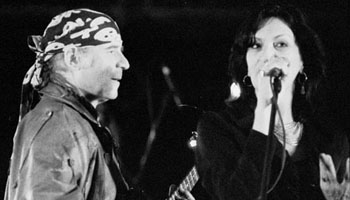 John and Renate at the Herzberg festival
Who is in the recent Amon Duul 2 line-up

Chris Karrer - oud, guitar, violin, vocals, John Weinzierl - guitar, synth, vocals, Renate Knaup-Krotenschwanz - vocals. Danny Fichelscher - drums, Lothar Meid - bass, and our neo-Duul Jan Kahlert - perc, vocals, joker.

Please tell us what albums were reissued on SPV - any bonus material? Are these remasters?

Actually all the important works of Amon Duul II are remastered and rereleased on SPV. wherever there was spare room on the CDs, we added bonus tracks recorded in 05, 06, 07.
You should be able to see all this on our renovated site www.amonduul.de
Are any other Amon Duul 2 CDs coming out on SPV in the future?

At the moment we are planning a DVD called "Amon Duul II History" and a new CD of the band. Both will take a bit of time still.
Maybe there's gonna be another DVD "Live at the Buttermaker in Shrewsbury 06" in the meantime.
At present we don't think we're gonna release any of these new projects on SPV.
Much rather you'll find these productions on our own site, just as you can now get the albums "Pure Spirit" and "Wounded" of my trio JHM and an album called "Weinzierl meets Calvert", which is my work with the legendary Bob Calvert (Silver Machine) just before he died.

Is the band working on new material for a new album?

We're working on new material since some time...

Any gigs or touring coming up?

There is a big tour scheduled for autumn 08 and spring 09. It's called "40 years since 68/69" and On The Run Management are booking it now.

Amon Duul 2 are so original it is difficult to tell if the band had many music influnces - who are your music influences?

There are various influences. Chris, Lothar and Renate have a jazz background, I grew up with the sounds of the beatles (playing in my first band called The Merseygents), and enjoyed the music of The Mothers Of Invention, Pink Foyd (still like the Piper At The Gates Of Dawn), Hapshash, Tanjet also.
I actally only ever bought two albums in my life: Sergeant Pepper and Piper At The Gates Of Dawn...
There are also lots of influences of Indian music, world music and of course classical music of all genres.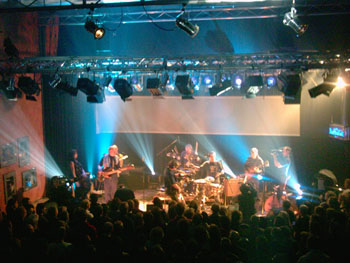 German TV show "Rockpalast" in 2005
There is a big difference in style between 'Vive Le Trance' and 'HiJack' - was it a conscious effort to become more commercial sounding?

Do you think it's sounding more commercial?
Well, we had a new producer - Jürgen Korduletsch - who obviously was putting more effort onto this aspect of the production. (He was known for producing Disco stuff like Claudia Berry) Also it signified a development in the music of Amon Duul II.
To us recording an album used to be the manifestation of the time passed, like finishing a period of our musical life, to start a new one again. Of course we didn't wanna play the same all the time - like record companies wanted us to do - but we were seeking new sounds, new fields, new ideas. We were and are not just a band, playing a certain stile, but we're also the sozial experiment, the artwork and the commune seeking a better way of living.

Made In Germany was the band's concept album - can you talk about the concept. Why was it only released as a single LP in the USA with different cover art?

We wanted to go to America by Zeppelin!
It was time to go on, to also go to the US!!!
It wasn't our fist concept album, in fact most of our albums are concept albums.
But this time we wanted to break all spells.
We grew up in the time after the war and German history was always a sensitive subject. To be a German was not just normal, when we traveled to foreighn countries. In the entire moovie and tv scene all over the world germans used to be the badies. So we decided to have a go on our history in a musical way.
On the original recording there were historical soundclips of Hitler and Goebbels.
Though our intensions were doubtlessly against Hitler and we mocked about him, Atlantic boss Ertigan (the boss of our record company then) told us he's jewish and he can't release this album. So they cut it to pieces and released it as a single album with a different cover and destoyed our work of art.
I'm hoping very much, that we can still come to the US with a Zeppelin and perform "Made in Germany" as it's supposed to be...

---
Interview © July 2008 Billy James
Album review
---
| | |
| --- | --- |
| | Print this page in printer-friendly format |
| | Tell a friend about this page |