ZZ TOP Live In Germany 1980 Eagle (2012)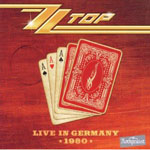 This is a live album which has been taken from a recording made for the Rockpalast TV series. These programmes were shown on BBC 2 in the early 80's and were usually rather good. I remember a particularly good REO Speedwagon one being shown which I had on video for years, ah happy days!
This concert was recorded at the Gurgahalle in Essen and over the course of the 16 tracks there are plenty of ZZ Top classics that would keep casual observers and diehard fans entertained.
'Tush', 'Cheap Sunglasses', 'Beer Drinkers & Hell Raisers', all great tracks played in Top's inimitable style. There is however a bit of a down side to all this and that is the fact that this is, first and foremost, a recording taken directly from the TV broadcast.
Whilst the sound was no doubt OK with the visuals, taken in isolation the mix is frequently compromised with vocal and guitar tracks dropping in and out at different points.
This recording is not a total disaster, but all the tracks featured have been released before in various formats and with better sound quality. Possibly one for the ZZ Top completest then rather than an introduction to the ' lil ol' blues band from Texas.
**½
Review by David Wilson
---