XANDER DEMOS Guitarcadia (2012)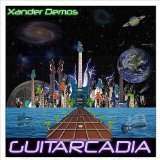 Typical of some independent guitar-centric releases, and unfathomable as it is unforgiveable, the production of 'Guitarcadia' is terrible with a grating cymbal sibilance throughout and an overall shoddy mix by CJ Snare of melodic rockers Firehouse. Ron Nevison it ain't. And on my copy at least the intro of 'White Knuckle Driving' sounds like it was mastered from vinyl.
Thankfully, Demos doesn't go the whole hog and - as with many similar releases - play everything himself. But the mix does nothing for his fellow cohorts either.
Technically Demos is an inveterate shredder but brings nothing new to the metal guitar genre once dominated and inspired by Vai and Malmsteen. Probably of greatest interest to fellow shred-heads. There's energy, yes, but the poor production frustrates the listening process.
And, as with many similar releases, there is a lack of breathing space. Once Demos comes in with all the subtlety of a rough-hewn sledgehammer, the shred takes over rather than the song. This may have sounded cool in 1987 but frankly 25 years on it's all rather tiresome. Demos is currently playing with a Sabbath tribute band and I suggest he may earn a better living from that at the moment.
Xander Demos (pronounced dee-muss) also has an unfortunate name - forever it will sound like his recordings are slightly sub-standard. Which they are.
**
Review by David Randall
David Randall presents 'Assume The Position' on Get Ready to ROCK! Radio every Sunday at 22:00 GMT
---
| | |
| --- | --- |
| | Print this page in printer-friendly format |
| | |