WORLA PARTY Arkeology (2012)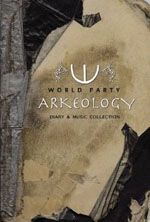 The first thing to say about this 5 CD Arkeology 'diary and music collection', a set that that serves up 70 new and rare studio recordings including covers and live material spanning 25 years, is that presentationally it certainly has the 'wow' factor.
Like the rest of us who grew up on the wonders of the gatefold album sleeve, Karl Wallinger is fed up with CD packaging that needs a magnifying glass to decipher the lyrics / credits. So Arkeology is delivered in a much more user friendly, and useful, almanac format - a 142 page, any year (although it includes calendars through to 2015), large paperback sized, ring bound, diary.
In many ways Arkeology doubles as both the 6th World Party album, and a wonderful, previously unheard, reflective 'behind the scenes' trawl through the previous 25 year history of World Party.
The thing that strikes you most is the consistency and quality of the song writing, musicianship and the recordings - whether they be songs finished as recently 2011, unreleased rare studio gems, live sessions, concert recordings or b-sides and demos.
Wallinger's love of the sixties - The Stones, Dylan, Neil Young, The Beach Boys and of course, the Beatles is never far below the surface, as evidenced by the inclusion of covers such as Dear Prudence, Happiness Is A Warm Gun, Cry Baby and Fixing A Hole (The Beatles), Like A Rolling Stone and Sweetheart Like You (Dylan) and Man Was We Lonely (McCartney). He would have fitted like a glove into The Travelling Wilburys line-up: probably Wallinger's idea of dying and going to heaven.
Naturally, the more obvious World Party 'hits' are included - live versions of Put The Message In The Box recorded in the USA in '93 and 2006, live versions of Ship Of Fools from the Kilburn Empire in 1990 and the States in 1998, and the Robbie Williams covered She's The One from the same concert.
In fact, if Williams was serious about a 'comeback' he would be well advised to plunder the treasures that Arkeology offers - success would be virtually guaranteed.
But over the whopping 5 hours running time of Arkeolgy there's something for everyone, whether it be Wallinger's impressive reinventions of his heroes, his dabbling with Prince style funk, or excursions in to soul and even, opera. For World Party aficionados the decision to purchase Arkeology is a 'no brainer'. And for those less familiar with Karl Wallinger's work it serves as an ideal jumping off point for exploring the 5 studio albums.
It really is a lovely artefact, and while Karl claims the packaging is designed to be as useful as it is informative, it would be sacrilegious to deface it. The only criticism I can level is that it simply isn't going to fit onto your cd shelves next to your World Party collection. As it aptly says on the CD's themselves 'dig it'.
*****
Review by Pete Whalley
---
| | |
| --- | --- |
| | Print this page in printer-friendly format |
| | |