WARREN HAYNES Live At Moody Theater Provogue PRD 7383 2 (2012)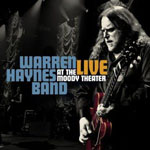 When faced with a cd and dvd double pack such as this, it's often instructive to listen to the cd first, just to get inside the music rather than simply be dazzled by the spectacle of the multi camera shoot. Such is the case here as Warren Haynes brings to life most of his excellent 'Man In Motion cd', revisiting the unlikely but successful meeting of soul and the jam band tradition that drives much of his music.
Warren opens with 'Man in Motion', the title track that kick started his re-appraisal of soul music. It's a magnificent effort with an aching vocal, some incisive soloing and a superb backing band with enough swagger to offer Warren many options. And he unhurriedly realises them all in the company of vocalist Alecia Chakour who effortlessly takes care of the top line of 'River's Gonna Rise'. She also joins sax player Ron Holloway and Warren on the stretched out climactic funk of 'Sick Of My Shadow' and duets with Warren on the smooth soul outing 'On A Real Lonely Night', a song that if trimmed from its 12.34 minute glory would have real commercial possibilities.
As it is, it's a definitive jammed out example of what this project does so well, transforming a soulful song into a musical celebration of its possibilities. If you buy into that concept you'll love this album.
Warren digs deep for some sumptuous grooves, aching soul and occasional fusion such as the surprisingly rough edged and slightly disappointing cover of Steely Dan's 'Pretzel Logic', complete with a disguised intro, a redundant drum solo and jazzy middle
'Live At the Moody Theater' unashamedly pushes the riffs, mines the grooves and stretches the arrangements to their limits, perhaps reflecting the cultural differences between the North American market with its demand for more music for your dollar and the more restrained European sensibilities. Either way, the intense interplay between Warren and bass player Ron Johnson and the double guitar and horns lines on 'Invisible' make your spine tingle. And given that this album will probably be bought by Dead, Allman and Gov't Mules fans, you suspect they won't be disappointed.
If Warren's 'Man in Motion' took his song writing to another level then this live album finds him in the best possible company with the aptly named Grooveline horns, who supplement his core band and vocalist Alecia Chakour to the max. The second set labours slightly compared to the intensity of cd one, but you can put that down to the natural highs and lows of a 3 hour show (excluding bonus tracks). The horn driven 'A Change Is Gonna Come' features keyboard player Nigel Hall with his best Sam Cook interpretive vocals while the funky call and response lines of 'Tear Me Down' effectively returns the band to stretched out funk with more fierce guitar and sax interplay.
Inevitably there's room for Warren's 'Soulshine' that suggests his predilection for jamming hasn't quite exorcised great melodies from the set, even if it does sound a bit like Joe South's 'Games People Play'.
The DVD comes with an extra track - the funky groove of 'Power & Glory' - as well as a clip from the soundcheck and a rehearsal of the wonderful 'Hattiesburg Hustle', complete with guest Ian McClaghan on keys and Warren's evocative refrain 'take me back in time', which also provides a high point on cd one.
'Live at the Moody Theatre' is an exhaustive double set that represents the triumph of musical chops over charisma and hype and thrillingly justifies the Stax logo at the end of the dvd.
*****
Review by Pete Feenstra
---
| | |
| --- | --- |
| | Print this page in printer-friendly format |
| | |