WALTER TROUT Blues For The Modern Daze Provogue (2012)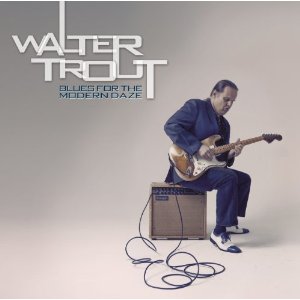 Walter Trout's 'Blues For The Modern Daze' is the essential blues album he's threatened to make over the last five years and he's finally delivered. It's got everything his fans would want from great songs to great playing and lashing of vigorous licks that bring the songs alive.
Apart from being one of the leading rock-blues guitarists of his generation the prodigious Walter Trout is that rare thing, a blues artist with something to say. His songs have covered the full spectrum of the human condition and he's penned contemporary anthems such as 'They Call Us The Working Class' and the post 9/11 boxing analogy of 'Go The Distance'.
He's also had a dig at the star system on 'Next Big Thing', uncompromisingly tackled greed on 'How Much Do You Want', dealt with personal alienation on both 'Life in the Jungle' and 'The Outsider', and more recently searched for spiritual reconciliation on 'Common Ground'.
And while in the past he may have self deprecatingly described himself as 'too rocky for blues fans and too bluesy for rock fans', on 'Blues For The Modern Daze' he takes the next logical step and focuses on the consistency of his song writing to bring real substance to the CD.
He's lost the star guests and outside producer that populated 'Common Ground' to go toe to toe with his tour band in the studio. And under the watchful eye of co-producer Eric Corne, Walter has cut some of the most essential blues of his career The meticulous attention to sonic detail brings out the magical guitar tones, the light and shade of the arrangements and enough of Walter's innate fiery passion to match the rigorous prep work. And though this isn't quite the first blues album of his career - that would be to overlook the limited edition 'Hardcore Blues'- it certainly is Walter's most mature record reflecting his concerted push towards more personal lyrics since the 'Livin Everyday' album.
The insightful songs come with a new found restraint and polish to his playing without losing any of the expected spark from his long time road band. It's an album with a linear progression that works its way round powerful rock blues outings, deeply entrenched grooves, stripped down 12 bar blues and an intermeshing acoustic/ and electric tableaux, as all roads lead to the bulldozing rock-blues title track that gives the album its sense of resolution. Walter ducks and dives with a series of high intensity solos built from the ground up. He throws all his qualities into the song and mixes them with real emotion as his guitar becomes an extension of his vocal phrasing.
The live in the studio set opens with a moving ode to his late mum on 'Saw My Mama Crying', which is a de facto sister track to his earlier career 'Please Don't Go'. He explores love songs like 'All I Want Is You' and reflects on personal redemption on the beautifully produced and emotively sung 'Recovery'. Above all the conceptual core of the album unashamedly asks the big question as to where we're all headed.
And after nearly 40 years of road work and 20 as a band leader in his own right, Walter has grown as song writer to become a perceptive chronicler of our times. The album speaks to us on different levels, be it the rib tickling lyrics of 'Turn Off The TV'; 'Turnoff your TV, they're just trying to sell you shoes, perfume, cars & bubblegum, coco pops and booze', or via his crying guitar on the title track centre piece.
The combination of meaningful lyrics in a blues idiom played by a scintillating guitarist with his road tested band is a potent force making this 21st album of his career his best so far
Trout is an advocate of the 'Bob Dylan school of recording' which tries to capture the moment and feeling of a song and that is just what this album achieves. His solos burn on 'Saw My Mama Cryin', he explores blues balladry on 'Lonely' and he gets low down in the alley on the guitar and piano duet 'Blues For My Baby'.
There's some unexpected unison guitar on the beautifully conceived and lyrically adroit 'Recovery' and he digs deep for a sweeping acoustic/electric groove and whispered vocals on the caustic 'Never Knew You Well'. And then as in keeping with the album's theme, he delivers a towering blues on another outstanding track, 'Brother's Keeper'.
But Walter also rocks hard, delivering some trademark bone crunching rock-blues licks and potent sing-along bv's on 'You Can't Go Home Again' and saves his most fiery fret work for the self explanatory 'Money Rules The World', a song on which for the first time in memory he uses wah wah.
This is an album that veers between lyrical torment and instrumental beauty. And if you didn't quite get the message of the songs so far, Walter spells it out on the brief spiky narrative of 'Master of Puppets', on which the characters may change but the status quo doesn't. The message quickly segues into the piledriving rock-blues of 'Money Rules The World' on which drummer Michael Leasure delivers his most aggressive drumming of his Trout career, while Walter makes his guitar cry as only he can
'Blues For The Modern Daze' is a blues album with a difference. It's full of meaningful songs with personal and political integrity and is fuelled by inspired playing that is by turns aggressive, emotive, expressive and always burns with intensity.
Damn right Walter's got the blues! But he's thrown out the clichés, blown away the cobwebs, and reconnected the genre with our daily lives and jammed it to its maximum potential.
He's one part an observer, one part a messenger and primarily a guitarist who can make his instrument speak form the heart. 'Blues For The Modern Daze' is a landmark album, the work of a mature recording artist and a citizen of the world searching for the truth and playing some of the best music of his career as a result.
*****
Review by Pete Feenstra
---
| | |
| --- | --- |
| | Print this page in printer-friendly format |
| | |