TOMMY WOMACK Now What! Cedar Creek CCM005 (2012)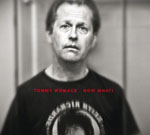 Sometimes the constituent parts of Americana music just seem to be a road map, tales about the loss of a good woman, a bottle of the strong stuff and a weary voice. And while those elements undoubtedly make up a great deal of the genre, songsmiths such as Tommy Womack eloquently suggest there's much more to the genre
For one thing his subject matter songs rings true across both geographic and musical genres, and for another, he draws you in as if in the kind of confessional you may not really wish to hear, but while he busy telling his tales you are busty listening.
On 'Bye Bye' for example, he sings about a former love over a sonorous piano line; 'It's no capital crime, I got what I wanted and what I deserved, now all we got left is this rhyme'. And following a chance meeting in a supermarket he adds the bitter refrain 'I made you a miserable husband you've been a high maintenance wife, please scan your next item, please shove it in the bag and get on with the rest of your life.
And if his monotone voice has traces of Dylan, there a similar wry irony to be found in songs like 'I'm Too Old To Feel That Way Right Now'.
The self explanatory 'On & The Off The Wagon' is perhaps a little too close to country and western to appeal to the kind of crossover market that Americana potentially afford him, but it does give the versatile Jim Hoke an opportunity to lean into some fine pedal steel playing. He also pops up as the star turn on the sax led, swing blues of 'Guilty Snake Blues'.
Tommy meanwhile steers things in an altogether darker and tougher direction on the rap led '90 Miles an Hour Down a Dead End Street', which brings a welcome musical balance to the set.
Clearly Tommy is a performer for whom musical context is every bit as important as the lyrics that cogently define his left field style. And when he strips things down as on 'Pot Head Blues', he's an unreconstructed middle aged folk balladeer. Truth be told, he's a lucky man as he's aiming his song writing skills at the last generation of album buying fans.
He gently rocks out on 'I Love You To Pieces' and digs deep on 'Wishes Do Come True', which is a fine love song duet with Lisa Oliver -Gray. It's the kind of song that offers a direct link to his elemental song writing sensibility. Much like one of his talented contemporaries Dan Baird, you sense Tommy is a deep, articulate song writer who sometimes prefers to hide his true feelings behind a mix of metaphors and musical eclecticism. That said, there nothing ambivalent about the self explanatory 'Over the Hill' which is nicely underpinned by Bill Huber's trombone.
There's much to admire in Tommy's song writing and overlooking his monotone deadpan vocals, 'Now What!' Doesn't so much pose a question, as it follow the exclamation mark at the end of the album title. It's as if he's saying I've come so far and now you want more? His fans and new recruits would certainly reply in the affirmative.
****
Review by Pete Feenstra
---
| | |
| --- | --- |
| | Print this page in printer-friendly format |