The SKYS Colours Of The Desert (2011)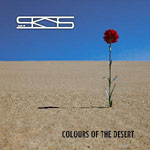 Top progressive rock from Lithuania anyone? Eastern Europe seems to be spawning great bands at the rate of one a day at the moment and The Skys can certainly be added to this list.
They're obviously well respected in the UK too as the guest list includes the likes of Dave Kilminster (Roger Waters), Snake Davis (Paul McCartney) and Anne-Marie Helder (Panic Room).
Colours Of The Desert is the band's fourth album and, with a couple of caveats (see below), is a pretty damn fine album with good song structures, strong vocals and top-notch playing throughout.
As usual with prog, you're looking for the influences all the time, but, the odd nod to 'Floyd and Yes apart, this is pretty much all their own work and has an edgy, contemporary freshness about it.
Nine tracks on offer and, truth be told, there's not a duffer to be seen. Opener, the title track, 'Colours Of The Desert' incorporates middle-eastern influences and gives Dave Kilminster the space to rack up a great solo, but all the plaudits should be reserved for the album's signature track 'Walking Alone', a prog fan's dream with soaring keys and a Gilmouresque solo to die for.
The only downside is an annoying, right-on, moralistic Christian slant on some of the lyrics especially on 'Calling Out Your Name'. I've long thought that there's no place for religion of any denomination in rock music and this does nothing to diminish that view. OK, it's not as in-your-face as Stryper and their ilk, but it is there and it makes me uncomfortable - music shouldn't do that.
That said, this should not detract from what is a very good album. With a little more work in the lyrics department (which in addition to the God-bothering are also a tad clichéd at times) The Skys could be a real force in progressive rock.
Only trouble is, with so many fine bands emerging, it's getting to be a rather crowded market place and being dubbed a 'Christian' band could well restrict their appeal. I hope not as their musicianship alone deserves a wide audience, but, without a lyrical volte-face, their next album could well be heading for the 'what might have been' section.
****
Review by Alan Jones
Alan sequences "The Eclectic Mix" on the third Sunday of every month on Get Ready to ROCK! Radio, and usually manages to include some prog.
---
| | |
| --- | --- |
| | Print this page in printer-friendly format |
| | |