THE PRODUCERS Made In Basing Street (2012)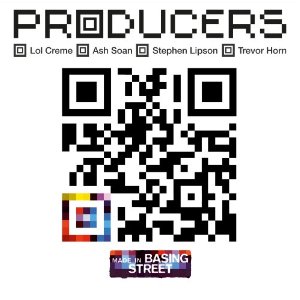 Individually and collectively The Producers - Lol Creme (guitar / vocals), Trevor Horn (bass / vocals), Steve Lipson (guitar) and Ash Sloan (drums) - contribution to modern music reads like a 'Who's who?' of pop / rock from the Seventies onwards. The question is, do too many producers spoil the mix?
Made In Basing Street is the culmination of a project started back in 2006 born of a desire to take a [last?] roll of the dice in terms of performing. It's a bit like playing fantasy football and bringing all your old heroes 'out of retirement' to pit them against the best of the current crop.
As part of 10cc, Creme was a key player in a band overshadowed only by the Beatles in terms of their collective creativity. And while there were subsequent successes with Kevin Godley, both as a director and as Godley & Creme, he's been conspicuous by his absence from the scene since the eighties.
In contrast Trevor Horn's been a prolific producer since forming The Buggles in 1978. The ability to make the ordinary, extraordinary is his forte. For example, ABC's magnificent Lexicon Of Love, Frankie Goes To Hollywood's stupendous Welcome To The Pleasure Dome, and Seal's whole career. But like Creme, his wizardry has lost a little of its spark over the last decade or so.
Steve Lipson was Horn's protégé at ZTT working as a session guitarist / producer with the like of Frankie, Grace Jones (co-writing Slave To The Rhythm), going on to work with McCartney, Simple Minds, and Annie Lennox, and more recently pop artists like Will Young and Ronan Keating.
Ash Soan on the other hand, is pretty much everyone's session drummer of choice having played on eleven #1 albums and seven #1 singles as well as playing with Del Amitri, Belinda Carlisle, Squeeze, Rick Wakeman and a host of others.
And if that wasn't a heady enough brew, on the substitute's bench is writer and producer, Chris Braide who's been a bit player in the project from the outset. His credentials - writing and producing for the likes of Lana Del Ray, Paloma Faith and just about every Top 10 pop star of recent years.
Now, that's one hell of a team.
And, probably against all odds, it works. Ego's, if there were any, have been buried in the name of 'team spirit'. Freeway, a song that immediately brings to mind Sheet Music era 10cc, The Buggles, and The Beach Boys, is a marvellous shimmering and driving opener, and one that sets a standard for a diverse and above all, 'classy' set that oozes quality throughout.
It's not pop. It's not blues. It's not rock. Producers sit in that netherworld somewhere in between. And that's a hugely difficult balancing act. Probably the 'nicest' album you'll hear all year with some wonderful melodies, harmonies and playing. And certainly the best produced. If I had to draw a parallel it would be with Mike and The Mechanics. Not in sound, but in spirit. Old Wild Men. In the words of Carole Bayer Sager, 'nobody does it better'.
In football parlance, fantasy or otherwise, it's a consummate performance. As Gavin's Stacey might say, 'lush'.
*****
Review by Pete Whalley
---
| | |
| --- | --- |
| | Print this page in printer-friendly format |
| | |