THE MILK Tales From The Thames Delta (2012)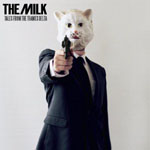 It looks like the Essex four piece's plan to give up the day job and 'really go for it' is about to pay off. Certainly, getting Sony to sit up and smell the coffee at the potential in the band's reinvention of classic Motown, Stax and Trojan grooves was a major breakthrough.
'Retro' has been the flavour of recent years, but The Milk's contemporary twist on classic soul that borrows on their punk beginnings for vibrancy and verve, brings something new to the market and is almost guaranteed to have The Milk nominated for every breakthrough artist gong going.
Much of Tales From The Thames Delta has already been signposted on previous singles and EPs, but as a whole it has the potential to bring to the scene the same sort of excitement the Christians brought when they exploded in the late 1980s / early 1990s. That, and the boys - vocalist Rick Nunn, brothers Mitch and Luke Ayling, and Dan Le Gresley are just a bit nutty. You could easily see them becoming a Madness for a new generation.
Tales From The Thames Delta comes packed with classic soul melodies, great grooves, some huge hooks and great vocals. Success is surely only whiskers away.
Ridiculously infectious and foot tapping.
****
Review by Pete Whalley
---
| | |
| --- | --- |
| | Print this page in printer-friendly format |