THE MEN THAT WILL NOT BE BLAMED FOR NOTHING This May Be The Reason Why The Men That Will Not Be Blamed For Nothing Cannot Be Killed By Coventional Weapons Leather Apron APRON005 (2012)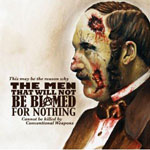 The Men That Will Not Be Blamed For Nothing are historical anarchists who readily transplant events, people and places from the past into the present and sometimes back again. Their endearing brand of Steampunk is explained in a barked out mission statement at the beginning of a musically and historically unfettered album; 'If we don't stop them now they will rewrite history, all history one song at a time'
Welcome to the world of Anarcho-steampunk and a band that revels in punk driven riffs and songs about imagined alternative history, mapped out over a wide array of musical riffs. Unsurprising perhaps, The Men comprise two alt. comedians as well as a former member of Lords of the New Church and they somehow pull of the balancing trick of dipping into the 19th century for source material and injecting it with punk energy and doom metal and hard rock riffs.
Songs like the punk anthem 'Doing It For The Whigs uncompromisingly hits the spot with exclamatory lines such as 'That's right, votes for women, fucking get over it' , while other numbers such as 'The Great Stink' makes an unlikely a connection between the past and present.
The hard riffing 'Albert' is about Queen Victoria's mourning of Prince Albert who returns as a zombie and 'Margate Fhtagn' appears to be a bizarre meeting of traditional annual Margate holiday makers with a pulp fiction character from Weird Tales played out over a spoof doom metal collage.
And there's no stopping the bands fertile imagination as they explore a tale of warped electrotherapy over hi-energy metal riffs on 'Tesla Coil' which again packs in some funny lyrics; 'My wife protects herself from me with electricity' and 'If I get frisky in the marital bed, sparks shoot down her leg. What a shock, what a sock 10000 volts shoot through my cock'. The other tale of Victorian sexuality' The People's Common Sense Medical Advisor', is a song about the perils of masturbation and fares less well as it is jettisons any pretence of musical integrity to concentrate on toilet humour
There are clever lyrics aplenty, and plenty of incendiary riffs but at barely 36 minutes you get the impression the dozen songs are better suited to the live interactive crowd format rather than the passive listener.
The band have the same manic energy of 70's punk heroes Splodgenessabounds and Alberto Y Lost Trios Paranoias, but rather than 'heads down, no nonsense mindless boogie', The Men That Will Not be Blamed For Nothing are on a their own anarchic mission.
The result is an enjoyable but at times uneven mix with plenty of anarchic humour as on the thrash metal appreciation of the 19th century engineering genius Isambard Brunel; 'Standing at the Thames, Rotherhithe, when are we gonna get to the other side, When Up pops a bloke in a stovevpipe hat, I'll do you a tunnel under that'
'This May Be The Reason Why' is a record rooted in alt.comedy and comes packed with punk energy and bone crunching riffs. And if you didn't understand the concept of Steampunk before you played this album, you may still be none the wiser, but at least you're guaranteed a good chuckle.
****
Review by Pete Feenstra
---
| | |
| --- | --- |
| | Print this page in printer-friendly format |
| | |