THE MAR-TAYS The Mar-Tays (2012)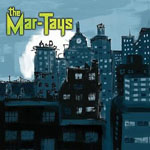 No to be confused with the The Mar-Keys or the The Bar-Kays, the Mar-Tays comprise an A list line-up of top players. Featuring the superb vocalist Martee LeBow and a killer 4 piece horn section, the album is overseen by producer Larry Alexander as the Mar-Tays bring fresh life and original interpretations to rock and roots standards plus a self penned effort from Martee.
And before you groan at the prospect, let it be said that this album oozes class and is a cut above the usual covers project. A dozen songs are originally interpreted via a mighty horn section, great singing and great playing and the band really does sound as if they are enjoying themselves.
Singer songwriter Martee has written with likes of Procol Harum's Keith Reid and Will Jennings, but it's her soulful vocals that impress here, alongside the sterling guitar work of Larry Saltzman (Brecker Brother/Michael Stipe), Ira Siegel (Steve Winwood/James Taylor), and Irwin Fisher on piano (Shaw Colvin/Tom Scott).
There's also a killer rhythm section featuring John Sieglar bass (Hall & Oates/Todd Rundgren) and drummer Frank Vilardi (Jeff Beck/Roger Daltry), and each member provides an integral part on an album that never flinches from its naked ambition to cut the best version of the songs possible.
The fact that the band is able to make a coherent whole out of wide catalogue of songs spanning James Taylor, Neil Young, Dylan, Lowell George, Jimmy Webb and Lennon & McCartney etc, speaks volumes about their collective belief.
The opening big horn arrangement of Bennie Benjamin's 'Don't Let Me Be Misunderstood' immediately sets the standard, though the following 'Wheel of Fortune' (also written by Benjamin and recently covered by Jimmy Vaughan) is something of an MOR effort that makes you wonder about the rest of the record.
But any worries are quickly dispelled as Martee tackles James Taylor's 'Country Road' and makes the song her own with some magnificent phrasing on a gospel tinged 'call and response' arrangement, coloured by some ascending horn lines. She further extends her range on Leon Russell's 'Dixie Lullaby' which features some nice interplay between harp (Robbie Kondor) and horns, before an unexpected but exhilarating clarinet break from Jack Bashkow, as the band stretches out and really swings.
Not everything totally convinces however, as Martee attempt at a soulful reading of Neil Young's 'I Believe In You' struggles to match the presence and feel of the original, though if you had not heard the original before, this is still engaging enough.
Both Dylan's 'A Hard Rain' and Lowell George's 'Two Trains are more successful in fulfilling their ambitious arrangements. 'Rain' is all slide led swagger and topped by a mighty vocal, while 'Two Trains' digs deep for some muscular, fractured funk with the rhythm section on spectacular form as pianist Irwin Fisch adds some intuitive fills.
The song also arguably features Martee's best performance as she sparks the band into an unexpected fusion tinged jam, on a perfect example of an all star combo fully realising its potential.
Needless to say Jimmy Webb's 'If These Walls Could Speak' provides some meditative light and shade as a vocal/piano duet, before Martee adds her own self penned, sleazy jazz number 'Who Do The Voodoo'
Biggest surprise of all is the highly original choice of Lennon & McCartney's 'A World Without Love'. It was originally written for Peter & Gordon and is given a jazzy percussive feel.
This smartly conceived and superbly realised album brings a fresh twist to some familiar music. Nothing sounds forced and you can't pay the band a higher compliment than to say that most of the material here sounds as if it was written with them mind.
****
Review by Pete Feenstra
---
| | |
| --- | --- |
| | Print this page in printer-friendly format |