THE DUNWELLS Blind Sighted Faith (2012)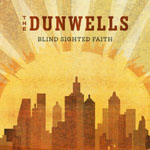 Country rockers from Leeds? Yes, despite their northern roots, The Dunwells (Joe & David Dunwell (guitars, keys, vocals), Rob Clayton (bass), Jonny Lamb (drums) and Dave Hanson (lead guitar)) have created something of a buzz across the pond. And now, with their debut album recorded at Willie Nelson's Texas studio, the band are ready to take it to the next stage.
Weaned on artists such as The Beatles, Fleetwood Mac and countless other classic acts from the sixties onwards, the band deliver an organic blend of acoustic and electric soft rock. Produced by Grammy award winning producer John Porter (Roxy Music, The Smiths, BB King and Ryan Adams) Blind Sighted Faith spreads its wings fairly widely - the opener I Could Be A King has a theatrical Lion King / Coldplay chorus line, while the guitar lines of the title track echo those of the Edge on The Streets Have No Name.
When they're touring the band frequently busk on the streets of the city's they visit, and perhaps their best work on Blind Sighted Faith is on what, in days of yore, would have been side 2, where the band slip into a loose CSN&Y west coast groove where soft rock melodies are offset by some glorious vocal harmonies and silky lead guitar breaks. Treat your ears to Follow The Road, Perfect Timing and the superb set closer Oh Lord.
If side 1 is the aperitif, then side 2 is the main course. Prepare for a feast.
****
Review by Pete Whalley
---
| | |
| --- | --- |
| | Print this page in printer-friendly format |
| | |