TED NUGENT Motor City Mayhem/Sweden Rocks Armoury Records (2012)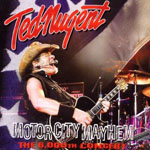 Previously issued on DVD, Motor City Mayhem is Motormouth's 6000th concert, recorded on Independence Day 2008 in his home town of Detroit. On CD for the first time and my views on the sheer quantity and inanity of the drivel he continually spouts hasn't changed.
Playing to an enthusiastic and rawcus 20,000 crowd, this man really can shred when he wants to. But his self importance and drivel become tiresome immediately through the extended intro and rendition of Star Spangled Banner.
There is some fantastic driving hard rock in Motor City Madhouse, Wango Tango and Free For All, some riffs and screams to match. 'Stormtroopin'' is a catchy and decent track and the rendition of Baby Please Don't Go is very enjoyable.
Cat Scratch Fever is as classic as American hard rock gets and Great White Buffalo closes a decent set. Riffs and shred aplenty, and lots of guests along the way.
14 songs - a decent audio track but sadly not the whole original set. Points off for the verbal dysentery - if he's not spouting bullshit it's inane drivel and lots of it. The guitarist's equivalent of Sarah Palin - best taken with a pinch of salt. ****
Recorded 2 years earlier in 2006, Sweden Rocks was also previously released as a DVD+CD package and is here as a stand alone CD. The intro is more succinct as he tears straight into Stormtroopin' and Wango Tango; the simplistic rock tracks are given a boost by Ted's riffs and shreds, although much of it here is lost in the mix behind the bass. But the three piece really do go for it, the crowd appreciate the high octane shred hard rock.
There are some great tracks here including Cat Scratch Fever and Strangle hold, but sadly 13 tracks it's well short of the original DVD release.
As Pete Feenstra correctly stated in his review of the DVD, there is some shit kicking music here and Motormouth has become a parody. But those two things are what make Nugent. ****
Good live sets of you like Nugent, but a bit too similar in performance and setlist for the more casual fan.
Review by Joe Geesin
---
| | |
| --- | --- |
| | Print this page in printer-friendly format |
| | |