SUNRUNNER Eyes Of The Master (2012)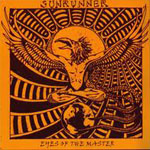 Every so often an album turns up that is such a frustrating, self-indulgent mess you wonder how it ever made it to release.
'Eyes Of The Master' is one such, and the aforementioned word frustrating is the key as it's patently obvious the band can play - it's just that what they're playing is locked into the worst aerie-faerie nonsense and clichéd riffs of the prog/psych era of the early '70s. It's a mish-mash of contrasting styles, which in the right hands can work perfectly, but which here, I'm afraid, just grates.
It purports to be progressive rock with jazz, folk and psychedelic influences and you can certainly hear all this going on - unfortunately, a lot of the time, they're all happening at once and the sound dissolves into a cacophonic soup which the band frequently struggles to find a way out of, resulting in what sounds to me as extended jam sessions by a bunch of teenagers high on Class 'A's.
And all this before you start listening to what they're singing about.
One glance at the lyric sheet exposes the writers as having drunk long and hard at the well of Dungeons & Dragons, War Hammer and other such forms of fantasy escapism resulting in a truly risible libretto.
As an example, cop this from, ironically enough, one of the more listenable tracks on the album, 'Gluskabe' :-
'With your magic you slay the giants
Fix the seasons and people heal
Grandson of Woodchuck leave your island
We wait and pray there is a day you will return...'
I rest my case m'lud.
For the record, there are ten tracks on offer and, despite the disparaging ranting above, each track shows a modicum of promise - unfortunately this promise is universally strangled, not only by the aforementioned style clashes but also by the band thrashing about trying to extricate themselves from whatever musical rut they've rumbled into.
If any progress is to be made the band must:
(a) make more of female vocalist Dena Riegel who tries her best with the material;
(b) learn how to segue from one style to another and,
(c) execute the lyricist.
*
Review by Alan Jones
Alan sequences "The Eclectic Mix" on the third Sunday of every month on Get Ready to ROCK! Radio, and usually manages to include some prog.
---
| | |
| --- | --- |
| | Print this page in printer-friendly format |
| | |