SUGARLOAFSugarloaf/Spaceship Earth BGO (2012)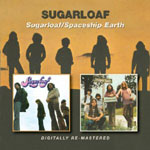 Naming your band after the mountain outside the studio could suggest some potential 'untogetherness' on the part of a band: like there was no plot - even 'hey let's make it up as we go along!' But the music in this entertaining if occasionally wayward 2-on-1 reissue of this keyboard/guitar dominated Denver five-piece's first two albums dashes this reasoning to the ground.
1970's self-titled debut is well-measured, focused and proficient if, in common with many debuts of the day, it is also overtly pan-genre, wobbling from progressive to blues to close-part harmonised folk rock (they even have classical on the palette).
Sugarloaf yields charting hit single 'Green-Eyed Lady' and 'West of Tomorrow' while its successor Spaceshipe Earth gifted with a more defined direction, is consequently stronger, more confident, with highlights in 'Hot Water', 'Rusty Cloud' and a particularly fine closer in 'Tongue in Cheek'.
The band forged on, scoring a hit single with 'Don't Call us, We'll Call You' before folding in 1976, founder keyboardist Jerry Corbetta winning further success with The Four Seasons.
Sugarloaf may be largely forgotten these days, but, tapping a-times at the door of HP Lovecraft II and even the mighty Spirit, this is characteristic of how American music was evolving at the time and merits attention.
***
Review by Peter Muir
Peter presents 'Progressive Fusion' on Get Ready to ROCK! Radio every Sunday at 19:00 GMT
---
| | |
| --- | --- |
| | Print this page in printer-friendly format |
| | |