STUART JAMES BAND Changing Lanes Sighthound Records (2012)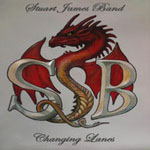 Stuart James is the Horsham blues-rock guitarist who used to front the abrasive power trio Say What. The Stuart James Band is a step up both in terms of the songs and a de facto band feel that makes this recording a confident calling card.
In fact its second time round for Stuart (guitar and vocals) and kid brother Junior (bass and vocals) who initially made a splash with their debut album 'Pornokitsch and Morals'. And now suitably recharged and fighting fit after their enforced sabbatical, they return with 'Changing Lanes' their best effort so far.
'Changing Lanes' is a bristling mini album that offers a concise account of how far the band developed in a short space of time. 7 flowing tracks are peppered with heavy duty riffs, sparkling fret work and Stuart's natural vivacity, but the fact that he's decided on just the 7 tracks is a pointer in the direction of a refreshing sense of restraint and clarity.
In many respects this album is slow burner with the emphasis being placed on songs as much as on salient rhythm guitar work. And having stepped out with a riff driven, title track full of cymbal splashes and a purposeful sense of bluster, Stuart ups his game on the funky, choppy rhythm guitar work of 'Jagerblind (I don't know what it means either!), which employs a couple of potent stop-time moments. The integral rhythm guitar work melds into some subtle slide lines as Stuart belatedly reserves his fluid, tension breaking solo for the outro.
And with a significant nod in the direction of effective sequencing, the band slips into 'Take this Love' which is arguably the cornerstone of the album. Having exploded like a greyhound out of the traps and then having found his equilibrium on 'Jagerblind', Stuart slips into a cool groove full of poise and subtly voiced dynamics that features Chad Marriot on a majestic Hammond sweep to give the ballad a real uplifting feel, Stuart also adds one of his best vocal performances before the number gently comes to rest in an surprising understated way. This is a song with real radio potential and you can imagine it growing in stature with more live outings. It's a song with real substance and presence and much like the later acoustic love ballad 'Admit It', strips everything down to the essentials, with the latter focussing on voice, acoustic and slide. The result is the kind of crossover outing that Guns 'n' Roses occasionally surprise us with.
Stuart finally shreds his own self imposed reticence and slips into a chunky groove on the aptly titled 'Funky#1 2011', making the most of a tight arrangement, some fine band interplay and sizzling solos.
'Changing Lanes' is well worth checking out. It's an album that offers stylistic diversity, and is a meeting of a 'live in the studio' vibe with occasional moments of real feel, topped by fine playing. Stuart James is more than just another guitar slinger from a never ending production line, as evidenced by an album with meaningful lyrics, original ideas, and a cool grasp of dynamics. Then there's also the occasional use of effective production tricks, such as the change of vocal emphasis half way through the angular 'Fool for those Faces'.
The Stuart James band isn't so much 'Changing Lanes' as exploring a work in progress. This album is by no means the finished product, but it offers enough evidence to suggest an exciting future.
****
Review by Pete Feenstra
---
| | |
| --- | --- |
| | Print this page in printer-friendly format |
| | |