STACKRIDGE A Victory For Common Sense Helium HeCD005 (2009)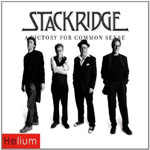 Stackridge's 'Victory For Common Sense' is a beautiful but bewildering record that puzzles and beguiles by turns. It's an album full of glistening harmonies, sumptuous production, evocative lyrics and an ever present eclecticism that can only be Stackridge.
And while the title suggests a self evident consensus, this is supremely crafted music that never settles in one genre, but fulfils its potential in surprising and adventurous ways.
'Victory For Common Sense' is bursting with different influences that are realised over beautifully crafted songs full of rich harmonies, instrumental beauty and exciting arrangements with a post Beatle fascination, but always anchored by the magnificent song writing partnership of Andy Davis and James Warren. The latter made his name with The Korgis' hit 'Everybody's Got to Learn Sometime' and there's a still residue of that song and Tears For Fears influences on this album.
It's no surprise then to learn that producer Chris Hughes made his name working with both Tears For Fears and Paul McCartney among others and he brings pristine sonic qualities to bear perfectly on the duo's sweeping arrangements that are as musically impressive as they are lyrically imaginative.
There's so much good stuff here on an album that builds by degrees and settles for the perfect equilibrium and arresting majestic sweep of 'Red Squirrel'. Much like the endangered species of the title, the song is the product of another fast disappearing species, the craft of the songwriter It's a slow building anthem with an aching lead vocal, cut glass harmonies, Beatle style bv's, a Jeff Lynne style string arrangement and layered synths with compelling sing-along rhyming couplets; 'like a potters wheel, or a 3 amp fuse, like a Cuban heel or a 12 bar blues, gonna be a showdown, just wait and see, are you gonna stand there watch me get out of my tree, what's it's gonna be?'.
'A Victory For Common Sense' is the sum of its meticulously assembled parts, with each song being a stepping stone towards the closing suite of 'The Day The World Stopped Turning'. The album is stamped through with the sort of quality, integrity and vitality that should by rights have made the Warren/Davis songwriting partnership the Lennon & McCartney of their day. Perhaps the only reason for their relative anonymity outside of die-hard Stackridge fans is the sheer diversity of their music.
But back to the album, and having overcome the shock of an opening recycled U2 riff the CD settles into a master class of songwriting, full of thoughtful lyrics with an integral pulse that pulls and pushes the songs hither and thither.
In the case of 'Boots & Shoes' they settle for a delicious descending chorus line, with a Lennon accented rhythm guitar part. Both 'The Old Country' and '(Waiting For You And) England to Return' could have come from the Ray Davies song book.
Both songs paint a picture of the past through rose tinted spectacles and soothing Fab 4 'ooohs and aaahs', while the aforementioned 'Red Squirrel' uses an opening descending arpeggiated guitar figure reminiscent of The Beatles 'I Want You She's So Heavy'.
The now departed Mutter Slater is represented by 'North St. Grande', a waltz time anti war co-write with Andy Davis and as if to further emphasize the broad based musical approach, the band launch into the stunning Crun Walters penned, west coast influenced 'Long Dark River'. It's an epic track full of jangling guitars, sculptured harmonies, a hint of psychedelia and a waft of The Kinks 'Celluloid Heroes', leading to a startling Floydian guitar break. Producer Chris Hughes brings out the light and shade and the cool dynamics of a gentle undulating groove and let's the music percolate and fill the studio.
There's a proggy development at play that the band revisit on 'The Day The World Stopped Turning'. And it's this leap from gentle harmony driven pop rock to high gloss production moments of real grandeur that makes Stackridge a uniquely memorable band.
The more producer Chris Hughes applies his sheen the more the band sound like Tears For Fears. This is particularly so on the nascent funky groove of 'Lost And Found' while the eclecticism of 'Cheese And Ham' comes close to 10cc.
With elements of folk, rock, AOR, prog, synth pop and psychedelia there's almost two bands at play. And the more you listen to this album the more vexing the question becomes as to where this glorious music can fit into today's musical landscape.
The whole thing is finally eclipsed by the 11 minute Floyd influenced, wide screen rock opus and HG Wells style lyrics of 'The Day The World Stopped Turning'. The lengthy finale overcomes tempo changes and contrasting vocals to return to the dreamy instrumental theme and a gentle fade out. This is inspirational creative music and, yes indeed, 'A Victory For Common Sense'.
*****
Review by Pete Feenstra
---
| | |
| --- | --- |
| | Print this page in printer-friendly format |
| | |