SIMON McBRIDE Nine Lives Nugene NUG1201(2012)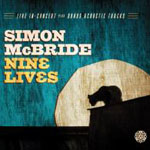 Northern Irish rock blues guitar slinger Simon McBride is a firebrand guitarist who can transform even the most mundane of songs into something exciting. And on the live album 'Nine Lives' that is precisely what he does.
Simon McBride impressed everyone with his playing when he guested on the last Joe Satriani tour, but even a live album has to do more than merely confirm an artist's playing credentials. And in that respect 'Nine Lives' (and 4 acoustic bonus tracks) only intermittently nudges us towards a coherent set of songs immediately recognisable as Simon McBride
With a combination of hot licks, a coarse vocal style and a shit kicking power trio, Simon nails the riffs and blazes his way through several ho hum rock-blues arrangements. The band's use of dynamics occasionally evokes Free, but inevitably it's Simon's guitar playing that ultimately captures the imagination.
And good as his playing is on this record, there's a dearth of songs, making the shrieks of recognition for the opening riff of Hendrix's 'Power of Soul' sound like a tension busting cry of familiarity. And that is a shame as on this cover alone, Simon's fluid, exploratory playing and his resonant notes mark him out as a fine guitar player.
A combination of passable vocals and unmemorable songs means the band has a lot of work to do to lift itself above the mundane. There are a few whip cracking moments however, such as on the hard hitting funk of 'Fat Pockets' when the trio's inspired interplay takes the song up to another level.
The same applies to the funky wah wah led riffs of 'Change' on which Simon sounds like Kenny Wayne Shepherd. And given the fact he's playing to an audience with an imperfect knowledge of the rock blues market, there's certainly room for a guitar player like Simon who in the blink of an eye can slip from the root riff to clipped flighty runs.
Putting aside the four acoustic bonus tracks, the main body of the album comes from three separate live recordings and it shows. 'Nine Lives' has the feeling of dipping in and out of his rough and tumble style rather than a real concert feel with all the attendant highs lows and band/audience dynamic.
The album opens with the Bonamassa influenced 'Down to the Wire'. It's one of Simon's more polished efforts and is full of soaring guitar work, but it's also the kind of mid-tempo melodic blues outing that you would expect to find as the third or fourth song into the set. The result is a stuttering melange of riff driven rock-blues that lacks a killer song and the kind of natural flow to underpin the album's best work.
But if Simon opens the album in laid back fashion he tops the live set with some dazzling picking on 'Devils Road' in a blizzard of thrilling notes and dazzling technique in search of better material and perhaps ultimately a producer to unravel his own unique sound. As it is, he whips up the crowd and deserves his hearty reception.
The acoustic tracks show a more restrained side to Simon's playing and as a consequence the album belatedly focuses more directly on the strength of his songs. He moves from an uncertain vocal intro on 'Coming Home' to explode into life on one of his best efforts, while the last three acoustic tracks reprise the full band workouts, with the acoustic 'Down To The River' being far better than the earlier electric version, especially with the insistent dazzling picking. 'Rich Man Falling' also enjoys a far better vocal and a bluesy foot stomp arrangement. Ironically perhaps, the acoustic source of his songs serves to highlight the work to be done on his band arrangements.
'Nine Lives' is essentially a work in progress. Taken as a whole, the 14 tracks comprise a partly realised, rough hewn rock-blues potential. Good in parts, 'Nine Lives' is a reasonable calling card, but hopefully a pit stop en route to something with Simon McBride's own DNA.
***
Review by Pete Feenstra
---
| | |
| --- | --- |
| | Print this page in printer-friendly format |
| | |