SHINEDOWN Amaryllis Roadrunner (2012)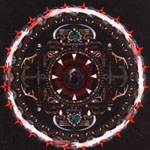 Shinedown are one of those bands that are massive Stateside, and beyond, but lesser so over here. Six million album sales worldwide tells you something about their popularity.
And the Florida based band's fourth album Amaryllis is likely to continue their strategy for worldwide stadium domination. Without doubt it will sell by the truck load to the converted, but probably fare only reasonably in the UK. Why? Well, us Brits are perhaps are more discerning than to follow the pack and buy into what might be perceived as stadium rock 'by numbers'.
Yes, Shinedown have formula. A hugely successful one. And one that's remarkably similar to that of stable mates Nickleback. That is, full on rockers with some great melodic vocals hooks, punctuated by rock ballads guaranteed to have the girls, sorry 'chicks', swooning and the guys punching the sky.
The sad thing is, it's virtually impossible not to be drawn in by the spell. Just about every song grabs you, and after a couple of beers resistance is impossible. I just wish bands wouldn't use the f word. It's not clever, and anyone over the age of 12 can see through the feeble attempt to tap into the adolescent market.
All that said, like a drug Amaryllis is intoxicating. But it's a product of it's time. Longevity isn't part of strategy. But if it's instant gratification you want, look no further.
***½
Review by Pete Whalley
---
| | |
| --- | --- |
| | Print this page in printer-friendly format |