Montreux masterclass...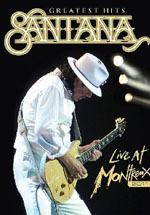 This is a new bluray/DVD release which perfectly captures Carlos Santana and his cohorts playing through a stunning set of Santana's greatest hits.
This gig was recorded during the band's European tour in July 2011 and was part of an annual mini festival that Carlos has pulled together over the past few years in collaboration with (Funky) Claude Nobs, he of 'Smoke On The Water' fame.
The DVD features all the usual Santana favourites including 'Black Magic Women', 'Maria Maria', 'Smooth' and 'Oye Como Va' to name but a few.
On all tracks both Carlos and his band are faultless with musicianship of the first degree. At times it does get a bit self-indulgent and heads in a jazz odyssey direction, but you have to marvel at the dexterity of all players.
There are a couple of guest appearances as well including the partnership of Derek Trucks and Susan Tedeschi on one number and Carlos's wife, Cindy Blackman Santana who takes over drumming duties on another.
As well as Santana's own work there are a few covers thrown in for good measure in the shape of 'Sunshine of Your Love' and an excellent reworking of AC/DC's 'Back In Black'.
Being a Bluray you also get a behind the scenes look at the gig and interviews with both Carlos and Cindy to complete the package.
This will, no doubt, be an essential purchase for any Santana devotees, but it would also be a good introduction to the great man's music for the uninitiated.
***½
Review by David Wilson