RORY GALLAGHER Reissues Sony Legacy (2012)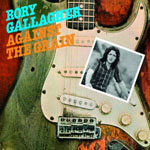 The second batch of Rory Gallagher reissues - taken from the original quarter inch masters - chronicles his time with Chrysalis in the late seventies. Gallagher's ascendant star had waned a little by 1975's Against the Grain but it was surely eclipsed with the onset of changing musical taste and the onslaught of punk.
Gallagher himself was a difficult artist for a mainstream label, always coming up with the goods but in his own way and oblivious to the inevitable demands for radio-friendly material. It is this honesty that was his blessing, but also a curse.
Ironically the Chrysalis years saw Gallagher embracing a rockier and arguably more accessible direction although 'Against the Grain' is very much classic Rory mixing blues rock, ballads and acoustic pieces as he did on 'Blueprint'. ***½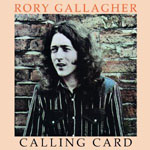 1976's Calling Card was produced by Deep Purple's Roger Glover (who features in a bonus interview on this disc) and the last with Rod De'Ath and Lou Martin. Whether influenced by Glover, this album has a rockier edge as on 'Moonchild' , 'Jack Knife Beat' and the glorious 'Secret Agent', but retaining the jazzy feel he had shown on 1971's 'Deuce' ('Do You Read Me', 'Calling Card' ). If anything it showed that Gallagher was adaptable. Bonus tracks that appeared in 1999 are missing although there is the previously unreleased 'Where Was I Going To?' ****
For 1978's Photo-Finish Gallagher was back to his power trio format with Ted McKenna, (ex- Sensational Alex Harvey Band) joining on drums. More bluesy than rock but perhaps lacking in the variety of textures provided by De'Ath's keyboards. It does contain the nearest thing Gallagher got to the mainstream: the radio-friendly 'Shadow Play'. ***½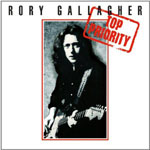 Top Priority (1979) is a more consistent album than its predecessor and given that this was released at a difficult time for erudite rockers it shows a wonderful conviction and confidence. Standouts include the catchy 'Philby', the infectious 'Keychain', 'Bad Penny' and 'Off The Handle' . It's the rockiest of this batch of reissues and highly accessible to those who perhaps need persuasion in the light of Gallagher's often country blues tendencies. ****½
1980's Jinx brought back keyboards (Bob Andrews who had played in Brinsley Schwarz and later with Graham Parker) and replaced Ted McKenna with Brendan O'Neill (who later joined Nine Below Zero with McAvoy ).
The opening track 'Signals' is a surprisingly catchy song that could have come out of many a pub-rock band in the seventies (for example Duck's Deluxe). In some ways Gallagher was well placed to purvey the rock and roll that underpinned pub-rock, but purists (and fans of his more blues-based material) will probably be shaking their head in bemusement.
Rockers like 'Double Vision' , 'Big Guns' and 'Loose Talk' are good but this album lacks consistency. ***
These reissues sit nicely with the six digipacks released earlier in 2012 - available at a low-price - but the bonus tracks have all been available previously with the exception of the track on 'Calling Card'. The albums are not over-produced which is a credit to Gallagher who mostly handled production himself (with the exception of 'Calling Card'). One wonders what would have happened with the seventies equivalent of a Kevin Shirley but overall all these albums are shining sonic examples of one of our best ever guitar heroes.
Review by David Randall
David presents 'Assume The Position' on Get Ready to ROCK! Radio every Sunday at 22:00 GMT
---