ROCKY HILL Lone Star Legend Retroworld FLOATM6137 (2012)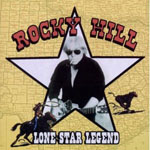 The late Rocky Hill's 'Lone Star legend' is a collector's item in more ways than one. Aside from the fact that this essential Texas rock/blues recording has never been available since its 1977 origins, this belated release reveals a stinging guitarist of the highest order whose impossibly taut string bends push his tone and solos to the limit. There's also an undoubted familial musical link to his ZZ top guitar playing brother Dusty, but Rocky has an individual playing style, that dabbles with the upper register and he rarely solos with anything less than maximum intensity.
The songs are the stuff of urban rumour, featuring a mess of characters with tales from the street to the slammer. He even includes the autobiographically flavoured trawl through his own personal experience of the blues, as he references Jimmy Reed and Freddie King etc on 'Bad Year for the Blues', a co write with Reid Farrell. The song bristles with a stomping rhythmic quality and handclaps to match, as Rocky add some essential slide guitar and a concluding double tracked tracked unison guitar part.
The sound is all a bit toppy but the playing is cutting edge with a mix of rough hewn grooves, hard riffed rock-blues and stinging solos. On the opening David Olney penned 'Take A Message to Garcia' he extends the melodic possibility of the song with a lovely fiddle solo from Jimmy Belkin, which gives it an extra dimension.
Rocky Hill effortlessly lives up to his 'Lone Star Legend' album title. He plays with all the confidence in the world work, safe in the knowledge that his rhythm section (featuring Delbert Clinton's Dahrell Norris on drums and Dave Stanley on bass) will push him all the way and still be there when he steps out with some outrageous precipitous licks.
And while there's a constant edge to some noir tinged lyrics that carries over into his playing, he finally resolves the tensions beautifully on another uncompromising David Olney song 'The Charleston Knife', which might easily have come from the Allman Brothers back catalogue. It's got a lived in southern feel to the vocals, rolling piano and sitar.
Producer John Lomax 111 apparently saw the future of rock & roll in Rocky Hill and he's not far from the mark with his description of Rocky's 'sonic sculptures streaming from his Strat'. He might have added Roy Buchanan as a reference as Rocky's playing has both the stinging tone, the aching vocal and locker full of different tones as exemplified by the ethereal tone he achieves on the co write 'Hoodoo Eyes', a song also influenced by Steve Miller. He takes his playing to the outer limits on this track as Dave Stanley ripping bass lines and Chastity Fox's hand drum percussion thrillingly hold down the bottom end as Rocky blisses away in feverish mode.
On Townes Van Zandt's dark, druggy and self explanatory 'Waitin' Around to Die' he even subtly shifts the pitch of his tone to give the song a slight dynamic life. And it this melange of tight structures, tonal variety and a succession of band grooves that makes 'Lone Star Legend' an exemplar of blues-rock guitar playing. Above all, Rock's is playing the blues as he feels them, making light of sundry academic treatise about just what blues is and who has the right to play it. Just play the album and bask in his feel!
'Lone Star Legend' is an album shot through with narratives about society's underbelly and probably reflects his own tough Texas environment but they are stories well suited to his 'in the moment' solos. The closing self penned 'Sam Bass' features more stinging guitar work and a worn in vocal style, well suited to the tales he tells.
Weirdly enough, the seat of the pants production - taken from a rough mix and belatedly transposed to cd - gives the album its low down almost mono feel and showcases some of the most intense guitar playing to come out of Texas for years.
*****
Review by Pete Feenstra
---
| | |
| --- | --- |
| | Print this page in printer-friendly format |
| | |