RICK ESTRIN AND THE NIGHTCATS One Wrong Turn Alligator ALCD 4950 (2012)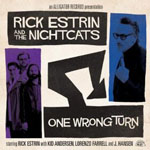 In an age where image is the integral part of contemporary celebrity culture, it's a breath of fresh air to be reacquainted with Rick Estrin. Back in the early 90's, I stumbled upon Rick and Charlie Baty, in a club opening for a high profile name. It took about 15 minutes to figure out that the cartoon character look-alike Estrin came armed with bunch of humorous narrative driven songs, beefed up by some low down harp and a vocal style that relied on a semi spoken delivery. In short his musical credentials and performing ability matched his startling pompadour, pencil thin moustache and pristine suite. For Estrin is that rare thing, a talented blues man with the songs and playing ability to match the flash.
20 years on, and he's in danger of becoming a star in his own right, fronting an excellent band and anchoring his blues in the mundanity of daily life, so when he sings 'Movin Slow' you just know its got to be blues ballad.
His lyrics are full of wry humour and irony - an alien concept for Americans generally, but specifically part of the rich tapestry of the blues. Rick Estrin is simply unique, and since stepping out to front the excellent Nightcats, he's honed his style as evidenced by the 12 cuts on 'One Wrong Turn'.
This album celebrates the wit and culture of a life spent living the blues by turning cliché on its head and making it humorous, via a bunch of relationship songs and sharply observed third person narratives. The unreconstructed humour of 'Desperation, Perspiration' and 'Met Her on a Blues Cruise' also carry a certain ambivalence as you're never quite sure how much of this might be autobiographical. And trying to figure it all out is half the fun.
On 'Blues Cruise' Rick sings; 'Man, I shoulda known better, Just look at where I met her', before he name checks several of his blues cruise contemporaries in a song guaranteed to bring legendary status to an established date in the blues diary.
And if humour is never too far away from the surface, he's equally impressive with his low end harp breaks and coherent arrangements, beautifully expressed on songs like the smoking shuffle 'Callin'All Fools', which features Estrin on a deeply wrought harp solo as the band collectively digs deep for some cool blues.
'One Wrong Turn' is an album that beguiles you and suckers you in on the back of a turn of phrase, or a cool solo and in Chris 'Kid' Anderson, Rick has found a guitarist who knows intuitively when to add a telling solo and when to hold back. The title track is also well chosen, being another cool groove that gently swings and subtly underpins the universal truth of Estrin's lyrics.
In their role as co-producers, Estrin and Anderson have cleverly thought through everything, weaving a patchwork quilt of solos in which Estrin frequently contents himself with an 'in and out' harp break. And when he does extend himself, he delights us with a depth of tone and expressive phrasing that brings an extra nuance to a song.
Lorenzo Farrell cuts lose on the organ /sax led instrumental 'Zonin' which features Terry Hank on jumping sax, while drummer J. Hansen penned the impressive stomp 'You Ain't The Boss Of Me', the best produced track on the album.
'One Wrong Turn' confirms Rick Estrin as a top shelf song writer and expressive harp player. Together with his fine band he's stamped his own style on some real life blues, shot through with the kind of dry humour that gives the genre its timeless appeal.
****
Review by Pete Feenstra
---
| | |
| --- | --- |
| | Print this page in printer-friendly format |