Salutary tale for TV talent show winners...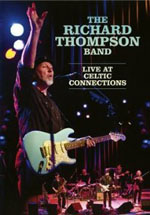 As a massive fan of Richard Thompson I've had to step back here and be as objective as possible in my review - but it's hard, God is it hard.
This is a filmed concert by the man himself recorded at Glasgow's Royal Concert Hall in January 2011 as part of the 'Celtic Connections' Festival.
The whole shebang is introduced by 'Whispering Bob' Harris - funnily enough the man who introduced me to the music of RT many years ago, and from the opening chords of 'The Money Shuffle' you know you're in for something a bit special.
The set is divided into two: part one being a virtual run-through the 'Dream Attic' album and part two a sort of 'greatest hits'. Always a bit of a risk playing a new album to an audience unfamiliar with the material, and especially as one whole chunk, but hey, this is Richard Thompson and it's just like pulling on that new pair of slippers you got for Christmas - new but comfortable.
As usual, Richard has surrounded himself with stellar musicians - Pete Zorn on flute, saxes, mandolin and guitar, Joel Zifkin on violin, Michael Jerome on drums and is that Fabio Capello on bass? No, it's his doppelganger Taras Prodaniuk. As individual musicians they are superb, as a band they are peerless, and behind a lesser musician than Richard Thompson would easily blow away the main act.
The Dream Attic material is excellent throughout, with songs covering everything from the banking crisis (The Money Shuffle), dodgy festivals (Burning Man), narcissism (Here Comes Geordie), a murder ballad (Sidney Wells - played in 9/8 time - mad) and, for me, the highlight 'If Love Whispers Your Name' replete with a stunning violin solo quickly followed by a sensational guitar solo. The camera has many a close up of Thompson's fret-board but can you see how he does it? No you can't.
In part two it's almost as if the fetters have dropped off and the band, brilliant but almost studious with the new material in part one, really let rip and start to enjoy themselves. There's more of Richard's banter as well, always a feature of his live shows - and strangely muted in the first half.
'The Angels Took My Racehorse Away' kicks off part two, followed by what, for me, is the highlight of the whole gig, a simply stunning version of 'Can't Win' where Thompson just 'goes for it' with a breathtaking solo that seems to go on forever. Another highlight is the jazzy 'Al Bowlly's In Heaven' where each band member takes a solo - jaw-droppingly brilliant.
And the brilliance never lets up - 'I'll Never Give It Up', 'Wall Of Death' and the inevitable 'Tear Stained Letter' lead to the raucous finale and the strangely downbeat encore of 'Take Care The Road You Choose' and 'A Man In Need'.
And just when you think 'that's it, I can't take any more magnificence' along come two acoustic songs recorded at last year's Cambridge Folk Festival - 'Uninhabited Man' and 'Johnny's Far Away' just to finish you off.
From start to finish this is a wonderful experience - a band at the top of their game, superb recording quality and a set of songs to die for. I only wish I'd been there - but then objectivity would have flown out the window.
For anyone who's won Britain's Got Talent or the X-Factor and thinks they've got a modicum of talent, this should be compulsory viewing - it'll make them crawl back under their stone, shut the f**k up and totally re-evaluate what real talent sounds like.
*****
Review by Alan Jones