RETROVATI Mechanical Love Nishmah Audio Digital (2012)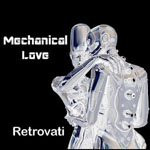 'Retrovati' is the music of Panamanian multi instrumentalist Jose Pimentel. And 'Mechanical Love' is an album full of synth and guitar led, groove music for the mind.
Jose quickly establishes his signature style on the opening 'The Holy' in which he gently works his way round a fluid guitar figure and embellishes it with keyboard lines in an ethereal wall of sound. The piece is given an extra dimension by punctuated cymbal splashes and a pounding rhythm track. Anchored by the repeated guitar line, it feels like a mantra with dancing ambient tonal colours which bring a bright uplifting feel to the music.
And it's this feel of a shared musical delight that gives the 5 track instrumental CD its appeal. The layered sounds, propulsive rhythms and muscular guitar playing transcend the usual synth led noodles that populate far too much of the instrumental music scene. Put simply 'Mechanical Love' is a triumph of substance, depth and instrumental virtuosity over mere technical proficiency.
Key to the success of Jose's musical ambitions is the fact that he is a composer who works with tight musical structures and adds broadly sculptured sonic waves. And having made his musical point he brings things succinctly to a close and moves on. Not for Jose, the unrelenting synth explorations in search of a purpose, as 'Mechanical Love' is tightly wrapped, dynamic, instrumental music that is equally capable of touching the soul as well as making you shake your booty.
On 'Pensamiento' Jose adds soaring guitar lines bathed in echo reverb and punctuated by some deft percussion as the floating keyboard lines act as a conduit to a bigger enveloping wall. Retrovati is cerebral music with a linear feel, as if each little musical nuance and each incremental pulse pushes the core musical idea towards another possibility. And having explored all the full possibilities of several layered musical plateaus, - as on 'Pensamiento' - he reaches for an articulate conclusion, in this case a piano and keyboard double lines and a vibes sounding percussive resolution.
The eastern sound 'Steve' is anchored in bedded synth lines, delicate tablas and tubular bells. It's a slowly evolving piece that picks up a portentous feel with stabbed keyboard lines and finishes delicately with a concluding bell.
A drifting piano motif and potent tic-toc percussion blocks fires up the closing 'No More'. The guitar/synth interplay has echoes of Tangerine Dream but this music has far more dynamics and a greater sense of development. Jose employs a growling, scratchy guitar tone as its cuts through the rhythm track with brooding intent before the melody line comes gently to the fore like the sun breaking through the cloud.
And it's that kind of image that lies at the core of an album that is full of shifting musical sketches that evolve and grow towards a dynamic resolution before moving on.
Ambient, electronic, techno, synth instrumental or prog rock? Call it what you will, but 'Mechanical Love' is that rare thing, an engaging mini instrumental album with enough ambient textures, shifting moods and compositional substance to make you want to crank up and the volume and immerse yourself in another world. This is a great introduction to a very talented musician and composer and well worth checking out.
****
Review by Pete Feenstra
---
| | |
| --- | --- |
| | Print this page in printer-friendly format |