DEEP PURPLE Re-Machined: A Tribute To Deep Purple's Machine Head Eagle Rock (2012)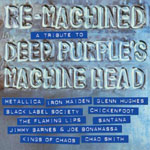 Much is being made of this album with an almost predictable special pack courtesy of 'Classic Rock' and no doubt the inevitable 8 out of 10 stars in that magazine's review section. The question most discerning listeners will be asking, head in hands, is why, oh why? It's 40 years since Purple gave us their magnum opus and basically it doesn't get much better.
Tribute albums can only be of interest to collectors who must have everything from an artist, or perhaps even a vanity project for those concerned as they 'pay their dues'?
As a listening experience it is frequently fraught. Either the original versions are enhanced by interpretation or they are murdered. Whilst moderators would say that 'Re-Machined' is just a celebration of a classic album, economic effort would be better expended on new talent. And, yes, in most cases the originals are murdered.
Those who have heard Santana's album 'Guitar Heaven' (where he covers various originals) will not be surprised with his version of 'Smoke On The Water' but he brings nothing new to the party, whilst The Flaming Lips' interpretation of the same song is an absolute travesty with a Stylophone version of the hallowed riff and a vocal sounding like it was recorded off-air from Stephen Hawking's voicebox.
Elsewhere, there is a live version of 'Highway Star' by Chickenfoot which at least captures the energy of the original if nothing new. Of course Glenn Hughes and Joe Bonamassa pop up ('Maybe I'm A Leo' and 'Lazy' respectively) and Zakk Wylde does a passable version of 'Lazy'. And there is the obligatory Joe Elliott turn on 'Never Before'. I can hear collective yawns being stifled.
Rounding the album out, Iron Maiden cover 'Space Truckin'' and the one non-album track (originally the B-side of 'Never Before') is performed in perfunctory fashion by Metallica.
In truth this should have been given away as a free cover disc with the aforementioned magazine as is often the case with such band tributes. The more discerning should simply purchase the 25th Anniversary edition of the original. It's all you'll ever need. Even the multi-disc 40th Anniversary edition fails to add anything other than endless remixes and remastering, but in terms of history 'Re-Machined' adds absolutely nothing.
***
Review by David Randall
David Randall presents 'Assume The Position' on Get Ready to ROCK! Radio every Sunday at 22:00 GMT
---