PUBLIC IMAGE LIMITED Live At Rockpalast 1983 MIG90422CD/MIG90427DVD (2012)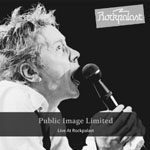 'Live at Rockpalast 1983' finds a revised line up of PIL - called the 'cabaret band' by John Lydon himself - playing 8 tracks that can be found on the extant 'Live in Tokyo' album plus a frankly redundent version of 'Anarchy in the UK'. The DVD/album is topped and tailed by the self titled single which promises more than the gig actually delivers.
'Live at Rockpalast' is a curiously unsatisfying set. Yes there are moments when the band does gel on songs such as 'Annalisa', which has an intensity and context worthy of Lydon's unrelenting wail, but for the most part this Rockpalast performance is lack lustre. Curiously enough the rehearsal run of through of 'Annalisa' knocks spots off the concert version.
The band is at its best when slipping into thinly disguised dance grooves like 'Memories', though Joseph Guida eastern sounding fazed guitar work, Louis Bernardi's ripping bass work and John's unrelenting drone has the diametrically opposite effect to what they probably intended, reducing the boisterous capacity crowd to near silence. And almost as if realising the band are seriously close to losing their audience, Lydon turns his back on the crowd in a quizzical gesture suggesting 'now what shall we do?
Things pick up a little on the 'Flowers of Romance' as guitarist Guida and drummer Martin Atkins work hard to make the most of an eastern sounding drone and Lydon finishes the song impressively in echo and reverb. The crowd still seems restless though and by the time the band complete the up tempo 'Solitaire' Lydon declares 'I'm bored and I wanna go home', a sentiment he repeats later on.
And therein lies the problem, as there are moments in this gig where Lydon really does seem detached and bored. And hard as excellent bass player Louis Bernardi works alongside his willing colleagues, things just don't seem to catch fire. 'Anarchy In The UK' initially appears to be an attempt to reconnect with the audience but it's actually the last number and moments after the song finishes the pogoing crowd is once again reduced to silence.
The band come back for what proves to be 5 song encore of which the funky dance friendly '(This is Not A) Love Song' is a highlight. Lydon still has to cup his hand behind his ear to get a decent response, though 'Low Life' quickly reignites the crowd before a very creepy rap on 'Under The House', which is basically an extended drum work out from Atkins with a snarling wail from John as both guitarists double on percussion..
Such is the pervading sense of ennui that the restless crowd increasingly becomes the main focus of your attention, as they bob and weave like a bunch of punch drunk sailors without the aid of any music, though finally PIL do give them something to latch on to with the funky 'Bad Life'.
While Public Image was a bold attempt to strike out in a new musical direction after the Sex Pistols, this revised line-up is far too anonymous and John Lydon seems far too detached. The band sound far better on the two bonus rehearsal tracks and Lydon offers flashes of his undoubted intelligence in an interview which he sadly cuts short all too quickly.
Much like the gig itself, the interview hints at something with more substance, passion and excitement, all three elements of which are in short supply here.
As a postscript, while the DVD offers a few extras, the cd concentrates the mind on the music and it all appears to work much better without the dubious benefit of Lydon's posturing. Make of that what you will.
*****
Review by Pete Feenstra
---
| | |
| --- | --- |
| | Print this page in printer-friendly format |
| | |