PEARL HANDLED REVOLVER Colossus King Mojo Records KMR 00002012 (2012)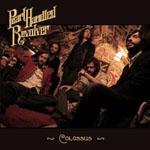 Only a left field band like Pearl Handled Revolver could title their new album 'Colossus'. It's a bold and mostly successful attempt to capture the big feel, the sonic splendour, the powerful songs and the dark grooves that contribute to a faded sense of grandeur that permeates an adventurous album. 'Colossus' is rooted in rock, blues and psychedelia but is tinged with gothic edges. The band's name may convey outlaw imagery, but they are musical outlaws relentlessly pursuing a Hammond driven, alligator growled blues that is consistently anchored by versatile drummer Chris Thatcher
Fronted by vocalist Lee Vernon, a Tom Waits sound-alike who probably inspires many well worn clichés to describe a bourbon soaked voice that defines the band's heavy style, PHR are a musically uncompromising outfit who sharply divide their audience potential between die-hard converts and floaters. The latter probably can't quite fathom the musical diversity but warm to the inherent jam elements and musical spontaneity.
The truth is that PHR weave in and out of the rock blues format with a mix of deep grooves, hard riffs and heavy arrangements that place the emphasis on feel, melody and dynamics.
The material ranges from the forbidding drone and Doom Metal of 'Woman Made A Man Out Of Me' to the opposite big sky feel of 'Resonate', one of two Americana influenced tracks. 'Resonate' gloriously lives up to its name, being a beautifully judged track full of brushed strokes and a plaintive vocal that is given its context by an intuitive production and lyrics of understated presence; 'You see this man, in who you relented, Broken in two, who just couldn't take it, Still your name, It resonates'.
And it is the way the band manages to shift between different genres that maps out an eclectic but wholly successful musical journey.
Put simply, if you buy into the heavy arrangements, repeated plays bring rich rewards. The adventurous bluster recalls early 70's bands such as Spooky Tooth - right down to the keyboard and vocal parts - and Lone Star (albeit with much tougher vocals here), and just occasionally southern rock.
There's a linear progression that is rooted in Prog rock but played out over sinewy solos, enveloping drones and occasional Americana roots. PHR play challenging and exciting music and having taken the long way home, the album finally resolves itself with a portentous Dead Can Dance gothic veneer and an eastern flavoured Zeppelin wall of sound.
'Colossus' is a coherent album with important constituent parts, ranging from the songs as a whole to the riffs, the solos, the vocals and tone colours. Even the subtle pauses, stops and gentle fades are all an essential part of a bigger musical picture. The arrangements are loose enough for keyboard player Simon Rinaldo and Andy Paris's guitar lines to push their way to the front. And at his best Lee Vernon's vocals dominate the material and being a real dynamic punch, while in lesser moments his diction wavers and he occasionally struggles with his range.
But then Pearl Handled Revolver is a band that seizes the moment and readily takes a chance. They are 'in the moment' risk takers who jam their way through a very organic sounding album to stretch songs to their full potential and take them in unforeseen directions. You can imagine both 'Stop The Dead' and the swampy John Fogerty influenced 'Maybe In Time' becoming live favourites.
And while Lee doesn't quite make the most of 'She Can Dance' - a story of lost love - he's adaptable enough to switch to an effective whispered guttural approach over a complementary guitar and organ figure. It's a song with a hypnotic opening that doesn't quite deliver what it promises and has to rely on a change of tempo to inject an extra dynamic. The band sound happier jamming on 'Head', which finishes with the couplet: And the heart of Saturday night is waiting for me. When the lights go down on you all, you'll be amazed. If your bliss is ignorance, The truth is something you fear'.
'Colossus' is crammed full of ideas and competing musical tensions and when the riffs kick in, the solos soar and the band coalesces as one, there's an intrinsic visceral quality that helps spark a raft of musical ideas into life.
Three quarters of the way in, 'Colossus' gains momentum with the farfisa sounding, energetic garage rock of 'White Lines', which is arguably one of the best vehicles for Lee's hoarse phrasing. But the best is yet to come on 'I Will Rise', a slow building anthem that opens with some gentle pounding toms and is bathed in distant echo laden guitar. Lee produces his best vocal on the album as he evokes the spirit of Jim Morrison while Simon adds expansive organ lines as part of a beautifully layered sound
The closing gothic intensity of the storm filled title track and eastern flavoured Zeppelin wall of sound is the perfect finish to a demanding album. 'Colossus' is a weighty album with enough substance, vitality and musical acumen to justify the band's American label backing.
****
Review by Pete Feenstra
---
| | |
| --- | --- |
| | Print this page in printer-friendly format |
| | |