PAUL KELLY Songs From The South Volumes 1 & 2 Greatest Hits Dramatico DRAMCD0080 (2012)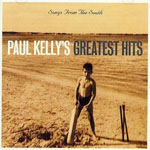 The fact that a lot of people still don't know who Australian singer-songwriter and author Paul Kelly is after a 20 album career spanning three decades, is probably the raison d'etre for this excellent compilation. Kelly is a songwriter of the highest order with a broad musical sweep that would sit comfortably in any contemporary musical setting.
Outside of his native Australia, Kelly is still something of an unsung hero. He is a thoughtful wordsmith and a musical magpie who writes about a wide variety of subject matters in different musical genres. He constantly searches for meaning through story telling, wry observational narratives and sometimes simply as an unreconstructed romantic in search of love.
And while the 40 songs here offer the most definitive statement of just who Paul Kelly is, they also partially explain why despite plaudits from the likes of Dylan, he's still an artist in search of a big break. His voice by his own admission is limited. Indeed he's been quoted as saying 'I write songs and imagine other voices'. But in doing so he's given rise to his own substantive 'voice'. The songs are shot through with an inherent mix of intensity and integrity as they explore life's twists and turns. And such is his musical reach that on 'Paul Kelly 85 - 97' (cd one), he unravels a disguised linear connection that conjoins his first five musically disparate songs. It's a musical journey that starts with a jangling six string guitar on 'From St Kilda to Kings Cross' - on a song that explores a sense of time and place - and moves to the shimmering harmony lines of 'Leaps and Bounds'. The latter is one of three songs about cricket that recalls the late Don Bradman and finishes with a calypso homage to the spin bowler Shane Warne.
He then takes a leap back to the Merseybeat era on 'Before Too Long' and goes back further still on the riff powered garage rock and Farfisa keyboard sound of 'Darling It Hurts'. By the time of a Steve Miller style vocal intro and the bold horn arrangement of 'Look So Fine, Feel So Low' he's already covered a wide musical perspective that is routed in solid compositional structures, great lyrics and ever present harmony singing.
CD 2 'Paul Kelly 98-08' finds him immersed in an equally bewildering but beguiling range of topics all given their shape by lovingly crafted arrangements. Thus 'Nothing On My Mind' is a full production outing which features Steven Hadley's sumptuous bass line and Hadley also anchors 'Love Is The Law', another song full of soaring harmonies on a synth meets electronic production.
'Songs From The South' refers to Paul's Southern Australian upbringing which has provided him with enough material to pen in excess of over 300 songs in a 30 year career. And if 'Greatest Hits' refers in the main to his Australian success there have already been moments when his more poppy tinged efforts have nudged the US charts as on the catchy 'Dumb Things'. 'To Her Door' targets the same market, albeit with a deconstructed country rock feel as he sings; 'and he started to sing like a low down guitar', before an imposing twang guitar sound that finds a more full blown expression on the phonetically titled, western themed instrumental 'Gunnamatta'.
The key to Paul's heartfelt style lies simply in the way he engages the listener on different levels both lyrically or musically. His judicious use of rich harmony singing means that even when he does go into an overlong eclectic rap about the late Australian cricket legend Donald Bradman, he pulls it off with the emotional strength of his impassioned lyrics. There's some similar Dylan style phrasing on both 'Every Fucking City' - a tale of a failing relationship over a geographic background of a European tour - and on the love song 'Your Lovin' Is On My Mind'.
It's Paul's ability to explore universal feelings and events outside the American cultural mainstream that sets him aside from other singer-songwriters. His lyrics carry such resonance and familiarity that they surely only need the oxygen of publicity to bring them to a wider audience. As Bleddyn Butcher - one of two liner note contributors - points out, there's a spiritual intensity to songs like 'Gathering Storm'. And it's this integral strand that features in large swathes of Kelly's work and provides poignant efforts like 'They Thought I Was Asleep', with its gut wrenching honesty and childhood recall. And while the murder ballad 'Everything's Turning to White' is a triumph of the telling of the tale over its delivery, the big production 'Sweet Guy' and cd 2's 'God Told Me' both rock belligerently with vocals akin to the late Austin based singer-songwriter Stephen Bruton.
Then deep into the first set he produces a real gem with the banjo led 'From Little Things, Big Things Grow'. It's a political tale of Vincent Lingairu and the indigenous land right struggle. Much like early Dylan, Paul intuits with political struggle (though Dylan preferred to commentate rather than take sides) and coats his observations in a light quirky arrangement and shine an enquiring light on contemporary events;
'Vincent said, "Uh-uh, "We're not talking about wages, 'We're sitting right here till we get our land'.
'Paul Kelly Greatest Hits' is a superb collection that is so consistently good that you could dip into any of the 40 songs and get a flavour of what he is about . And even if songs such as 'Song From the Sixteenth Floor' sound as if they might have come from a John Hiatt album, you never have to wait too long for something as memorable as 'How To Make Gravy'. It's a unique effort all of his own making that combines a prisoner's remorseful desperation with the ingredients of a recipe.
'Songs From The South' is a cultural Australian road map, but it's a body of work whose sentiments can be shared and understood the world over.
*****
Review by Pete Feenstra
---
| | |
| --- | --- |
| | Print this page in printer-friendly format |
| | |