PAIDARION Behind The Curtains (2012)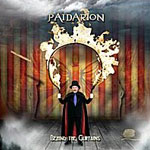 Paidarion - although having a Welsh sounding name are actually natives of Finland and Behind The Curtains is their second album.
Because of the Scandanavian lineage and the symphonic prog credentials, one's natural inclination would make you think Flower Kings, Airbag, Katatonia, et al.
Think again. This is progressive rock alright but with so many twists and turns and such a diverse range of influences ranging from jazz and soul to folk and hard rock that the phrase genre-bending was probably invented with this in mind.
With ten tracks on offer, six of which clock in at over five minutes and include a ten minute epic, the album's prog leanings are obvious from the outset, and with a few unfortunate aberrations, is a generally satisfying listen.
Things get underway in great style with 'Behind The Curtain' a progressive instrumental piece giving the impression that the curtain being talked about is, in fact, the Iron Curtain - it just has that '60s spy movie vibe.
'A Small Wish' follows, a bit pop/soul for these ears but there you go. The next track 'Trapeze' is one of the most interesting here - a sort of 'Take Five' meets 'Hot Rats' era Zappa. Nice.
The jazzy 'A Springtime Meadow' is up next with its Cleo Laine-alike vocal, then up comes the real Curates Egg on the album.
'A Vertical Rope' is the ten minute signature track and if you can imagine Yes or Genesis fronted by Amy Winehouse (not easy, I know) you can begin to suss where it's coming from.
I say Curates Egg because it is the best track by a country mile, but it also best illustrates the gaping elephant trap that a lot of European bands fall into - the lyrics.
The track is superb throughout, but one glance at the words induce not so much a smile as a grimace:
'Exploding purple-like flame
And blue of mystical depths
I trust my rope and offer joy and the thrill
With a cloth swing'
Er...It may make sense in Finnish but surely someone, somehow, at some point must have said something. Surely.
The closing five tracks by and large follow in the same vein and are generally excellent with the exception, strangely, of the eponymous 'Paidarion' for which the word 'mishmash' was probably invented.
Mention must be made of the exceptional musicianship throughout and in particular the bass playing of Jan-Olof Strandberg - absolutely outstanding.
If the band could find a lyricist with English as their first language and they cut out some of the more soul/pop influences, which add nothing to the overall aura of their sound, there could be a very good album in them.
Until then - we can enjoy this, warts and all.
**½
Review by Alan Jones
Alan sequences "The Eclectic Mix" on the third Sunday of every month on Get Ready to ROCK! Radio, and usually manages to include some prog.
---
| | |
| --- | --- |
| | Print this page in printer-friendly format |
| | |